Close-call overtime leads UCLA women's basketball to clinch win over Arizona State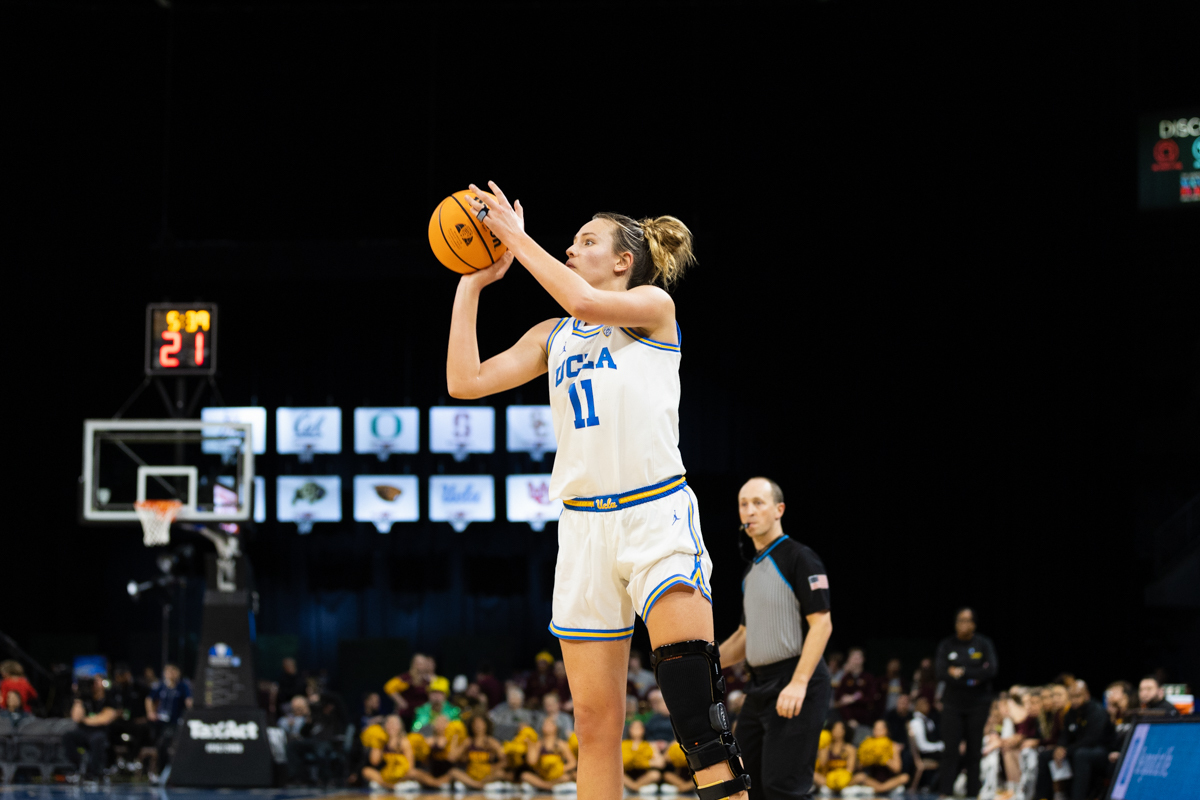 UCLA women's basketball redshirt sophomore forward Emily Bessoir sets herself up to shoot a field goal. Bessoir collected a pair of 3-pointers in overtime to bring her total to 17 points across the contest. (Shengfeng Chien/Daily Bruin staff)
Women's Basketball
---
| | |
| --- | --- |
| No. 12 seed Arizona State | 70 |
| No. 5 seed UCLA | 81 |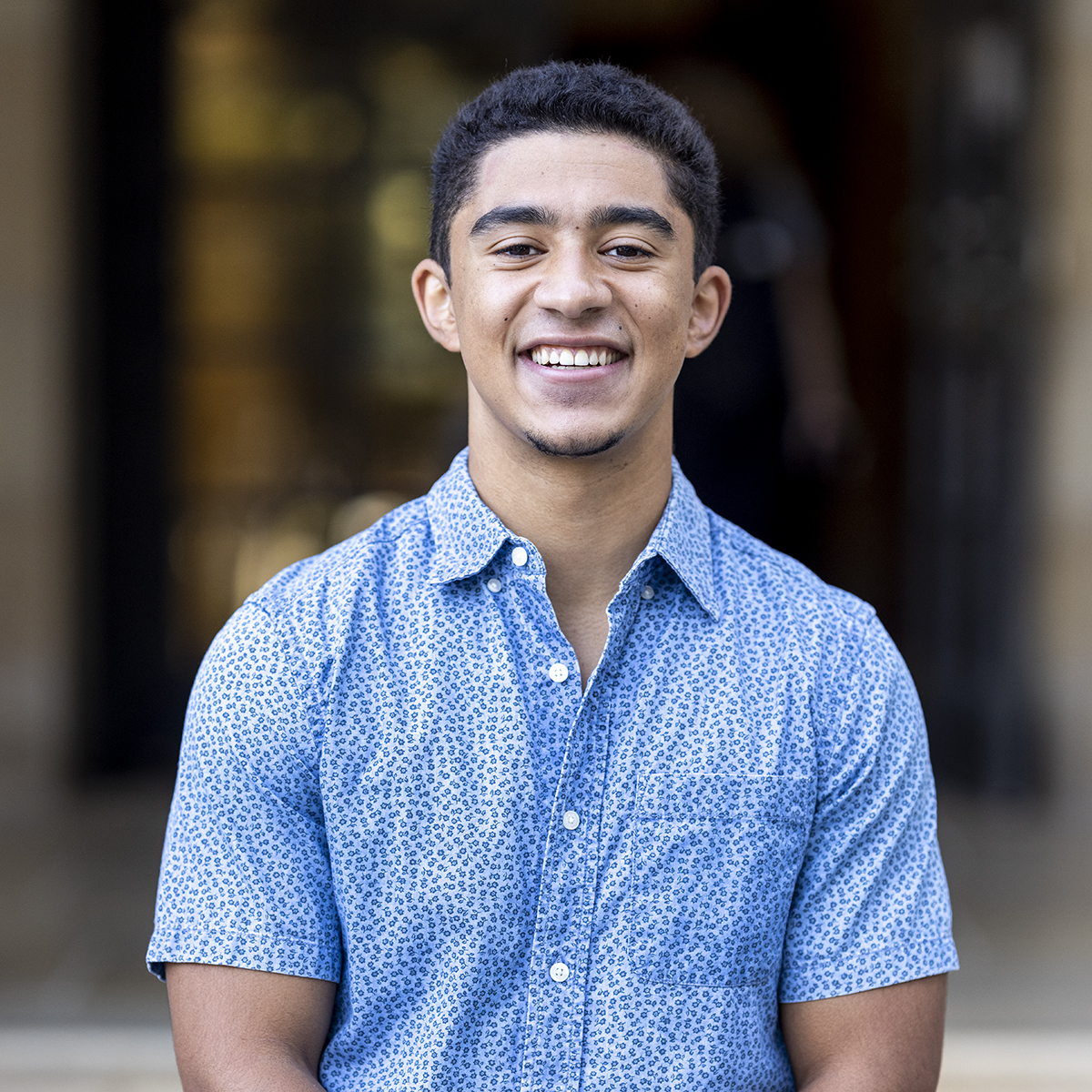 This post was updated on March 1, 2023 at 3:23 p.m..
LAS VEGAS – After blowing a 19-point third-quarter lead against the conference's worst team, the Bruins' Pac-12 tournament run was on life support with just seconds remaining in their first-round matchup.
Needing a stop on the final possession of regulation, freshman guard Kiki Rice blocked a potential game-winning shot to send the contest to overtime.
Then in the extra five minutes, redshirt sophomore Emily Bessoir hit a pair of triples to resuscitate the blue and gold's postseason hopes.
No. 5 seed UCLA women's basketball (23-8, 12-7 Pac-12) saw its sizable lead vanish late, but survived to earn an 81-70 victory over No. 12 seed Arizona State (8-20, 1-18) in the first round of the Pac-12 tournament on Wednesday afternoon. The Bruins appeared on their way to a blowout victory, but 26 points from Sun Devil guard Tyi Skinner – including 15 in the second half and overtime – almost ended UCLA's conference tournament run prematurely.
"At this time of year, we just found a way to win and we earned another game – that's all I care about," said coach Cori Close. "There's not time to unpack or be philosophical. We just have the chance to earn another game and I'm going to enjoy that."
The blue and gold blew things open midway through the third quarter after a layup from Rice pushed the score to 54-36 with three minutes remaining in the quarter. But Arizona State responded with a 28-6 domination over the next 10 minutes to stun UCLA and grab a 62-60 lead.
The Sun Devils outscored the Bruins 10-2 in the final 2:38 of the third period, including a 6-0 run in a 46-second span to cut the lead to 10 going into the fourth quarter. Then, after a UCLA basket to open the fourth, Skinner hit back-to-back 3-pointers before a Sun Devil and-one shrunk the lead to three.
Minutes later with the Bruins lead down to one, Skinner hit another three to put Arizona State up 62-60. A Rice layup tied the game with 1:28, and her eventual block sent the matchup to overtime.
With the game tied at 66 with just over two minutes left in overtime, Bessoir hit her first of two 3-pointers in a 44-second span to make the difference in the clutch.
Her success from behind the arc got started early in the contest.
After missing last season's tournament because of a torn ACL, the redshirt sophomore forward wasted no-time re-introducing herself to the Las Vegas crowd.
With the game tied 4-4 early, Bessoir made her first of three 3-pointers in a three-minute span – the last of which extended UCLA's lead to nine midway through the first quarter. Her nine points in the spurt were more than she scored in any of her conference tournament games two seasons ago.
Bessoir finished with a team high 17 points and five 3-pointers to pace the Bruins. She said missing this tournament last season helped to inspire her rehab and return from her torn ACL injury.
"I'm really grateful that I'm able to play again," Bessoir said. " I remember last year when all our starters ran in and we high-fived them and I was just thinking 'that's what I'm working for.' I'm really glad the team had my back the whole comeback."
Despite shooting just 38.1% from the field in the first 10 minutes, UCLA used four 3-pointers to earn their first 20-point first quarter since Jan. 22 and take a 20-14 lead into the second quarter.
Then, the Bruins' first-year guards got busy.
After combining for just two points in the first, freshmen guards Londynn Jones and Rice scored six and five points respectively to pace the blue and gold in the second quarter. The pair of All-Pac-12 Freshman Team selections finished the game with 12 and 14 points respectively.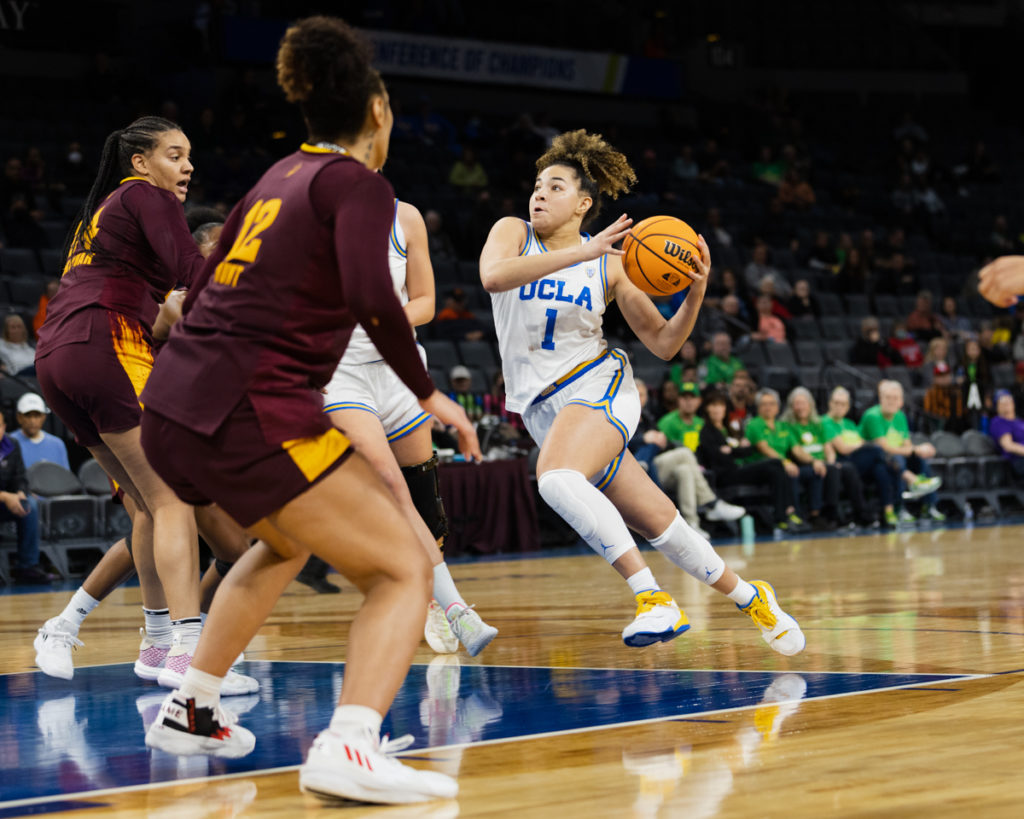 UCLA's defense turned things up in the second period by holding Arizona State to 23.1% shooting and forcing four Sun Devil turnovers. The Bruins stifling defense extended their lead to 14 points at the halftime break.
But that's where things temporarily went wrong for UCLA.
The near-collapse looked similar to previous tight losses for the Bruins, but senior guard Charisma Osborne said she just knew her team wasn't going to let this particular contest slip away.
"I was thinking: 'We're not losing this game right now,'" Osborne said. "We have lost close games, and I think our team did a good job of being able to execute and know what we're looking for."
The blue and gold did just enough to survive and advance. UCLA will now have the opportunity to avenge a past blown lead in a rematch against No. 4 seed Arizona in the quarterfinals on Thursday.
Carlson is currently a staff writer on the football, men's basketball and women's basketball beats. He was previously a reporter on the softball and men's golf beats.
Carlson is currently a staff writer on the football, men's basketball and women's basketball beats. He was previously a reporter on the softball and men's golf beats.