Adaptability earns UCLA women's golf 1st place at The Beach Invitational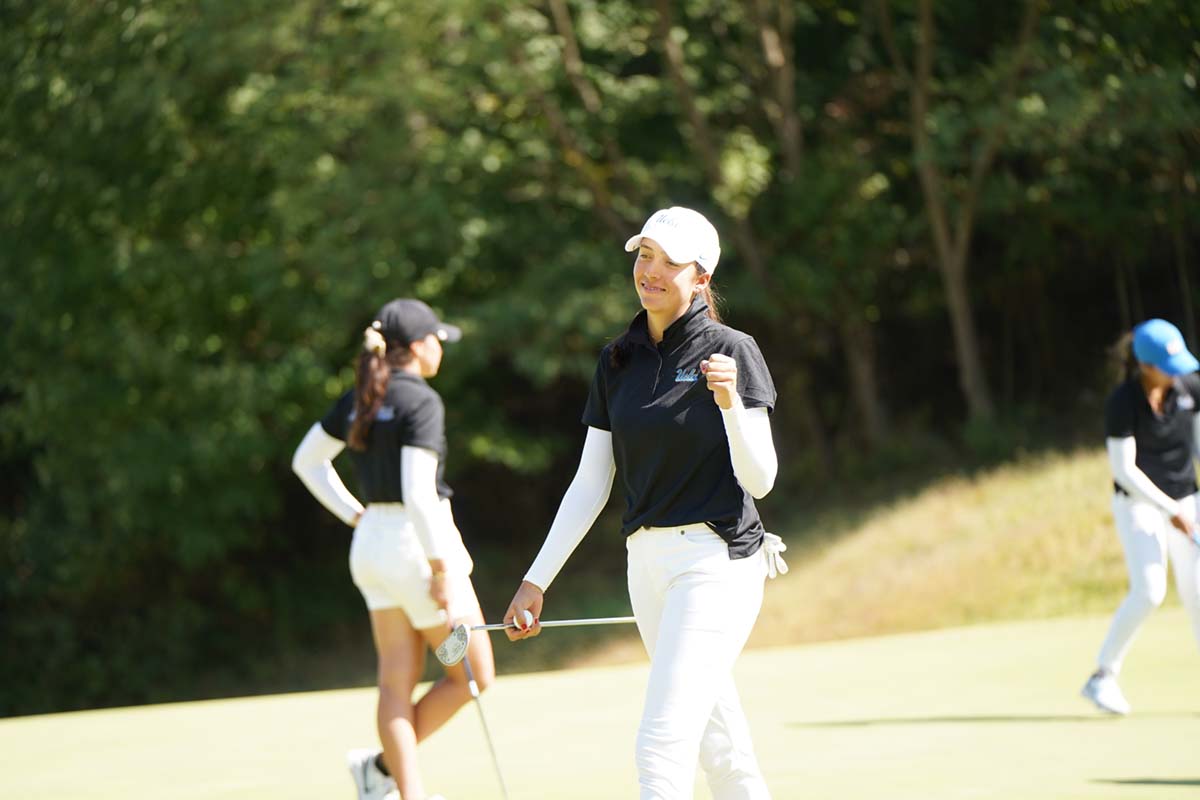 Sophomore Caroline Canales celebrates after finishing a hole. (Courtesy of UCLA Athletics)
WOMEN'S GOLF
The Beach Invitational
First place (+47, 911)
The Bruins battled the elements en route to a first-place finish.
No. 20 UCLA women's golf won its third competition of the season at The Beach Invitational in Mission Viejo, California, on Tuesday. The blue and gold finished 47-over 911 – five strokes ahead of second-place Colorado State – with three top-five individual finishes in the three-round, two-day tournament.
The first day of the tournament was riddled with cold temperatures and rain that created tough course conditions, according to coach Carrie Forsyth. The day eventually ended early because of a combination of the conditions and darkness.
Forsyth said the round ending early was a relief.
"It was miserable – windy, cold, rainy," Forsyth said. "We were happy to say, 'OK, that's enough. Let's go home, get dry, come back tomorrow, and hope for a better day.' And it was a better day."
During the second day of the tournament, the Bruins saw major improvement, not just in the weather, but also in their individual performances. Round three of the tournament was highlighted by senior Annabel Wilson's even-par 72, which marked a four-stroke improvement from her round two score and a six-stroke improvement from her score in round one.
Wilson said the improvement came from adapting to the course throughout the tournament.
"My course management was really sharp," Wilson said. "I felt like I had a good feel throughout the game. I managed to put that all together and have a good final round."
Alongside Wilson, sophomores Caroline Canales and Zoe Antoinette Campos finished in a four-way tie for fourth place with scores of 10-over 226. The Bruin trio was joined by Harriet Lynch of Fresno State in the tie.
Much like Wilson, Canales saw improvement in her scores between the second and third rounds. She carded her best score in the third round with a score of 1-over 73.
Canales attributed the improvement to finding a better rhythm in the final round.
"In the third round, I had some pretty consistent ball-striking – which is a strength of mine – being able to hit a lot of greens with my irons," Canales said. "Eventually, a few putts dropped. There was more comfort in the third round."
The blue and gold saw overall score improvement in each round with a 12-stroke difference between round one and round three.
"After playing it a few times, you start to know where to hit the ball, you know the best positions on the green and you just have a little more knowledge," Forsyth said. "The team was pretty motivated to come back, play well and get a win."
Despite facing a field of 14 other teams, UCLA was the lone ranked team in the tournament.
Forsyth said that UCLA's ranking created the expectation that the Bruins should win.
"I don't know if those expectations are always a good thing," Forsyth said. "There is a challenge there. … We just didn't want to lose to somebody and embarrass ourselves. Those types of outside thoughts may creep in a little bit, but ultimately, we were able to overcome that."
Campos had the best hole of the event for the Bruins, recording an eagle on the 12th hole during round three. Meanwhile, Wilson, Canales and senior Emilie Paltrinieri all led the team with six birdies.
Canales said she is aware of her birdies, but does not focus on them heavily while playing.
"I felt like I had a lot of good looks at birdies," Canales said. "I had good chances and good putts that could potentially have been birdies. Some rounds, we might have six or seven birdies in just one round. This was a tournament where I had six birdies in three rounds, so that is something that needs to be improved."
The Bruins will return to action Saturday for the Vystars Credit Union Gator Invitational in Gainesville, Florida.
Baker is currently a Sports contributor on the swim & dive beat.
Baker is currently a Sports contributor on the swim & dive beat.