Spotlighting the most valuable contributors for UCLA women's basketball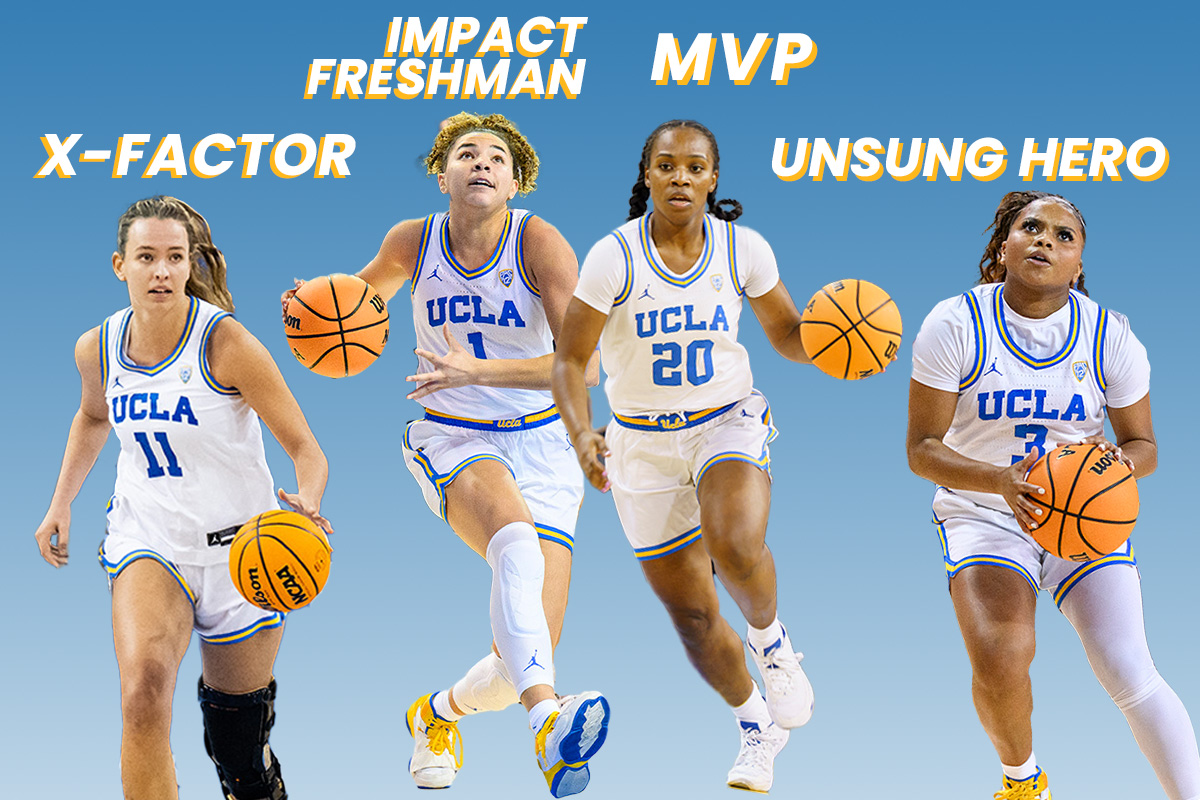 Pictured from left to right are redshirt sophomore Emily Bessoir, freshman guard Kiki Rice, senior guard Charisma Osborne and freshman guard Londynn Jones. (Left to right: Megan Cai/Assistant Photo editor, Kaiya Pomeroy-Tso/Daily Bruin senior staff, Brandon Morquecho/Daily Bruin, Jeremy Chen/Assistant Photo editor. Photo illustration by Megan Cai/Assistant Photo editor)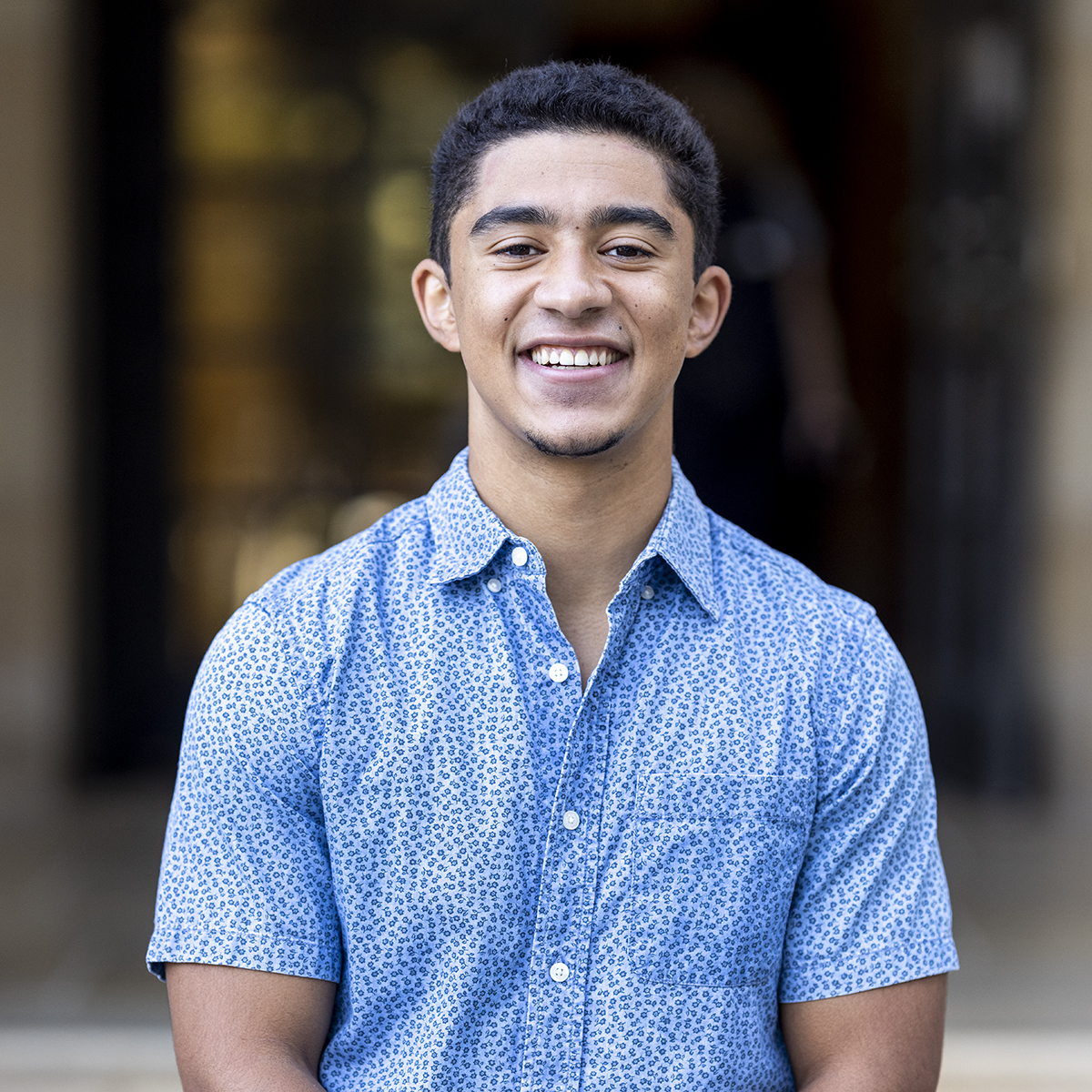 This post was updated Feb. 28 at 11:42 p.m.
No. 19 UCLA women's basketball (22-8, 11-7 Pac-12) finished fifth in the Pac-12 after an up-and-down conference stretch, but it still ended the regular season ranked in the AP Top 25 after beginning the season unranked. With postseason play up next, staff writer Gavin Carlson gives his picks for Bruins' MVP, unsung hero, impact freshman and X-factor thus far.
MVP: G Charisma Osborne
Season stats: 15.0 PPG, 6.0 REB, 3.0 APG, 1.5 SPG, 38.3/30.8/80.0%
For the second straight season, Osborne was not only UCLA's best scorer, but one of the best scorers in the Pac-12. The senior guard's 15.3 points per game ranked seventh in the conference, and she averaged four more points per game than the next best Bruin.
Osborne also paced the blue and gold and ranked in the top 15 in the Pac-12 in rebounding and steals. She grabbed 5.9 boards per game despite being one of the smallest players on the floor every night at five-foot-nine, and finished the season with 42 steals despite carrying the load offensively.
But with all that being said, analyzing this particular Osborne campaign off stats alone misses the real impact of her 2022-2023 season.
As one of the few notable veterans on a team that's consistently played five freshmen for significant minutes all season, the Moreno Valley native has become a clear leader for UCLA. That wasn't always the case earlier in her Bruin career.
Osborne has specifically mentored a pair of freshman point guards in Kiki Rice and Londynn Jones, and the duo's growth throughout the season can certainly be partially credited to her leadership.
And finally, even on off nights offensively, coach Cori Close always makes a point of emphasizing how important Osborne is to UCLA's defensive strength. In addition to the steals, the guard is typically tasked with defending the opposing team's top perimeter threat – and she usually more than holds her own.
Osborne moved into the top 15 all-time in scoring for UCLA this season, but it shouldn't take statistical accomplishments for Bruin fans to remember this season and the breadth of her impressive career donning the blue and gold.
Unsung hero: G Londynn Jones
Season stats: 9.0 PPG, 1.0 REB, 1.0 APG, 1.0 SPG, 38.2/37.4/88.2%

Londynn Jones is as confident as they come.
Standing at just 5-foot-4 in a conference as competitive as the Pac-12, she almost has to be.
And despite arriving in Westwood behind Osborne, Rice, graduate student Gina Conti and Dominique Onu on the guard depth chart, she's made the most out of her freshman campaign off the bench.
Jones' ability to harass opposing ball handlers with ridiculous lateral quickness during full-court presses helped her carve out a role quickly into the season. Eventually, it was enough to decrease Onu's minutes and lead her to transfer to the Bruins' crosstown rival.
Then Jones began to boast her offensive skills with three 20-point games and 12 more contests scoring in double figures despite coming off the bench in every matchup of the season.
Now, the guard has played at least 20 minutes in seven of the last eight games and at least 30 minutes three times this season. And when the Bruins need a basket late, Jones is not only on the floor, but often the one taking the shot.
Jones is the third leading scorer on a team that's been ranked for most of the season. And she's doing it as a freshman who has yet to start a game all season.
Alongside Rice, Jones has proven that the UCLA backcourt will be in good hands in the future when Osborne exits.
Impact freshman: G Kiki Rice
Season stats: 11.0 PPG, 5.0 REB, 3.0 APG, 1.5 SPG, 41.6/18.0/76.6%
Kiki Rice arrived in Westwood with all sorts of pressure.
She's handled it and then some.
As the No. 2 overall recruit in the nation and reigning Gatorade High School Female Athlete of the Year, the talented guard turned heads when she chose UCLA over more accomplished women's basketball programs.
But she made it clear that the opportunity to bring the Bruins their first national championship was a large reason why she chose to call Westwood home.
Though UCLA's up-and-down season doesn't look destined to end with a national title, Rice's play has shown why she has the potential to lead the Bruins to great things in the years ahead.
Rice trailed just Osborne in points per game this season and was the only other member of the blue and gold to average double figures in scoring each night.
She was second on UCLA in assists, and her composure, despite being a freshman, allowed Osborne to move over and play her more-desired role off the ball.
Not many freshmen can travel to No. 1 South Carolina and drop 16 points or play against Oregon in Eugene and have 21 points and seven assists to pull out a victory while Osborne was out with an injury.
But Rice isn't like many freshmen. Let's see if she can add a stellar March to her already impressive first year in Westwood.
X-factor: F Emily Bessoir
Season stats: 9.0 PPG, 5.0 REB, 1.0 APG, 1.0 SPG, 1 BPG, 40.9/35.7/66.7%

With Osborne as the team's star and an elite five-freshmen recruiting class that ranked first in the nation, not many people were talking about Emily Bessoir heading into this season.
Consider the fact that the redshirt sophomore was coming off a torn ACL that forced her to miss her entire second season, and there were more question marks than certainties about the international frontcourt player heading into 2022-2023.
But quietly, Bessoir has returned to the impactful two-way big that impressed as a freshman two seasons ago.
Bessoir ranks fourth on the Bruins in scoring, largely because of her rapid 3-point shooting improvement.
After shooting 29.4% and making 20 3-pointers two seasons ago, the 6-foot-4 Munich native made 46 3-pointers – the second-most on the team – at a 35.7% clip. Her ability to stretch the floor has allowed players like Rice and Osborne to thrive with more space inside on drives to the basket.
Bessoir also is second on the team in rebounding and blocks and has proven to be the most consistent presence in the paint for UCLA all season.
Having a quality big is a must, and with two freshmen behind her on the depth chart, Bessoir has played her role honorably this season.
Carlson is currently a staff writer on the football, men's basketball and women's basketball beats. He was previously a reporter on the softball and men's golf beats.
Carlson is currently a staff writer on the football, men's basketball and women's basketball beats. He was previously a reporter on the softball and men's golf beats.