Pac-12 regular-season title ends decadelong drought for UCLA men's basketball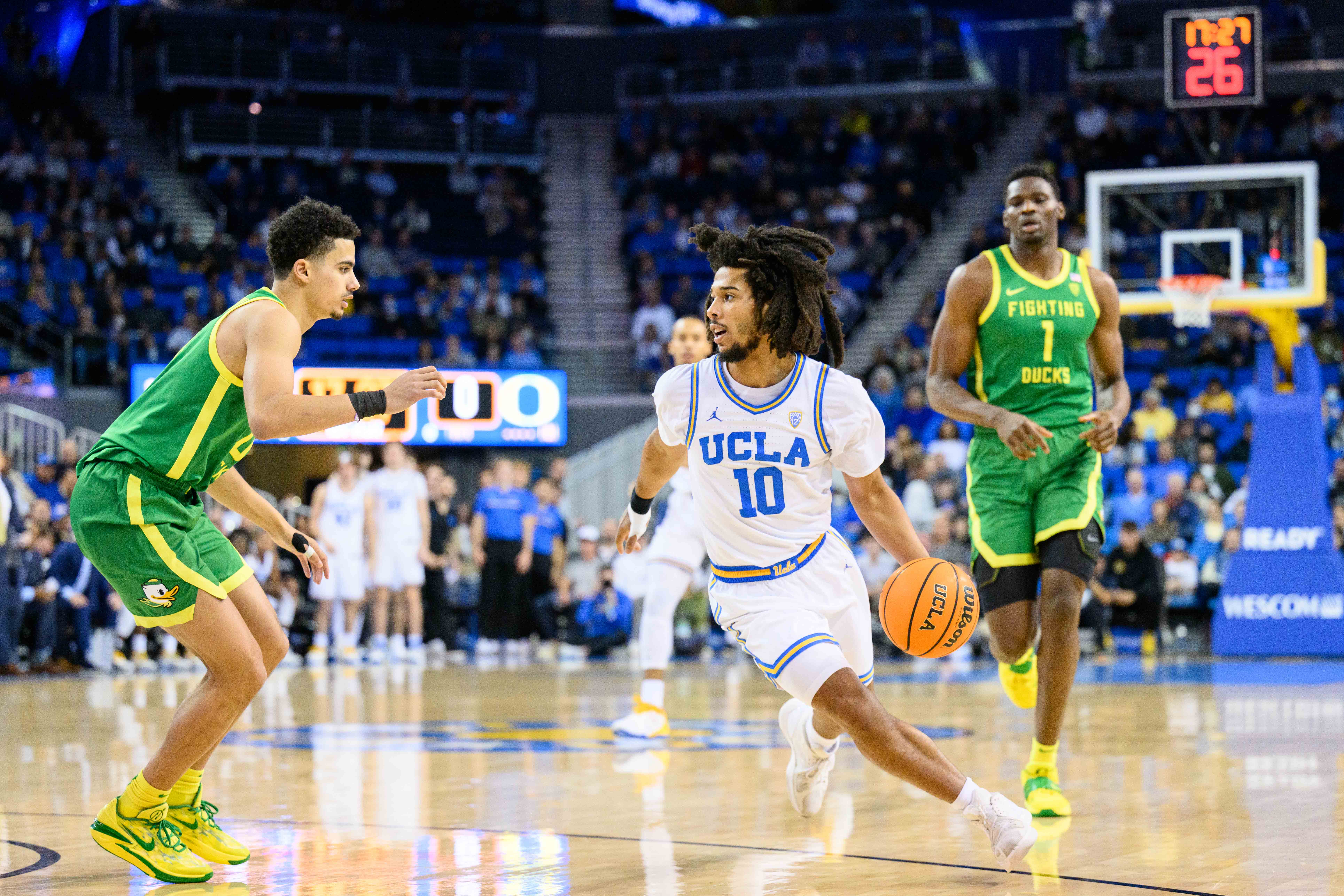 Redshirt senior guard Tyger Campbell dribbles around an Oregon defender. Campbell combined for 32 points in a pair of wins for UCLA men's basketball last weekend. (Jeremy Chen/Assistant Photo editor)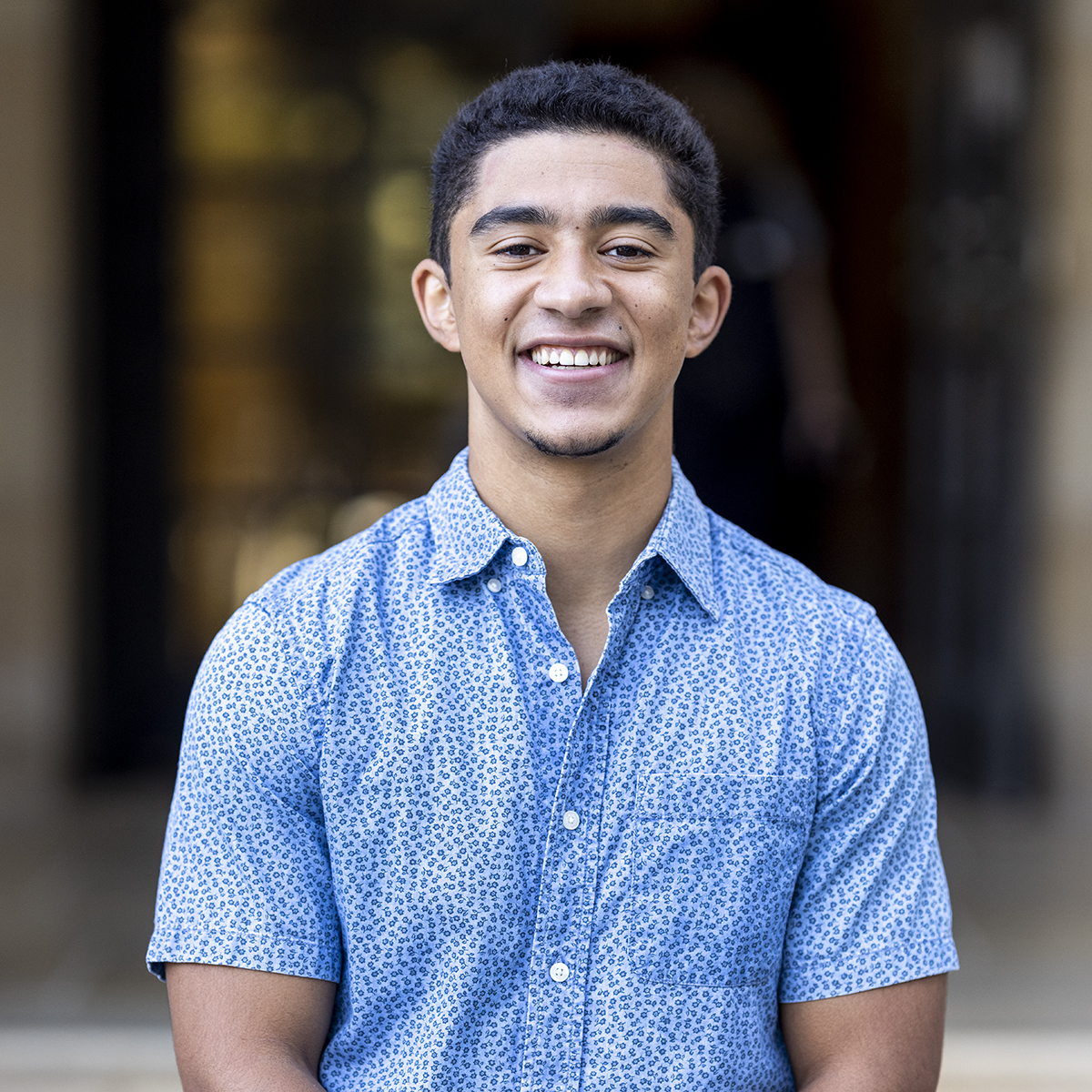 When a win clinches a championship, it's easy to focus on the end result and ignore what actually transpired.
In the final moments of UCLA's comeback victory over Colorado on Sunday, the Buffaloes tested freshman forward Adem Bona with a game-tying floater attempt. Bona swatted the shot, and it led to a game-sealing dunk.
It also helped UCLA men's basketball claim outright possession of its first Pac-12 regular-season title since 2013.
Coach Mick Cronin said he wasn't surprised with how the final play turned out.
"Not a shock," said Cronin. "I mean, you can't just drive it there and shoot it in Adem Bona's face. That doesn't work."
And yet, while Bona's block erased the shot and clinched a title, it didn't erase the Bruins' shaky first-half performance from the mind of Cronin.
"Early on, our offense was just awful," Cronin said. "We were wasting possession after possession."
UCLA began the afternoon shooting 1-of-11 from the field and eventually trailed by as many as 10 points midway through the first half.
Senior guard/forward Jaime Jaquez Jr. kept the Bruins in the game behind his 10 first-half points on 5-of-7 shooting. But a one-point, 0-of-5 shooting first-half performance from redshirt senior guard Tyger Campbell more closely resembled his poor play from the past month than his performance in the team's trip to Salt Lake City.
Campbell scored 18 points on 50% shooting and dished out five assists in UCLA's win over Utah last Thursday, but he was shooting just 31.6% from the field in the eight games prior and was even benched to start the second half against Stanford on Feb. 16.
Despite the recent poor form and modest start to the game Sunday, Campbell turned things around with a team-high 13 second-half points on 5-of-7 shooting and a number of clutch plays to help seal the victory over the Buffaloes.
Jaquez said he expects his point guard's strong second half to help spark a string of great upcoming performances for Campbell.
"I'm just so happy he had a great second half and really came through for us," Jaquez said. "That really meant a lot – that's really going to get him going coming into these next two games."
Jaquez added seven points in the half, but it was Campbell who came through in the clutch. A floater as the shot clock expired followed by a step-back jumper with 1:22 remaining to put the Bruins up three capped off his performance Sunday.
"The shot clock was going down, and I just felt like we needed a basket, and I tried to create one, and luckily my flip shot went in," Campbell said. "And then the step-back, I just tried to hold my follow-through and then it went through, so I was just trying to be as focused as possible at the end of the game."
Campbell's turnaround helped claim a Pac-12 regular-season championship, but leaving it at that wouldn't do the win justice.
In a season full of upsets – including a surprise defeat for then-No. 7 Arizona against Arizona State just days earlier – the Bruins erased a 10-point deficit on the road against a Colorado team that was previously 11-3 at home.
UCLA secured its second straight 25-win season with two regular-season games yet to play and kept its hopes of securing the No. 1 seed in the West region of the March Madness bracket alive.
Cronin reiterated his recent comments about the NCAA Tournament being the ultimate goal.
"I told them, 'Guys, I don't want any water thrown on me,'" Cronin said. "It (the regular-season title) doesn't change anything. A side effect is going to have to be win the Pac-12 to try to be able to stay in the West. So, we've got more games to win to be able to try to accomplish that goal."
Jaquez – one of the key members of UCLA's Final Four run in 2021– said he and the rest of the team understand Sunday's Pac-12 title-clinching win is simply another step in the team's endmost mission.
"We've got an ultimate goal, that's to win a national championship," Jaquez said. "This was just a step in the right direction, so we know we've got a lot of season left. It's not over yet."
Carlson is currently a staff writer on the football, men's basketball and women's basketball beats. He was previously a reporter on the softball and men's golf beats.
Carlson is currently a staff writer on the football, men's basketball and women's basketball beats. He was previously a reporter on the softball and men's golf beats.