Opinion: As a UCLA student from Toronto, I've found community in the familiar and foreign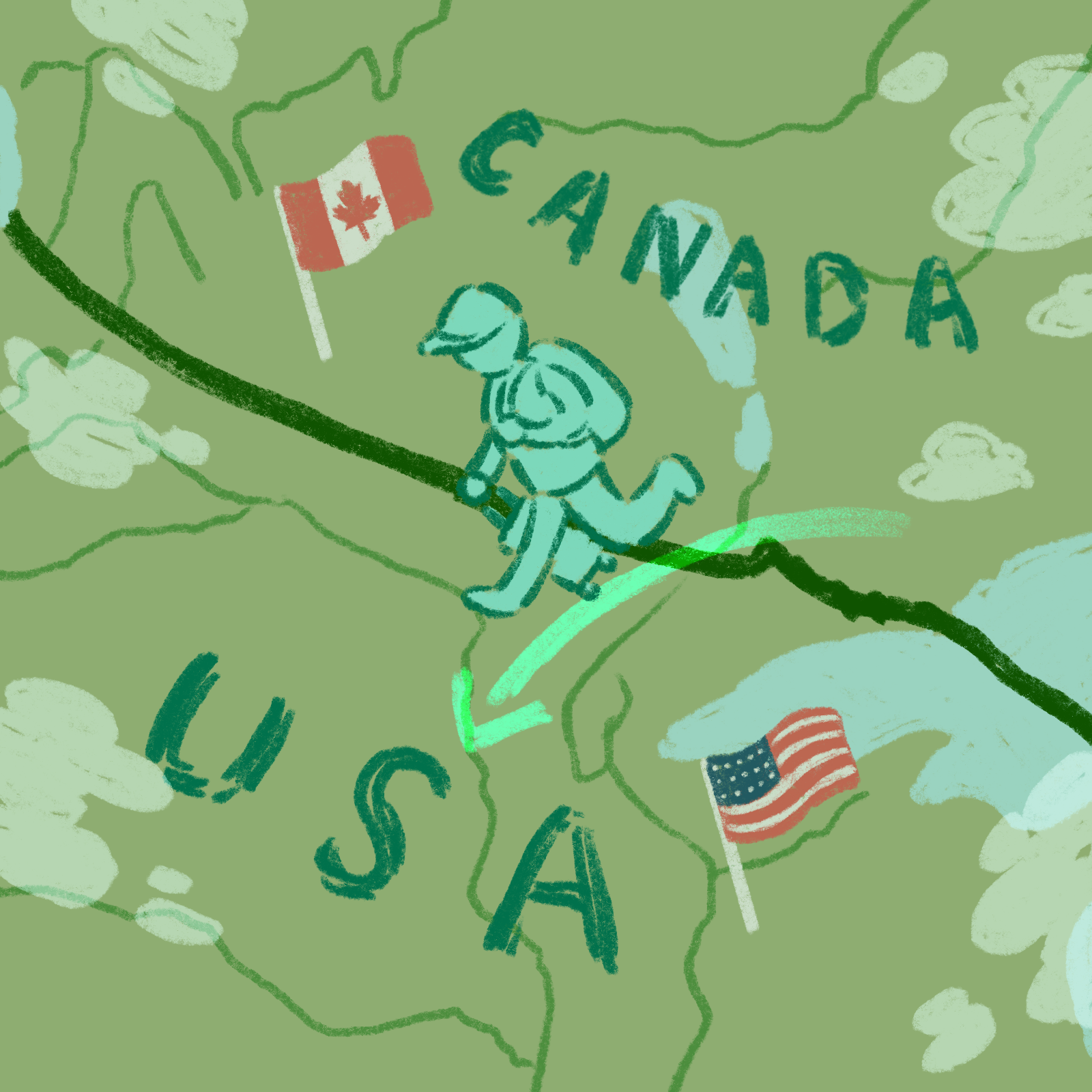 (Isabella Lee/Illustrations director)
The first image that pops into most minds when one thinks of Canada perhaps includes maple syrup, plaid, cold winters and poutine.
While we do get lots of snow and have delicious maple syrup, there is more to our stereotypes than meets the eye.
Born and raised in Toronto, Canada, I only visited California once before being accepted into UCLA. I was just 14 years old on a family vacation, my mind nowhere near the college application process. We spent a week building sandcastles on the beach, taking photos in front of the Hollywood sign, walking down Rodeo Drive and visiting the San Diego Zoo.
Never in a million years could I have imagined I would be back in California earning an undergraduate degree at UCLA in just four years.
I distinctly remember clicking the "commit" button upon receiving my acceptance letter. I screamed, cried and jumped with joy when receiving the news that I would have the opportunity to study at a world-renowned educational institution.
It is fairly uncommon for Canadian high school students to apply to American universities since Canada has exceptional postsecondary educational institutions. As one of three students in my graduating class traveling outside of Canada for college, many questioned why I would want to leave.
Nevertheless, I valued the well-rounded liberal arts system that defines American higher education. As someone who has always explored numerous interests throughout high school, I still had no clue what I wanted my career path to look like. Rather than going into a specific program – as many students do in Canada – I wanted time to explore my passions further while having the opportunity to change my career path and ultimately discover where my own curiosities lie.
The weeks leading up to move-in day were complex, to say the least. I had the array of mixed emotions that all new students experience: the tingling nerves and knots in your stomach that refuse to go away, giddiness and excitement beyond control at the prospect of attending a college you had grown up watching in the movies, shock at the fact that you actually got in, and a certain level of childhood nostalgia.
Moving approximately 3,500 kilometers – yes, I use kilometers – is daunting, to say the least.
My initial perspective of what life would be like as a UCLA student consisted of an early morning surf at Santa Monica Beach, an acai bowl for lunch, class in the afternoon and the occasional celebrity spotting at night. I quickly came to realize that this was slightly different from reality, which actually consisted of late nights studying in Powell Library and, instead of surfing, morning jogs down Sunset Boulevard.
Regardless, it still feels like a dream.
I will never forget entering my first lecture hall at UCLA and walking through the rows as I apologized to all the students who were moving their bags and laptops for me to get through, when someone asked, "Are you Canadian?"
I distinctly remember the immediate fear that flooded inside me. Apparently, the word "sorry" makes my accent come out quite strongly, and all I wanted on that first day of class was to fit in among the other equally-as-terrified freshmen.
A lecture hall with 300 other students was not my idea of an ideal first spot to have my Canadian accent pointed out.
However, once the brief moment of panic about being different passed, I soon realized that UCLA provides a community that strengthens my continued thirst for knowledge of the diverse people and places around me.
I can embrace my Canadian background while still learning about American customs and traditions.
I have come to realize that Canadian and American cultures do in fact overlap in numerous ways. Before moving to Los Angeles, I had thought living in the two cities would be like living in two different worlds. We use kilometers, they use miles. Toronto has snow, LA has sand.
Nonetheless, from the multicultural cuisines to the diversity of languages, it became apparent that Toronto and LA have more similarities than I had originally anticipated. Even the climates are not as opposite as one might think. In fact, LA was just hit with a giant blizzard this past weekend.
At some point, looming questions of identity are undoubtedly bound to go through every international student's head.
I will always be a Canadian, but am I also starting to become an American?
When people ask me where I live, do I say Toronto or LA?
Who am I right now? Who will I become by the time I graduate?
The truth is, at this point, I don't actually know.
However, my time at UCLA has shown me that it is possible to find the familiar within the foreign – communities can be found wherever you go. In fact, I can be both: A Canadian citizen studying at an American university with a biological family in Toronto and a Bruin family in LA, and a future of endless possibilities to explore in Canada, America or somewhere else entirely.
Little did I know when I clicked that "commit" button on my UCLA application that I would be where or who I am today. If you had told my younger self that I would be studying human biology and society at UCLA, she would not have believed you. Nor would the girl decorating her dorm on move-in day have believed that she now writes for the Daily Bruin and works as a campus tour guide.
Moving from Toronto to LA has been thrilling, scary, promising and daunting. Nevertheless, It's a decision I would make again in a heartbeat. Traveling, immersing yourself in a culture that may be slightly unfamiliar to you, and learning more about your own identity are invaluable opportunities with impacts that will last a lifetime.
After all, everyone needs a home away from home, eh?