James Webb Space Telescope data challenges previous knowledge of early galaxies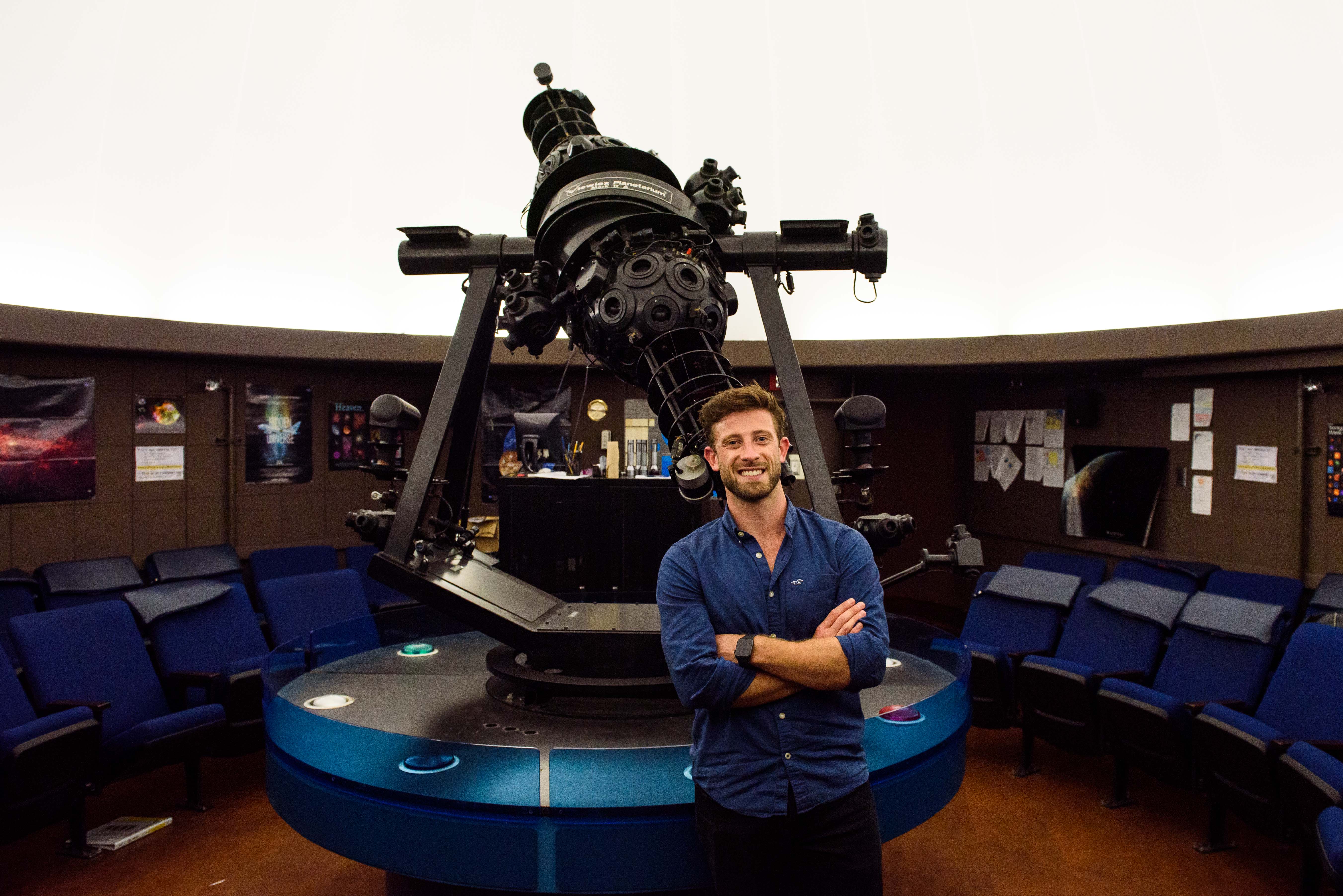 The inside of the UCLA Planetarium is pictured. UCLA researchers used data from the James Webb Space Telescope to study distant galaxies more closely than before. (Shane Yu/Daily Bruin)
UCLA researchers collected data with the James Webb Space Telescope to characterize distant galaxies, revealing new information and challenging previously held ideas such as the age of the earliest galaxies.
JWST, which launched in December 2021, is different from previous telescopes because of its large size. The telescope's mirror measures 6.5 meters in diameter, which allows for greater sensitivity and ability to create sharper images, said Tommaso Treu, professor of physics and astronomy and vice chair for astronomy and astrophysics.
Alice Shapley, a professor of physics and astronomy, said the telescope is also able to measure longer wavelengths than telescopes such as Hubble Space Telescope, which is important because the light that distant and older galaxies emit stretches as it travels across space.
Unlike ground telescopes such as those at Keck Observatory at Mauna Kea in Hawaii, JWST is in space, which prevents factors such as the atmosphere from affecting measurements, she said.
Many researchers have already published papers with the data collected from JWST in the year since it launched.
Treu said his team was able to obtain pictures and spectrographic data from JWST to identify the first galaxies. He added that analysis of this data led them to realize that the galaxies existed 200 million years after the Big Bang, earlier than previously thought.
Imaging data from JWST has allowed researchers from his project to see that there may be more early galaxies than formerly believed, said Guido Roberts-Borsani, a postdoctoral researcher in physics and astronomy. Another major breakthrough from his project was confirming the distance of one of the farthest and most faint galaxies known to scientists with JWST's spectroscopy instruments, he added.
In addition, Roberts-Borsani said he was able to calculate that a cluster of several different early galaxies discovered by Hubble likely formed in the same system. He added that the galaxies would eventually turn into the type of cluster seen in the modern universe, which is important because researchers are currently attempting to determine how the universe came to exist as it does.
Researchers have also discovered black holes in nearby galaxies that were previously unknown, as the visible light that exposes their existence is absorbed, said professor of physics and astronomy Matthew Malkan. However, he added, they were able to identify the galaxies using JWST's infrared instruments, which helped researchers realize how much information they may be missing, even within close galaxies.
He also said JWST has found distant galaxies that have different shapes and brightness levels than researchers predicted.
"Every textbook will have to be redone," Malkan said.
Though Shapley's project data won't be collected by JWST until November, she said her team was able to use public JWST data to analyze the chemistry and star formation processes of very distant galaxies. The galaxies characterized have histories dating back to 13 billion years ago – 3 billion years older than the galaxies previously seen with the Keck telescopes, she added.
Researchers said they also hope to see more projects undertaken with JWST to collect more groundbreaking data.
Malkan said he hopes to conduct research on the energy that black holes expel in unpredictable directions and determine how this affects the rest of the galaxies that the black holes occupy.
The telescope could be used to get more data on very distant galaxies, Roberts-Borsani said. He would like to see if the telescope could find the very first galaxies and stars formed in the universe, he added.
Shapley's scheduled project focuses on determining how much oxygen is in distant galaxies to understand how they are evolving, she said. Measuring oxygen allows researchers to learn more about the different processes involved in the growth and birth of galaxies, as they all affect oxygen levels, she added.
"JWST is going to let us make this estimate of the oxygen content much more robust than what we were able to do before, so it should be a real game-changer," Shapley said.
JWST could also answer long-held questions about the universe, such as the identity of dark matter – a hypothetical form of matter that makes up the majority of the universe, Treu said. Along with other scientists, he is interested in JWST projects to determine why the expansion rate of the universe is different when measured in nearby versus distant galaxies, he added.
In order to use the telescope, scientists must first submit proposals that are reviewed anonymously by a committee of scientists who are experts in the proposal's area of research, Malkan said. The process is very competitive, with most proposals having to be rejected because of the limited time available to use JWST, he said.
Originally, JWST was expected to have enough fuel to remain operable for five to 10 years, Roberts-Borsani said. However, the launch was executed smoothly, allowing much of its original fuel to be conserved, which may extend its longevity, he added.
"I expect that people will be using the telescope for 10 to 15-plus years, which is great for junior researchers like myself because it basically means that we're going to be able to build a large part of our careers using James Webb data," Roberts-Borsani added.
JWST has opened up a multitude of new possibilities for researchers, Shapley said.
"I've been in astronomy for a while, but it's been really a revelation to see all these new things, and the universe is just beautiful," Treu said. "There's so much to discover that it's nice to be reminded, like Hamlet says, 'There are more things in heaven than there are in your philosophy.' … The surprises that the universe has in store are the best part."