UCLA women's basketball to face Arizona State in Pac-12 tournament opener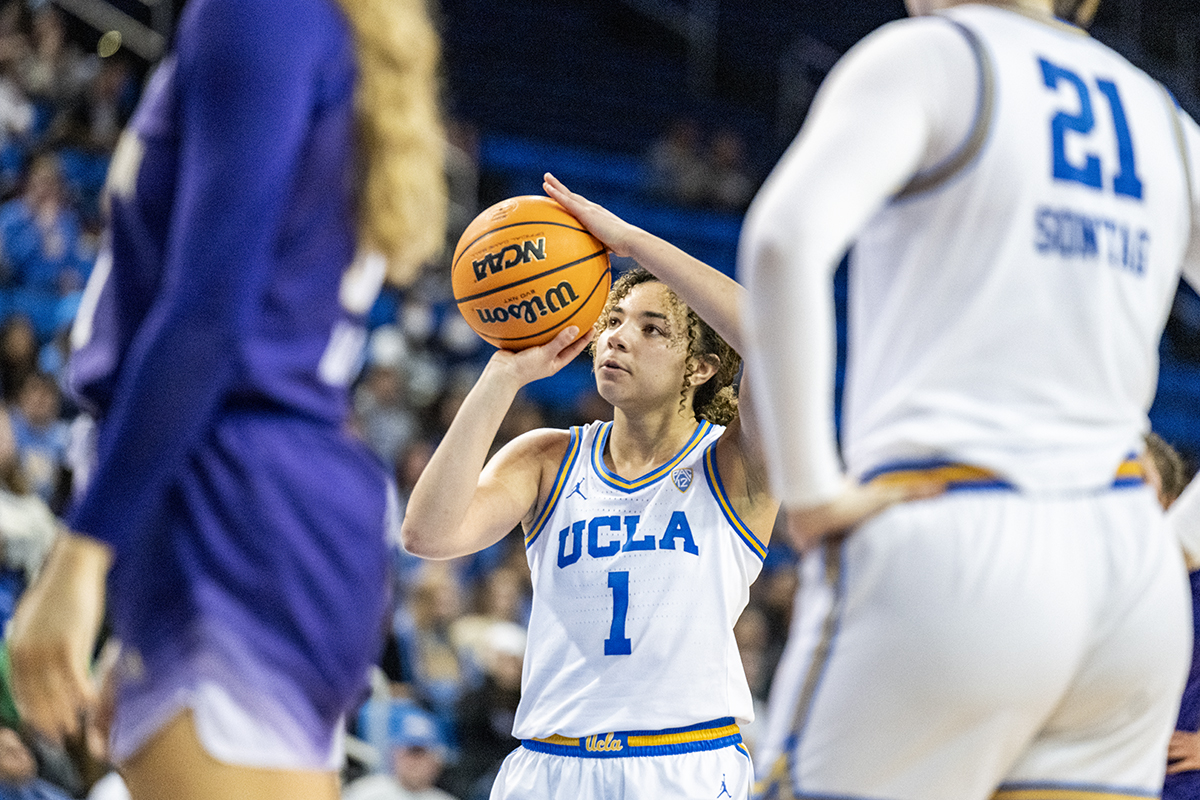 Freshman guard Kiki Rice prepares to shoot a free throw. Rice collected 15 points in the Bruins' last contest against Washington. (Megan Cai/Assistant Photo editor)
Women's Basketball
---
No. 12 seed Arizona State
Wednesday, 12 p.m.
Las Vegas, NV
Pac-12 Networks
This post was updated Feb. 28 at 11:25 p.m.
There's no freshman class more prepared for their first Pac-12 tournament than the Bruins, according to coach Cori Close.
Close emphasized that from the beginning of the season to the end of conference play, the freshmen have seen considerable time on the court and have taken on the strenuous weight of collegiate ball.
"They've stepped up to every challenge we've given all year long," Close said. "I had to give the minutes of our freshmen playing in games versus every other top-20 team, and the talent is like night and day. There's no one even close."
Missing out on a first-round bye for the second consecutive year, No. 19 UCLA women's basketball (22-8, 11-7 Pac-12) will head to Las Vegas with its young squad looking for four straight wins for an automatic bid to the NCAA tournament. The fifth-seeded Bruins will take on tournament No. 12 seed Arizona State (8-19, 1-17) in the first round on Wednesday. With a win, they would move on to the quarterfinals and face No. 4 seed Arizona.
Earlier this season, the blue and gold defeated the Sun Devils at home 82-63, adding yet another victory to their 13-game winning streak. UCLA hasn't lost to Arizona State in an away game since 2016.
The Sun Devils were faced with an unfavorable season impaired by injuries and unavailable players across the roster. They were forced to forfeit a couple of games, which contributed to their losing streak.
Behind its new coach, Natasha Adair, Arizona State secured its first season win last week against Oregon State. During its biggest comeback in school history, guard Tyi Skinner scored 27 points and led her team to victory. However, the Sun Devils' win was followed by a defeat in Eugene.
Against a veteran starting lineup for Arizona State, freshman guard Kiki Rice said this season has set the young Bruin team up for growth and success during this tournament.
"All of us freshmen have been preparing throughout the entire season," Rice said. "We're going to trust the preparation that we've put in. It's going to be a great opportunity, and it's going to be a lot of good experiences."
Rice is averaging 11.3 points per game and has started in all but one: the senior day game on Saturday afternoon, which featured four graduating Bruins. Freshman guard Londynn Jones is hot off the bench and dangerous from beyond the arc, hitting at least one 3-pointer in nine of the last 10 contests. Jones was named Pac-12 Freshman of the Week after her season-high of 19 points.
The young players are led by the more experienced Bruins, like senior guard Charisma Osborne. Going into her last Pac-12 tournament, she said she knows the freshmen are prepared for this challenge.
"It is really hard being a freshman playing so much, and there's so much pressure, but they've just done such a great job of handling it," Osborne said. "It's not easy coming from high school with the change of pace and having to adapt to that. It's just super cool to see how much they've grown from the beginning of the season to now."
Graduate student guard Gina Conti didn't see the floor in last year's tournament, as she was riddled with injuries. But after bouncing back this year, Conti has notched 28 consecutive starts and continues to be another leader for the Bruins.
If the blue and gold escapes with a win on Wednesday against the Sun Devils, it will advance to face Arizona, a campaign to avenge a fourth-quarter breakdown on Feb. 3 in Pauley Pavilion.
Close said the Bruins are prepared for this tournament, knowing that it is concentrated with the toughest teams in the country.
"We (the Pac-12 conference) have the highest win percentage in Pac-12 history, and then we just beat each other up," Close said. "We're not going to see anything new. It's going to be about the tougher, more together team through all the ups and downs and the intensity that tournament brings."