UCLA track and field transfers bolster roster with experience, perspective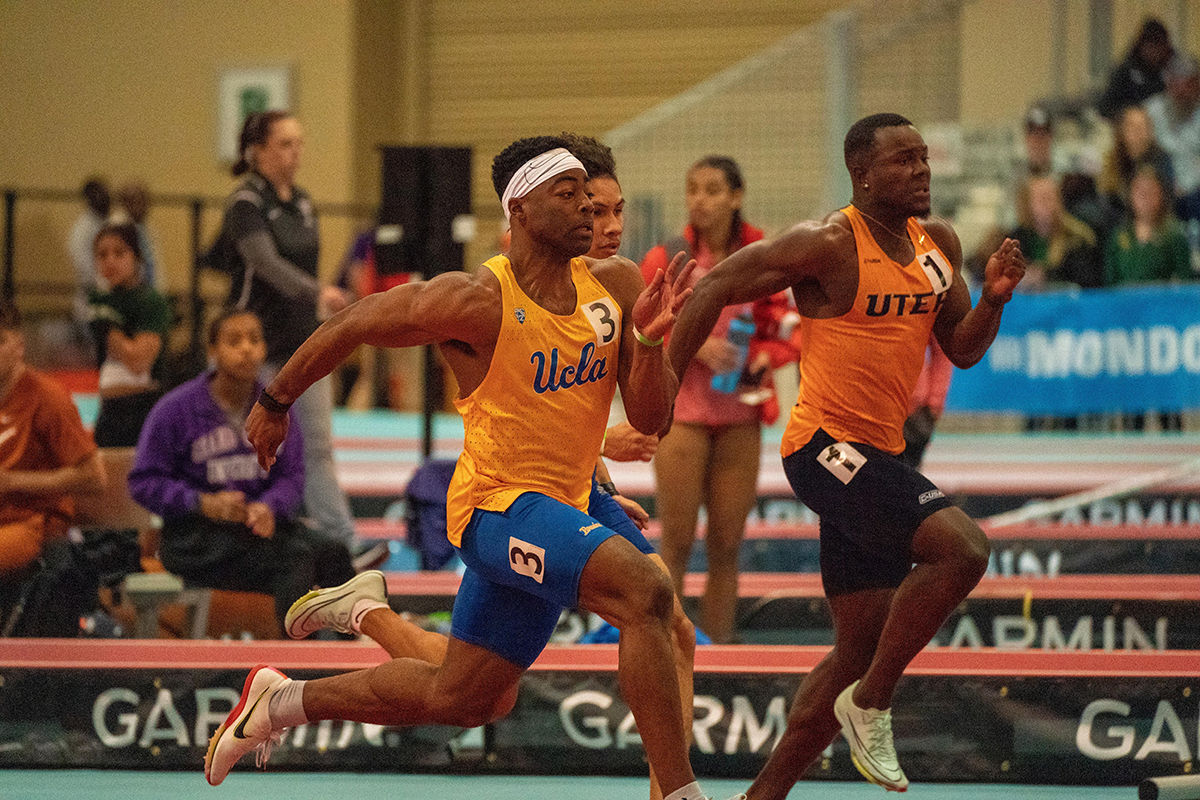 Graduate student sprinter Eric Allen Jr. (pictured above) is a student in UCLA's Applied Geospatial Information Systems and Technology Master's program who competes for UCLA track and field. The USC transfer has already etched his name in the UCLA record books in his inaugural season donning the blue and gold. (Courtesy of Benjamin Kirk)
This post was updated Feb. 28 at 8:41 p.m.
In collegiate athletics, teams build much of their success by recruiting athletes out of high school and developing them over their multi-year tenure.
And while the Bruins have plenty of contributors who committed to the blue and gold out of high school, much of their success has stemmed from transfer student-athletes.
UCLA track and field's 2022-2023 team consists of several transfers across multiple events, bringing backgrounds from across the country.
Graduate student sprinter Willington Wright and graduate student jumper Jelaani Davis offer Big 12 experience as transfers from Texas and Oklahoma, respectively. Meanwhile, graduate student sprinters/hurdlers Jada Jones and Sharelle Samuel traveled across the country from Harvard.
Coach Avery Anderson, who ran track and played football for the Bruins in the 1990s, said many transfers cite the well-roundedness of the UCLA experience as a factor in their decision to commit.
"It's the best place to be a track and field athlete that there is," Anderson said. "You have the best of all worlds when it comes to academics, facility, weather, location and personal and social growth."
Anderson said the transfers' achievements beyond the track are especially notable.
"They are very high-achieving academically," Anderson said. "Some of them were on the transfer portal, and we were able to line them up with a program here academically, but several of them got into school on their own."
Among those academic achievers is graduate student thrower Mayyi Mahama, who transferred from the University of Pennsylvania.
Despite Westwood being across the country from her old school, Mahama attributed the support system at UCLA to helping ease the change of scenery.
"Being a transfer here, this transition was very smooth, and my coaches were helpful," Mahama said. "It was easier than I thought it would be coming from an old institution, especially with athletics. There's such a culture of success here that I really like."
While pursuing a Master of Fine Arts in animation, Mahama has been the Bruins' top women's weight thrower in 2023. She ranks fourth all-time in the event in program history, improving her throwing distance in each of her four meets this season.
As a graduate student, Mahama offers a unique perspective to the team with the postseason around the corner.
"I bring experience," Mahama said. "I've been into NCAAs for four years. I know the meets and the pressure."
UCLA's roster is similarly experienced on the men's side thanks to transfers such as Eric Allen Jr. from crosstown rival USC. Allen, a graduate student sprinter from Odenton, Maryland, ran for the Trojans' 4×400-meter relay team that won the Pac-12 championship last spring.
Despite his prior commitment to one Los Angeles school, Allen cited academics as a factor that drew him to the blue and gold.
"When I entered the (transfer) portal last spring, I was looking for a school that was well known for track and had an academic major that I was looking for," Allen said. "UCLA had a Master's of applied geospatial information systems and technologies degree. And after talking to the coaches and faculty in the program, I determined that UCLA was a fit."
But making the crosstown transfer from USC to UCLA can be daunting because of the longtime rivalry, Allen said.
"I was an outsider coming in," Allen said. "I didn't know how I was going to blend in with the school and the rest of the team, but when I arrived, it was one of the easiest transitions I've ever had."
In his first season with the program, Allen has picked up where he left off from his success at USC. He's established himself as the Bruins' top 60-meter dash sprinter with a time of 6.69 at the Martin Luther King Invitational. That mark also ranks sixth all-time among indoor Bruins.
With NCAA championships and the outdoor season ahead, transfers like Mahama and Allen will have plenty of chances to continue their contributions.
"It's a unique time," Anderson said. "We find ourselves in a place where it's benefited us tremendously to add such great people from places where they've had experience that we can bring and help add to what we are."