Jordan Chiles toes the line with perfection in UCLA gymnastics' meet at Arizona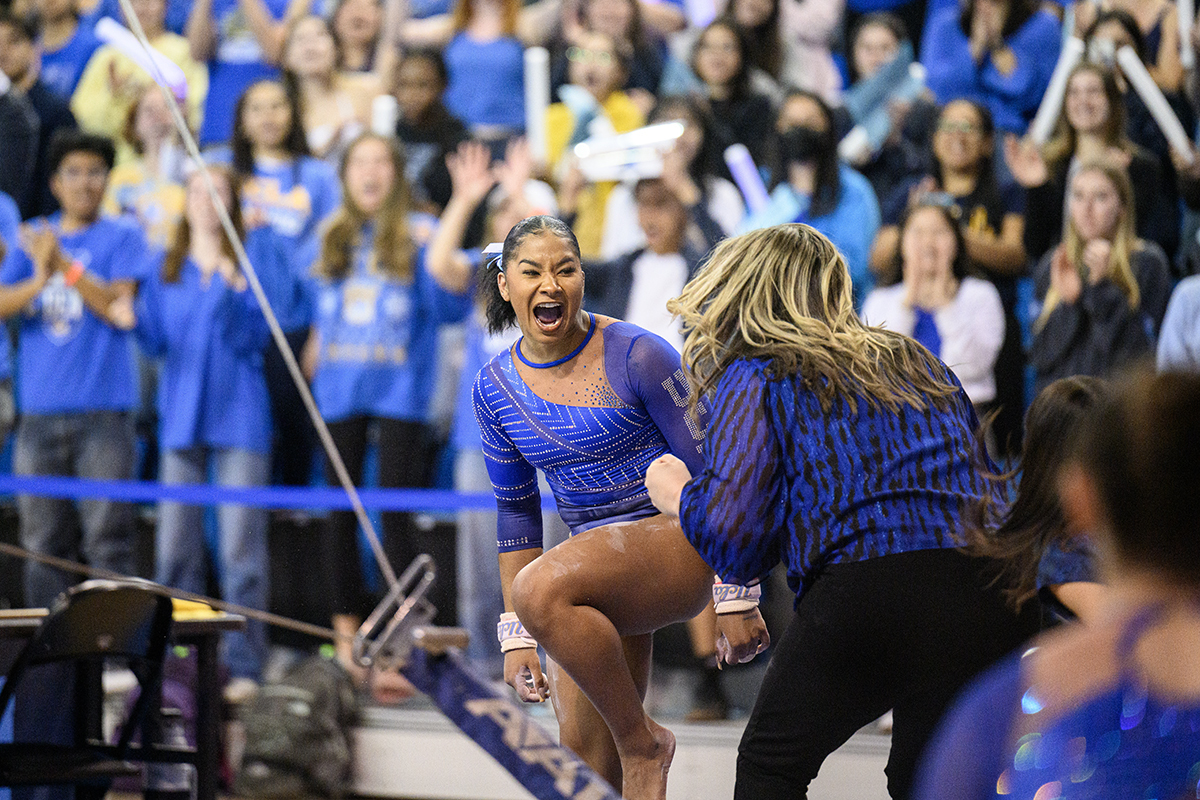 Sophomore Jordan Chiles celebrates after a bars routine in Pauley Pavilion. Chiles reached a career-high 39.850 in the all-around, scoring 9.950-plus on all four events as No. 5 UCLA gymnastics beat Arizona in Tucson on Sunday. (Christine Kao/Daily Bruin staff)
Sport
---
| | |
| --- | --- |
| No. 5 UCLA | 197.900 |
| Arizona | 195.325 |
This post was updated Feb. 26 at 9:25 p.m.
In her final routine of the meet, Jordan Chiles stuck the landing on her double pike beam dismount and smiled before celebrating wildly.
It was a scene that had been repeated throughout the meet, as Chiles swept all four events and posted a career-high 39.850 in the all-around – tied for the second-highest all-around score in the country this season.
Chiles and the rest of No. 5 UCLA gymnastics defeated Arizona 197.900-195.325 in Tucson on Sunday. The victory marked the Bruins' 34th consecutive win over the Wildcats.
"I had an amazing day," Chiles said. "Obviously, I can work on little details here and there, but I was really proud of myself."
UCLA began on bars, an event on which it ranked No. 4 in the nation entering the weekend. Although every gymnast hit their routine, only two earned scores of 9.900 or above en route to a 49.325 on the event – the Bruins' lowest bars score of the season.
Coach Janelle McDonald said the team is planning to take it in stride.
"We've been working really hard on details in the gym, and I just feel like some of those details didn't get dialed in today," McDonald said. "I'm excited to have a full week of training at home … and really show the work they've been putting in."
The rotation was highlighted by the two high marks, however. Sophomore Ana Padurariu tied her career high of 9.900, and sophomore Jordan Chiles, who has scored 9.900-plus on every bars routine this season, nearly achieved perfection with her fourth 9.975 this year.
Padurariu, who is coming back from injury, said working with a bars specialist like McDonald has helped her gain confidence on the event.
"I've definitely had a lot more time to improve on bars throughout the month," Padurariu said. "I worked a lot of basics so that when I came back, I was able to implement Janelle's technique."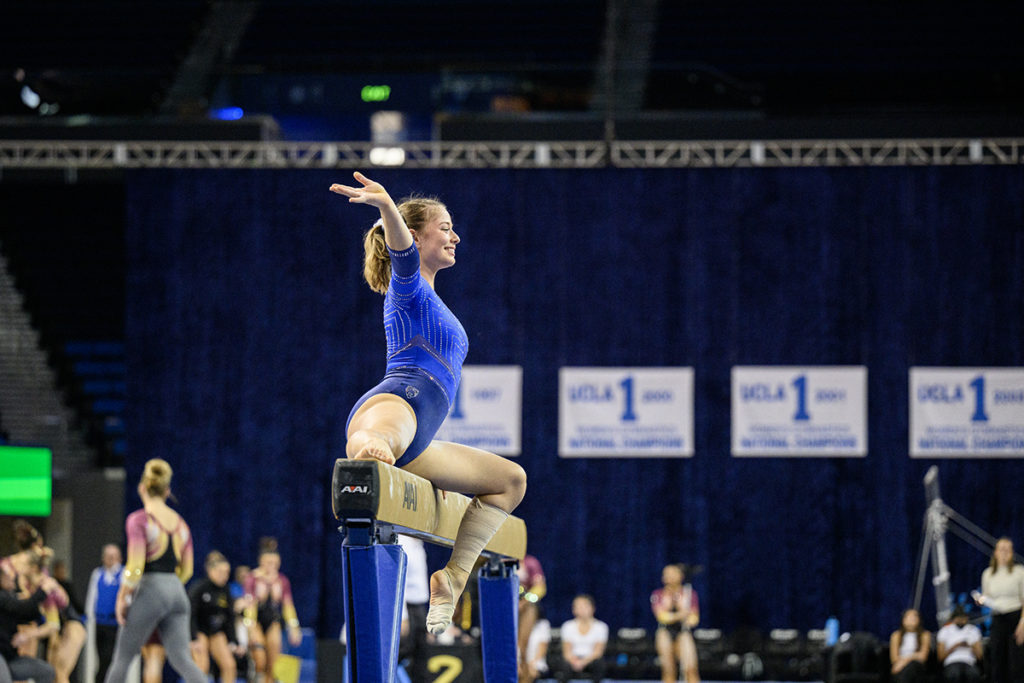 The Bruins turned it around on vault with a 49.400, tied for their highest score of the year on the event. Sophomore Emily Lee led off with a career-high 9.875, followed by sophomore Emma Malabuyo, who made her season debut on the event with a 9.825. Junior Chae Campbell stuck her Yurchenko full for a season high-tying 9.925.
Even an uncharacteristic 9.725 from freshman Selena Harris couldn't derail the Bruins as Chiles followed her with a 9.975, tying her career high.
"We've been really, really intentional about attacking vaults," McDonald said. "It's starting to become a more dialed-in event for us."
With the Bruins holding a firm lead over the Wildcats at the halfway point, they rotated to floor, on which they rank No. 1 in the nation.
A late removal of Harris caused Lee to substitute for her in the lineup. Lee was one of three Bruins to score a 9.900 flat while Malabuyo tied her season high with a 9.925, with one judge giving her a perfect 10.
Chiles once again put up a huge number, posting a 9.950 to give the Bruins a 49.575 on the event.
McDonald said UCLA's success, even with the late changes, is indicative of the team's poise and confidence.
"They're resilient," McDonald said. "They're dialed in, and anything that gets thrown at them doesn't faze them."
UCLA ended the meet on beam, coming off a season-high 49.625 last week in Berkeley. Two career-high 9.950s from Padurariu and Chiles en route to a 49.600 put the final exclamation point on UCLA's victory.
Chiles attributed the Bruins' recent success on beam to their team camaraderie.
"Being confident in ourselves and trusting one another is a huge thing," Chiles said. "We always like to show up and show out."
The Bruins will return home next Sunday for their penultimate regular-season meet.
Trimbell is currently a contributor on the gymnastics and rowing beats.
Trimbell is currently a contributor on the gymnastics and rowing beats.