UCLA study finds drug could have ability to reduce lung cancer cell growth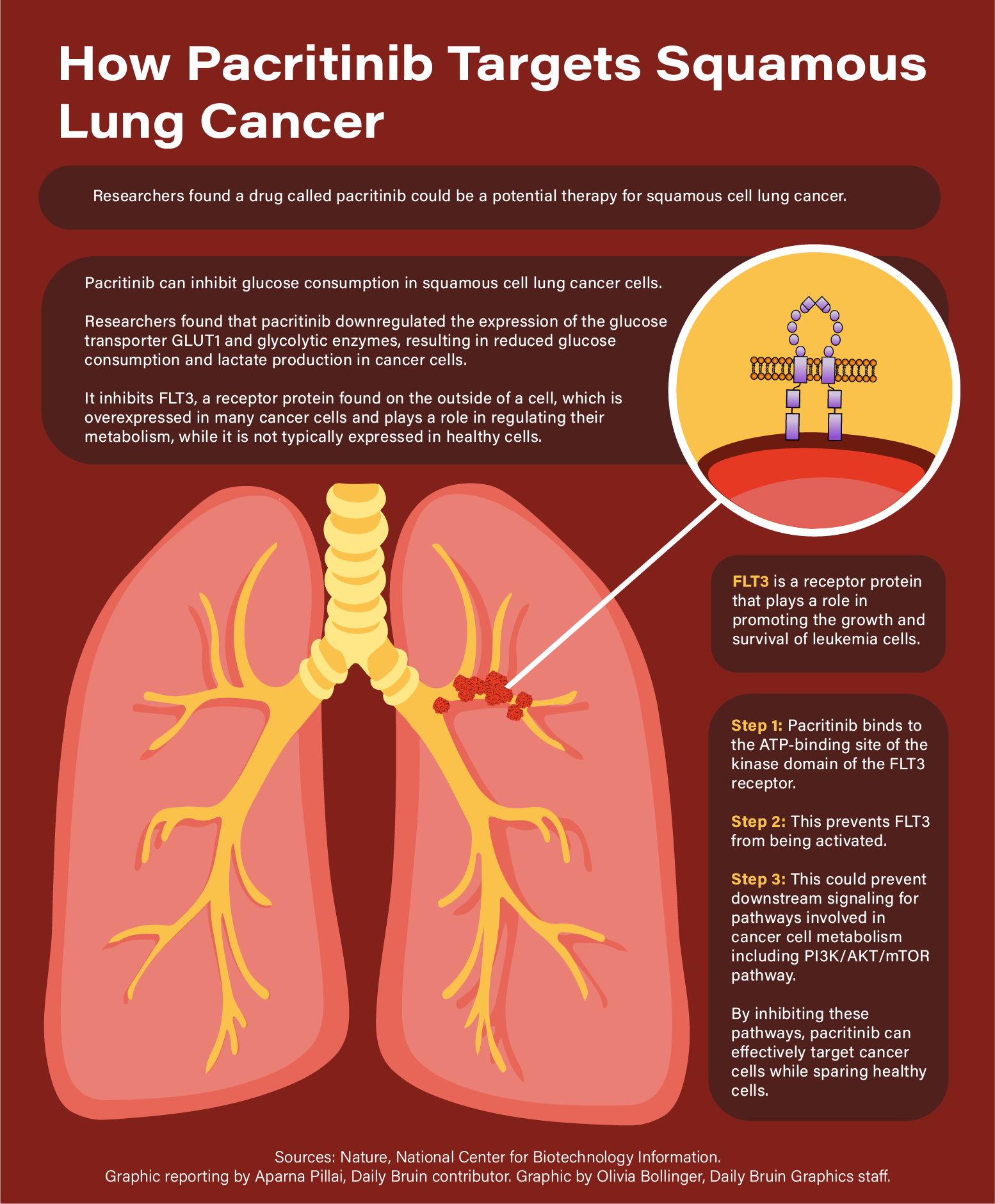 This post was updated Feb. 26 at 11:11 p.m.
In a recent study, researchers at UCLA found a drug that can limit the growth of certain lung cancer cells.
According to the paper, the drug, pacritinib, can reduce glucose consumption in squamous cell lung cancer cells by targeting the FLT3 protein, which is found in many cancer cells and plays a role in promoting their growth and survival via glucose consumption. Cancer cells require glucose to survive and grow, said Peter Clark, assistant professor in the Department of Molecular and Medical Pharmacology at the David Geffen School of Medicine and senior author of the study, which was published in January. Clark added that researchers have previously attempted to target the glucose consumption of cancer cells, but this had inhibited healthy, vital tissues from growing.
Squamous cell lung cancer is a form of non-small cell lung cancer, which is more common and slower spreading than its counterpart, small cell lung cancer. It has cells that consume glucose at a high rate, according to Clark.
The researchers found that pacritinib inhibits FLT3, reducing the glucose consumption. These high levels of glucose consumption are also found in many other cancers, Clark said, although his study focused only on squamous cell lung cancer.
Pacritinib has been previously used for the treatment of other diseases like myelofibrosis and certain blood disorders, but its potential for treating squamous cell lung cancer by targeting the FLT3 protein was previously unknown.
"Our lab was trying to understand how we can target glucose pathways … because if we are able to break these pathways, we can also block tumor growth," ​​said Chiara Ghezzi, a former project scientist in Clark's lab and the first author listed on the paper.
Clark said the researchers screened about 3,000 to 4,000 drugs and identified 70 to 80 that specifically blocked glucose consumption in cancer cells. Of these, they determined pacritinib to be the most effective at blocking this consumption.
The researchers tested pacritinib in both cell culture and mice. Preliminary studies in mice showed a decrease in cancer cell glucose consumption, according to the paper. More studies need to be done to further test the validity of the results and effectiveness of the drug, Ghezzi added.
If those studies prove effective, researchers will focus on testing it in patients through clinical trials, Clark said.
David Nathanson, an associate professor in the Department of Molecular and Medical Pharmacology, said the drug's value is in its ability to selectively target cancerous cells. He added that it is a promising candidate for clinical use because it does not impact normal glucose metabolism.
"By understanding essentially what is driving the consumption of this critical fuel for this cancer, you can then potentially think about that this could be a good drug to target this cancer, specifically in terms of its metabolic needs," he said.
Clark said he believes pacritinib may prove to be a way to selectively target glucose consumption in cancer that is also safe for patients.
"This … is not just characteristic of this particular cancer, it's consistent across probably 90% of cancers," Clark said. "Hopefully you can help to develop new therapies for this cancer, but we'll also hopefully inform people or show them that this is a possible way, a different way, of targeting cancer and treating cancer."