UCLA track and field athletes face 'Last Chance' to qualify for nationals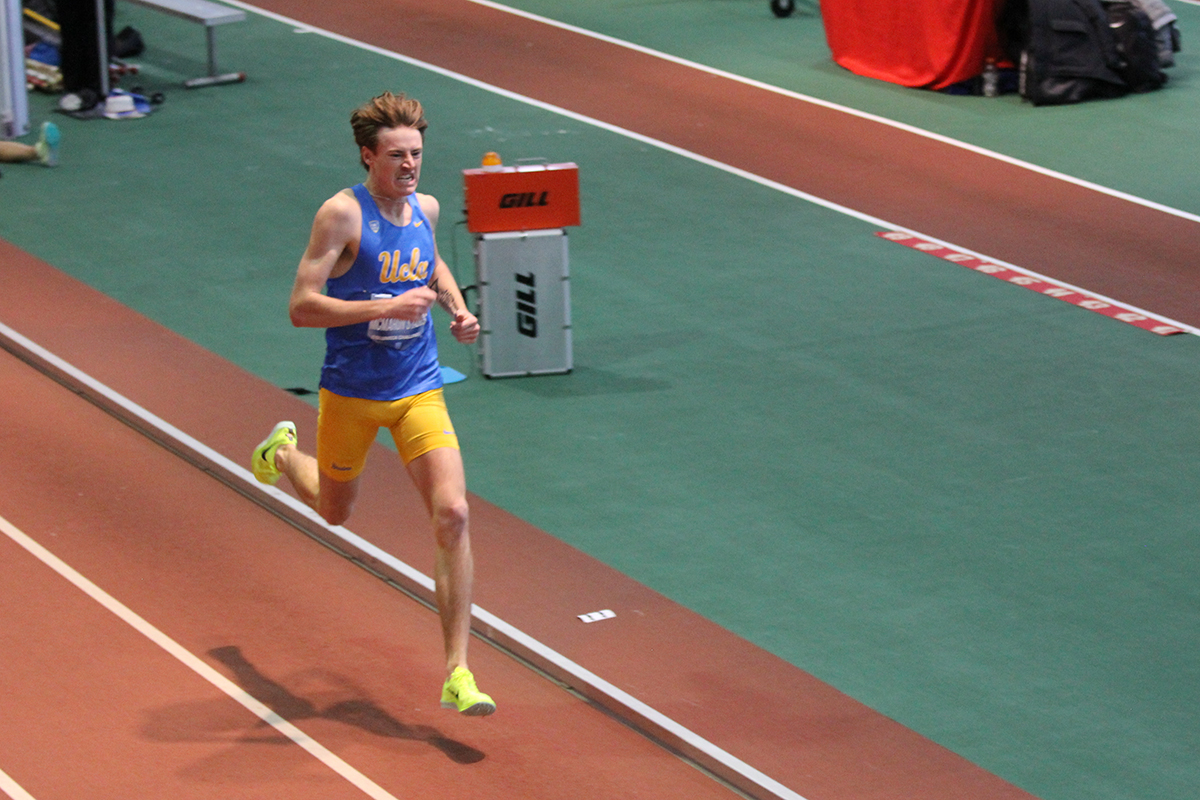 Junior sprinter Rohan McMahon-Staggs broke his own all-time school record for the one mile race last weekend, a performance that earned him UCLA Student-Athlete of the Week honors. (Courtesy of Corey Mueller/UCLA Athletics)
With the national championships looming, the Bruins are heading into their final event of the regular season.
UCLA track and field is set to compete in the Ken Shannon Last Chance Invite this Friday and Saturday in Seattle – the final opportunity for many athletes to qualify for the indoor track and field national championship.
With only athletes who have secured the top national times able to compete in their respective events at the championships, there are many UCLA athletes hoping to improve their position or set a new season-best to qualify.
Assistant coach Sean Brosnan said he has specific goals in mind for the team in its last chance to improve its position for nationals.
"This weekend we have women's distance medley relay," Brosnan said. "They are going in ranked 10th in the country. Twelve go to nationals, so we are going to try and secure that spot and run it again. I think we can go in ranked top five and the goal would be to be top three at the national meet."
Graduate student sprinter Willington Wright echoed the sentiment, adding that he is feeling motivated by his teammates in more ways than one. The Texas transfer has been a part of two 4X400 teams for UCLA this season that have broken the program record in that event, but said he still has the desire to keep improving.
"My motivation right now is stemming from the fact that we are on the cusp of something that is going to be really extraordinary for this upcoming championship," Wright said. "I see my teammates and my brothers striving for the same goals that I am trying to get, so I have to work just as hard as them. Iron sharpens iron."
Junior sprinter Ronan McMahon-Staggs is coming off of a performance that earned him the honor of UCLA Student-Athlete of the Week, breaking his own all-time school record for the one-mile race. McMahon-Staggs has broken this school record in the last three events he has competed in, highlighted by a mark of 3:54.93 his last time out.
McMahon-Staggs said the award was a welcome surprise.
"It was super unexpected," McMahon-Staggs said. "I had … I had always wanted to go to UCLA, and I would see that stuff on their Instagram when I was younger, so it is kind of surreal."
McMahon-Staggs will be competing in the 800-meter race for the first time competitively at this upcoming meet, as the team feels confident that his current one-mile race time is good enough to qualify him for nationals.
"I think it is just being open to a different feeling that I am going to feel during the race that is going to hurt in a different way," McMahon-Staggs said. "I fall a lot at the end of races, so hopefully I do that at the end to show that I tried."
Brosnan said he has high hopes for McMahon-Staggs beyond just this upcoming meet.
"I think I can probably be crazy saying this to some people, but Ronan has an outside chance to win the thing if not be top three," Brosnan said. "He has one of the best kicks I have ever seen in the NCAA. He is a lot better than people think he is."