UCLA beach volleyball prepares for Outrigger Duke Kahanamoku Beach Classic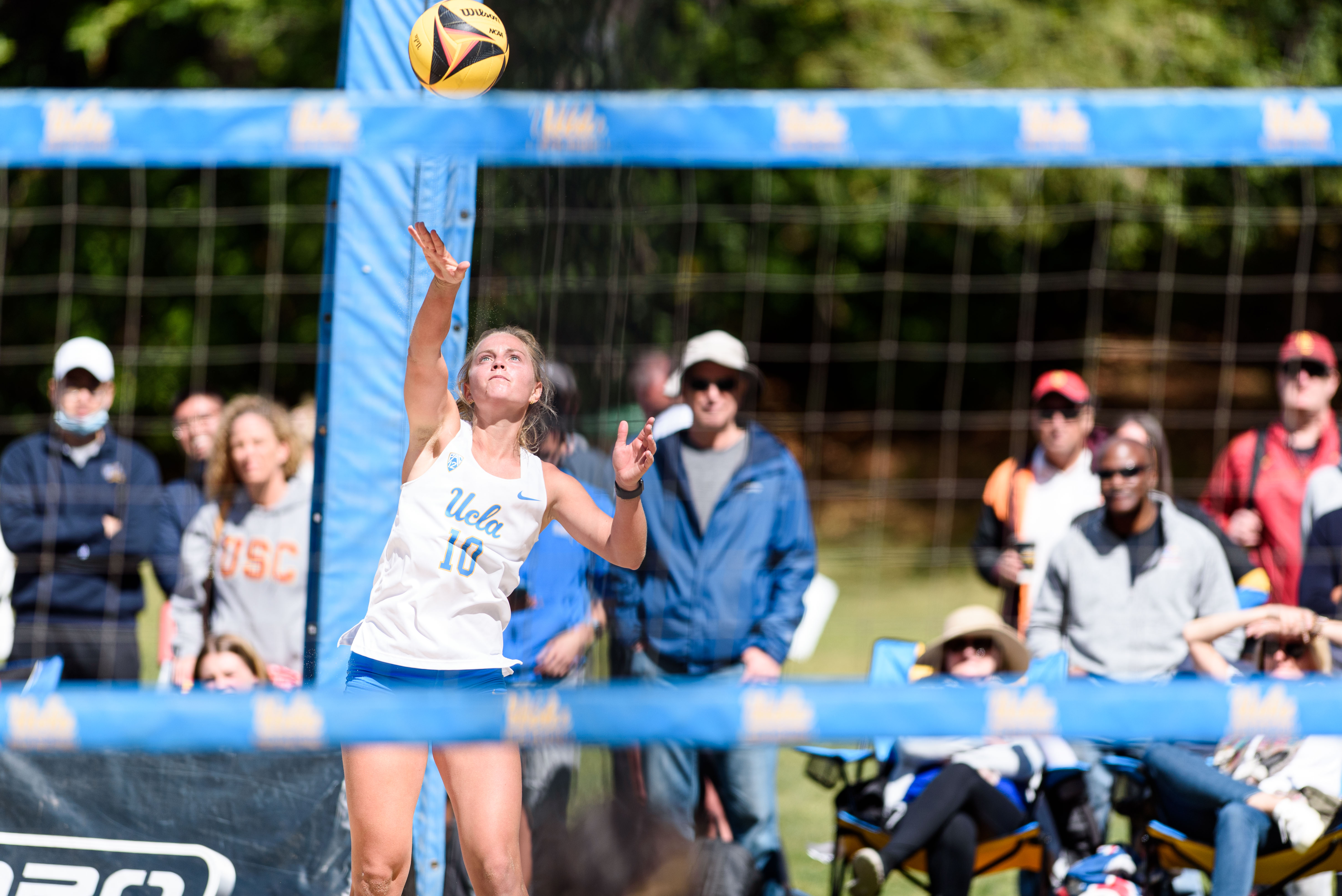 Graduate student Jaden Whitmarsh serves the ball over the net. Whitmarsh finished the 2022 season with a 22-5 record in two-set matches. (Christine Kao/Daily Bruin staff)
Beach Volleyball
---
Saint Mary's
Thursday, 11:30 a.m.
Honolulu
No TV info
---
Stephen F. Austin
Thursday, 2 p.m.
Honolulu
No TV info
---
No. 9 Stanford
Friday, 10:15 a.m.
Honolulu
No TV info
---
No. 10 Hawai'i
Friday, 12:45 p.m.
Honolulu
No TV info
This post was updated Feb. 22 at 10:28 p.m.
Starting the year as the top team in the nation, the Bruins have much at stake in their first tournament of the season.
No. 1 UCLA beach volleyball will begin its season at the Outrigger Duke Kahanamoku Beach Classic in Honolulu. The blue and gold will compete in back-to-back doubleheaders, facing Saint Mary's and Stephen F. Austin on Thursday and No. 9 Stanford and No. 10 Hawai'i on Friday.
Sophomore Jessie Smith and senior Lexy Denaburg both said a target will be on the Bruins' backs.
"Something we put a lot of emphasis on is that this ranking doesn't matter because it is just a preseason title," Smith said. We have to come out even stronger."
Even though they are the preseason No. 1, the team agrees that the ranking is just a number and does not impact their work in the offseason and throughout the season. Smith emphasized that the Bruins have been preparing hard in their practices as they get ready to kick off their season.
"We have been practicing very hard. We have a very deep team, and every day in practice would be as competitive as a meet would be," Smith said. "We have also been going to the beach and getting wind practice, which is very important."
But practice isn't the only type of training the team has been putting in. Graduate student Jaden Whitmarsh said the team has also spent its offseason working on its mental game.
"Something I implemented (in) the offseason was mental training," Whitmarsh said. "More visualization and doing things that fulfill me and things I like to do to prepare me."
Many new and familiar faces will be coming back to represent the blue and gold this year. Nine of the 10 starters from last season's roster that accomplished a 34-9 overall record will return.
The class of newcomers features 2022 AVCA Junior Beach All-Americans Jayla Shanks, and Kenzie Brower. Ky Vaickus and Ensley Alden will also make their debut for the Bruins.
Smith said she is incredibly excited about the return of senior Devon Newberry.
"I am really excited for Devon to come back because she had surgery," Smith said. "I am excited for her to play in her first game again."
UCLA has gone a combined 79-16 in its last three seasons, but the Bruins haven't won an NCAA championship since 2019.
Whitmarsh, who redshirted that season in 2019 and has been an integral member of the team the past two seasons, said this year's squad is different.
"This is the closest I've been with a team before. We have a big group of girls, and we all get along so well," Whitmarsh said. "I'm excited to start competing with them and to go up against amazing girls and cheer each other on."
Thursday's action from Honolulu begins with a showdown against Saint Mary's at 11:30 a.m.