No. 1 UCLA softball looks to Mary Nutter Collegiate Classic with high hopes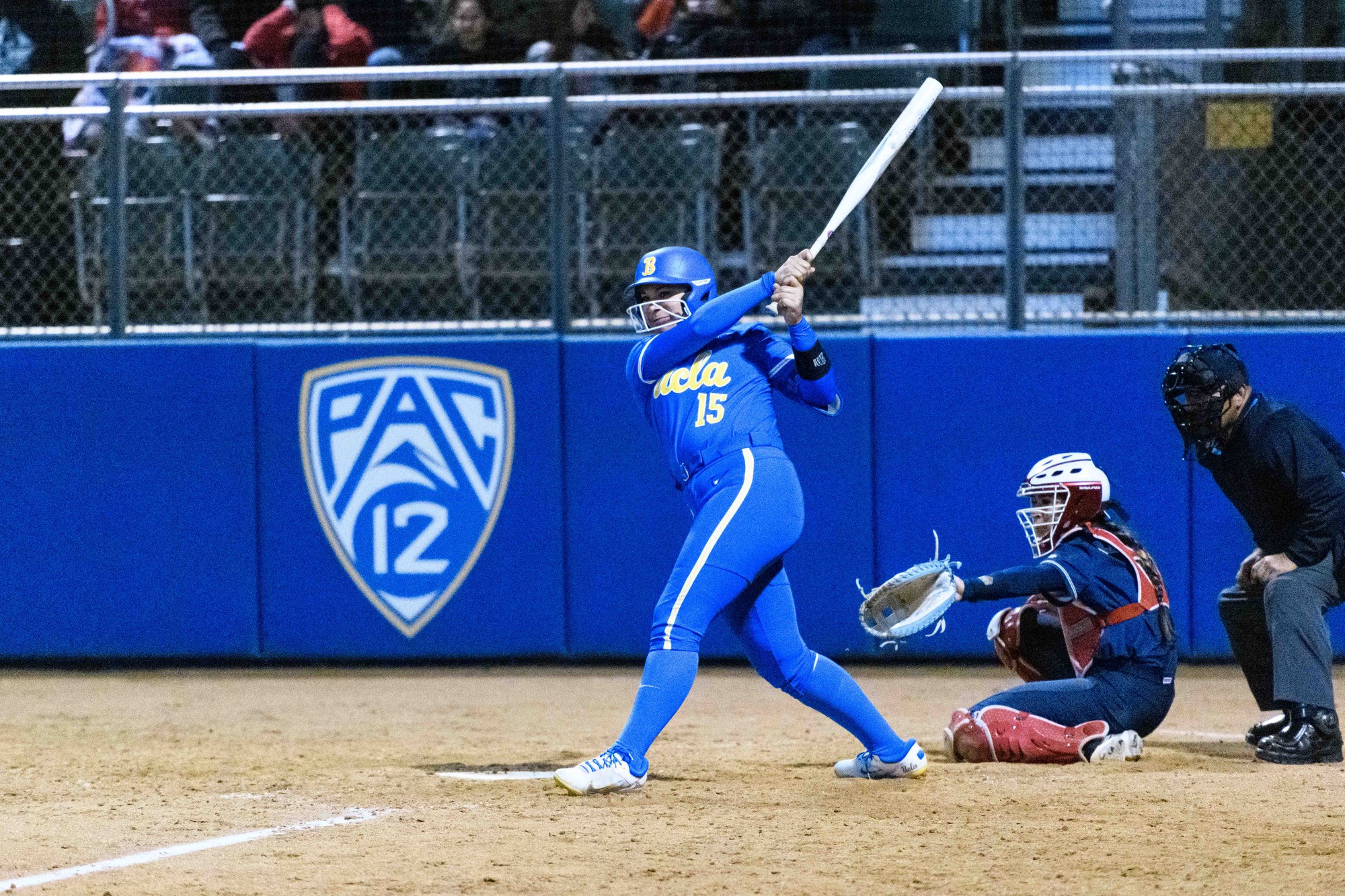 Freshman infielder Jordan Woolery follows through on a swing. Woolery stands second among all eligible Bruins in batting average, slugging percentage and OPS thus far in 2023. (Myka Fromm/Daily Bruin)
Softball
---
No. 3 Florida
Thursday, 7:30 p.m.
Big League Dreams Sports Park (Cathedral City, CA)
FloSoftball
---
No. 18 Kentucky
Friday, 5:30 p.m.
Big League Dreams Sports Park (Cathedral City, CA)
FloSoftball
---
Iowa
Friday, 8 p.m.
Big League Dreams Sports Park (Cathedral City, CA)
FloSoftball
---
No. 19 Northwestern
Saturday, 2:30 p.m.
Big League Dreams Sports Park (Cathedral City, CA)
FloSoftball
---
Texas A&M
Saturday, 5 p.m.
Big League Dreams Sports Park (Cathedral City, CA)
FloSoftball
---
No. 2 Oklahoma
Sunday, 9:30 a.m.
Big League Dreams Sports Park (Cathedral City, CA)
FloSoftball
This post was updated Feb. 22 at 9:44 p.m.
After winning 12 straight games to start the season and achieving the country's No. 1 ranking, the Bruins will look to continue their success in another early-season tournament.
No. 1 UCLA softball (12-0) will play six games in four days at the Mary Nutter Collegiate Classic in Cathedral City, California. The tournament will feature matchups against four ranked teams, including No. 3 Florida (10-0) in the first game Thursday and No. 2 Oklahoma (8-1) in Sunday's finale. UCLA will also take on No. 18 Kentucky (7-1-1), Iowa (6-3), No. 19 Northwestern (4-4) and Texas A&M (9-2).
In week three of the USA Today/National Fastpitch Coaches Association poll, UCLA received 29 of 32 first-place votes, with Oklahoma receiving the other three. It marks the first time the Bruins have stood at No. 1 since starting the 2021 season 6-0.
A large storyline of the blue and gold's pre-conference schedule has been neutral-site invitationals, as 22 of its first 23 games of the season are being played in such tournaments. The Mary Nutter Collegiate Classic will feature the highest number of ranked teams, featuring No. 1 vs. No. 3 and No. 1 vs. No. 2 matchups. Last season at this event, the Bruins posted a 5-0 record in three days of play.
Coach Kelly Inouye-Perez said these tournaments give her team a chance to gain experience and learn about themselves.
"With a tournament, it's about getting tested with big crowds, big opponents, big names," Inouye-Perez said. "You learn about things that you want to work on, things that you're doing well, and it builds confidence or it shows you different parts of the game that you need to tighten up."
A large part of the Bruins' success can be attributed to the dominance of redshirt senior pitcher Megan Faraimo and sixth-year pitcher Brooke Yanez. In their 13 combined appearances, the duo has six complete games, four of them being shutouts, along with 96 strikeouts compared to only nine walks and nine earned runs.
Faraimo said the Bruins' schedule gives them a great chance to show who they are as a team.
"I'm looking forward to seeing how our team does in a tournament back-to-back weeks," Faraimo said. "I want to see how we present ourselves and go and attack a really good opponent. I think it'll be really, really fun. I'm excited for that."
Another contributing factor to the Bruins' success has been the effectiveness of the team's newcomers. Freshman infielder Jordan Woolery and freshman utility Megan Grant have been productive, with both starting all 12 games and contributing 29 RBIs and 37 total bases.
Woolery attributed her success and lack of nerves to the players around her.
"I think it's because of the lack of pressure," Woolery said. "There's so many great people in our lineup and so many All-Americans surrounding all of us. So I think the pressure has (been) completely taken off of us because we know someone great is going to be behind us."
The Bruins will travel to Cathedral City on Thursday and will first face off against the Gators at 7:30 pm.
Darrow is currently a Sports reporter on the men's soccer beat. He was previously a contributor on the women's tennis, men's volleyball and men's soccer beats.
Darrow is currently a Sports reporter on the men's soccer beat. He was previously a contributor on the women's tennis, men's volleyball and men's soccer beats.