Student-run HAND at UCLA hosts Neurodegenerative Disorders Awareness Night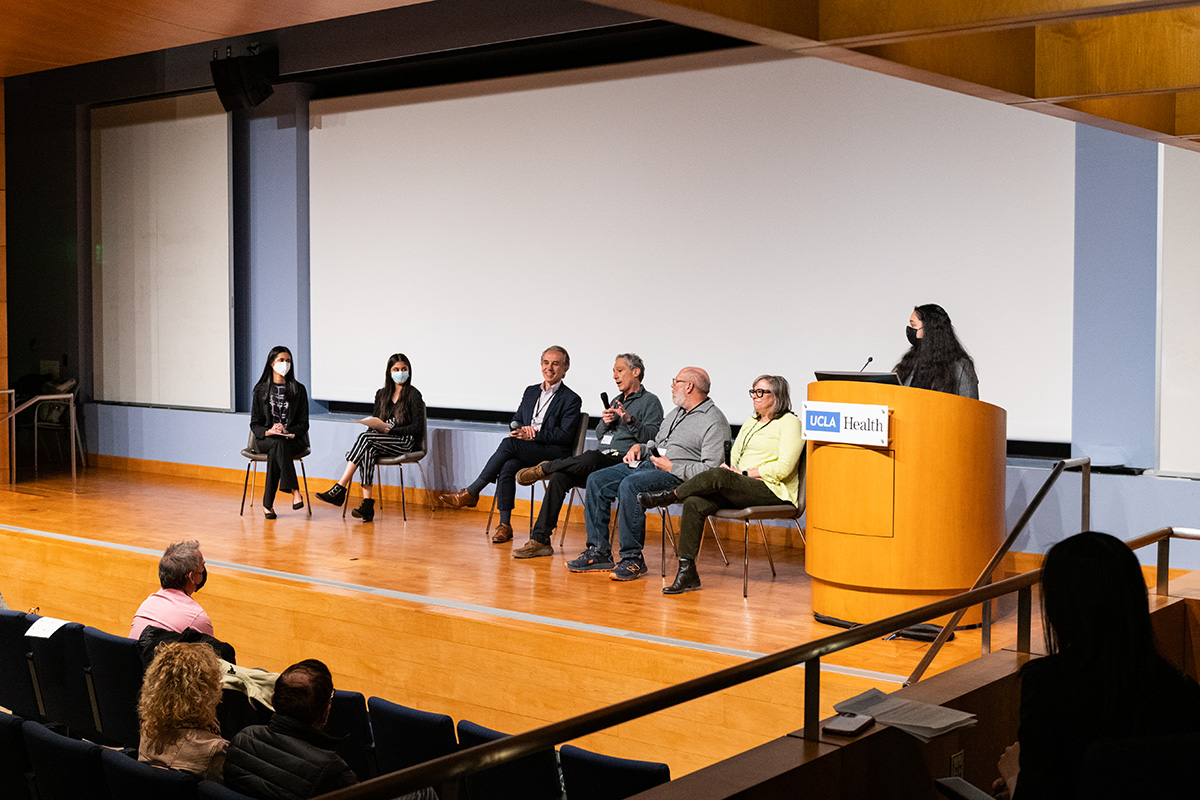 Speakers during the first panel of Neurodegenerative Disorders Awareness Night discuss experiences with Parkinson's disease. The event, hosted by High-tech and Neurological Disorders at UCLA, included seven guest speakers in multiple panels and presentations. (Shane Yu/Daily Bruin)
High-tech and Neurological Disorders at UCLA, a student-run organization, hosted an awareness event Thursday to educate the community on neurodegenerative disorders.
The two-hour Neurodegenerative Disorders Awareness Night – hosted in the Ronald Reagan UCLA Medical Center's Tamkin Auditorium – featured seven speakers in a series of short presentations and panels, along with various educational and interactive booths. Audience members ranged from undergraduate students to patients with neurological disorders, said Tiffany Chen, president of HAND and a fourth-year human biology and society student.
"I was just amazed at the diversity of the audience and then how engaged and how focused they were," Chen said.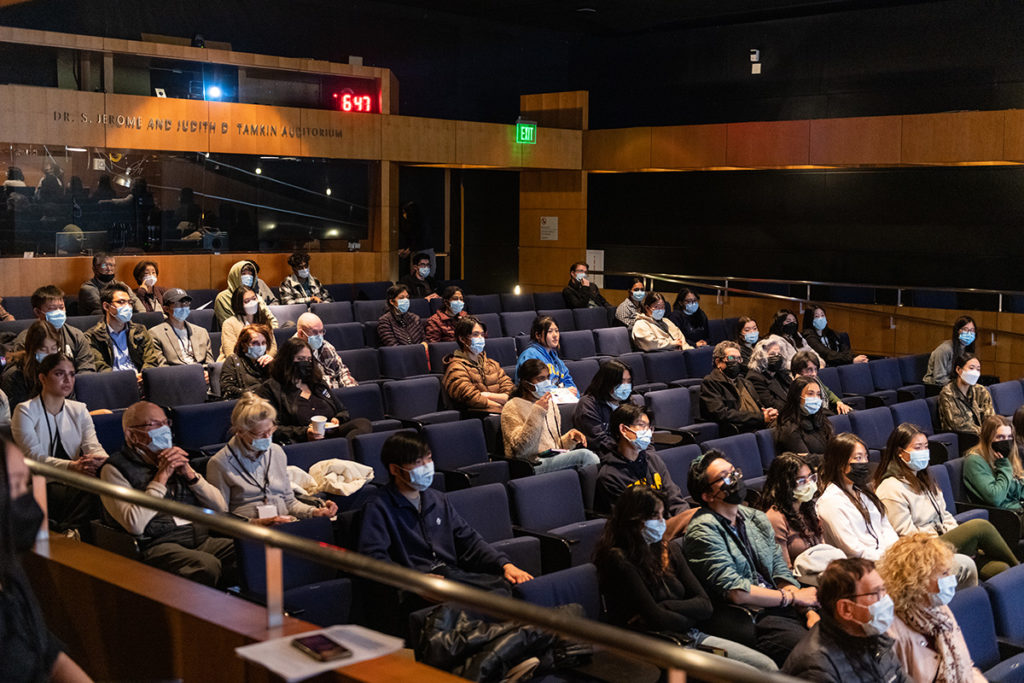 HAND aimed to bridge the gap between neuroscience researchers and the public with this event, said Sasha Anand, vice president of education for HAND and a third-year microbiology, immunology and molecular genetics student, in an emailed statement.
"A lot of information on neuroscience, and frankly STEM in general, is confined to academia and the professional medical space, which leaves a lot of people in the dark about their own health or that of a loved one," Anand said in the statement.
The conference began with a keynote speech by Dr. Jeff Bronstein, HAND's medical advisor and the director of the Movement Disorders Program at UCLA.
Bronstein's presentation outlined recent research in the neurological disorders field, especially for Parkinson's and Alzheimer's disease. Dr. Michele Tagliati, director of movement disorders at Cedars-Sinai Medical Center, then discussed his involvement in the field and called upon younger generations to continue ongoing research efforts.
Michael and Nessa Weinman, representing Parkinson's Community Los Angeles, an organization dedicated to providing information and support for individuals and families dealing with Parkinson's, joined Bronstein and Tagliati for the first panel of the night, which focused on Parkinson's disease. As Michael Weinman is a Parkinson's patient, Chen said it was special to have both researchers and patients connecting on stage.
"I wish that would happen more frequently, … that we can have this conversation between the patient and physician and have the public see them bounce back and forth about, 'What do we really know about the disease?'" Chen said.
The panelists discussed experiences with Parkinson's disease, along with ways to recognize the disease and maintain quality of life following diagnosis. They also focused on spreading awareness about less visible nonmotor symptoms, such as mental health impacts.
Anand said one of her favorite parts of the event was the panel on Parkinson's disease. As HAND aims to help educate its audience about neurodegenerative disorders, she said she hoped the panel was helpful in highlighting how patients' mental health is affected.
"I hope such interactions humanize neurological disease and reduce stigma surrounding the less-discussed mental health symptoms of these disorders," Anand said in an emailed statement.
Later in the night, HAND held a second panel focused on dementia and geriatric psychiatry, including panelist Dr. Mirella Diaz-Santos, a neuropsychologist at the Mary S. Easton Center for Alzheimer's Research and Care at UCLA.
Diaz-Santos added that she hoped her work at the event would inspire individuals from varying backgrounds to pursue neuroscience research.
"Seeing the diversity … represented in leadership positions … making decisions that are going to improve the lives and the longevity of our individual communities," Diaz-Santos said. "That's what I hope I was able to bring to the table."
Dr. Maryam Beigi, also representing the Mary S. Easton Center, joined Diaz-Santos for the second panel. Beigi discussed the importance of healthy lifestyle habits in maintaining disease progression. She added that neurological disorders may be asymptomatic and earlier diagnosis of the disease will improve treatment outcomes.
"There are a lot of different ways that you can be proactive," Beigi said. "Basically, it motivates you to have a healthier lifestyle and postpone the disease and slow progression of the disease."
Chen said she hopes that future Neurodegenerative Disorders Awareness Night events will include conversations about other neurodegenerative diseases as well. Anand said she hopes the conference will become an annual tradition.
"I think that the event was beautifully implemented," Diaz-Santos said. "I wouldn't change absolutely anything."