'Spreading love': Bruins find ways to celebrate all forms of love on Valentine's Day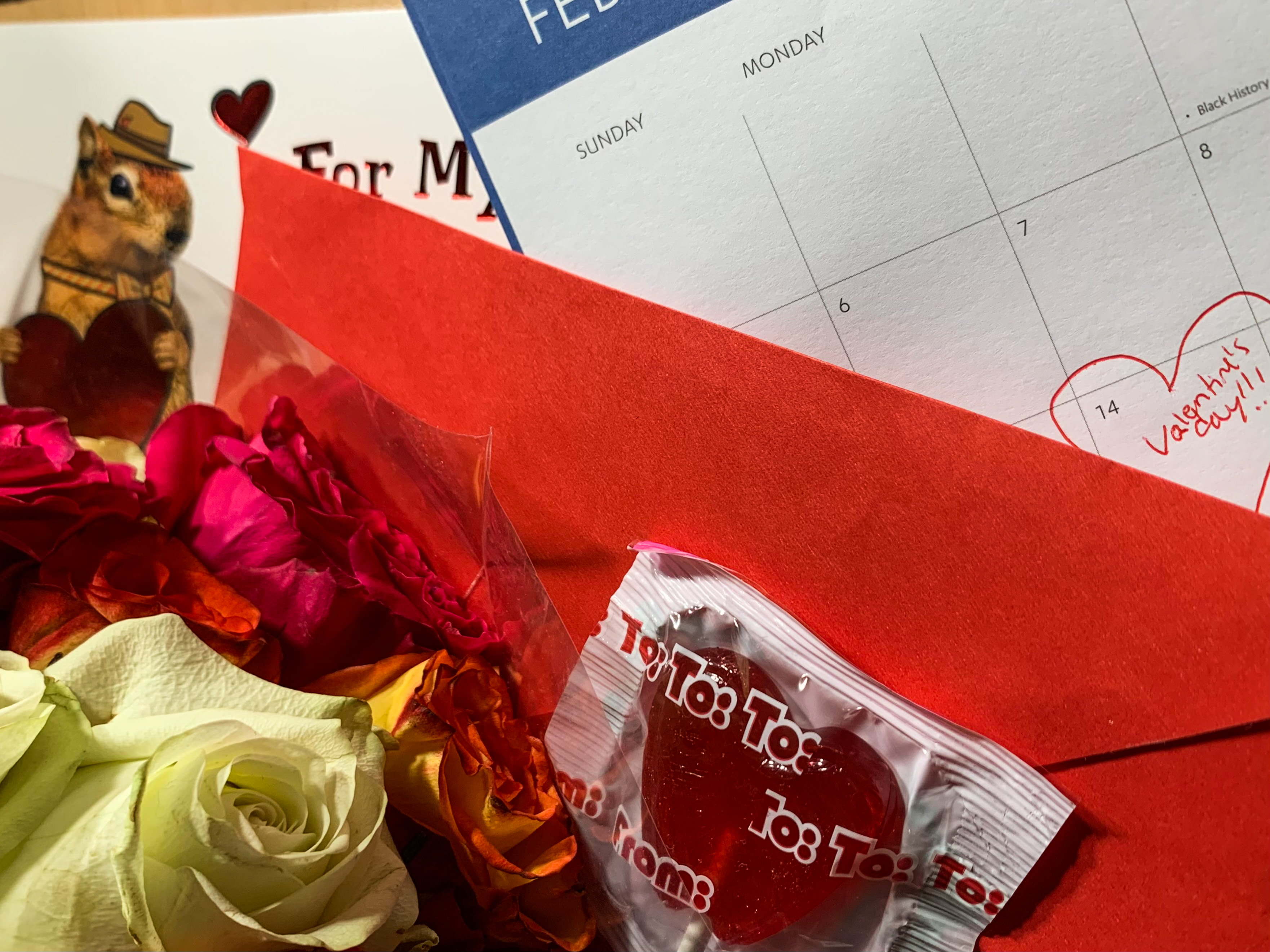 Valentine's Day candy and flowers lay on a calendar and envelopes. (Constanza Montemayor/Daily Bruin senior staff)
Love was in the air on Valentine's Day as Bruins – single and taken – took to campus to sing romantic ballads, decorate cookies and arrange flower bouquets in celebration of the holiday.
There are multiple possible origin stories for the love-filled holiday of Feb. 14. Some point to an ancient Roman festival named Lupercalia that was observed on Feb. 15, while others believe it came from commemorating the deaths of two third-century saints named Valentine, according to Britannica. The poems "Parlement of Foules" and "The Complaint of Mars" by 14th-century poet Geoffrey Chaucer also linked the holiday's festivities to expressions of love and romance, according to The New York Times.
For many Bruins, the modern holiday has come to signify expressing their love for one another.
April Sun, a first-year computer science student, said the holiday entails celebrating many kinds of love, platonic and romantic. Bruins who are single or not in a committed relationship can still find ways to celebrate, she said. Sun handed out heart-shaped cookies with pink and white frosting and heart-shaped sprinkles at a decoration event in the De Neve Birch/Fir quad on Feb. 13. Attendees could also make bouquets and cards or take pictures at a polaroid photo booth with a heart-patterned backdrop.
This year's Valentine's Day also included firsts for some Bruins, such as Isabella Yee, a second-year nursing student, who said she had never really celebrated the holiday before. She said she spent part of the day in front of Janss Steps partaking in a personal "Galentine's Day" celebration with a friend – an event celebrating female friendships that originated from the 2000s sitcom "Parks and Recreation."
"There's a lot of important relationships that you have in your life. And I think it's just really important to celebrate that, no matter what form of relationship that is," Sun said.
This year's on-campus celebrations also included live music, such as at a Feb. 13 open-mic event held by student-run label Cherry Pop Records at Bruin Plaza for musical artists who wanted to share their talents.
Aliah Gaoteote, a fourth-year music history and industry student and founder of Cherry Pop, said she hosted the event to not only celebrate the holiday but also highlight the label with its red and pink color palette, which coincidentally matches the theme of Valentine's Day. The label also passed out roses at the event to capture the spirit of the holiday.
For some Bruins who are in relationships, barriers – such as distance and scheduling conflicts – have led them to get creative with their forms of celebration.
Mana Nakano, a third-year political science and statistics student, had scheduling conflicts that prevented her from seeing her boyfriend on Feb. 14. The two hope to have a date later on instead, she said, and she's looking forward to making up for lost time.
"It's always been nice to have a day that's specifically for you and your significant other," Nakano said. "We're hoping we can still celebrate it one way or another, even if it's not face to face."
Ava Huddleston, a first-year astrophysics student who is in a long-distance relationship with her boyfriend, had a similar experience. The couple took turns ordering food from the delivery service DoorDash for one another, despite not being together in person, she said.
But Huddleston also said the holiday is not just about romance or being in a relationship, adding that many of her friends plan to attend a Galentine's Day celebration as well.
"Valentine's Day is just a day for love, whether you're in a relationship or not," Gaoteote said. "It's about just spreading love, whether that's self-love or platonic love or romantic love."