From practices to games, UCLA women's basketball values team spirit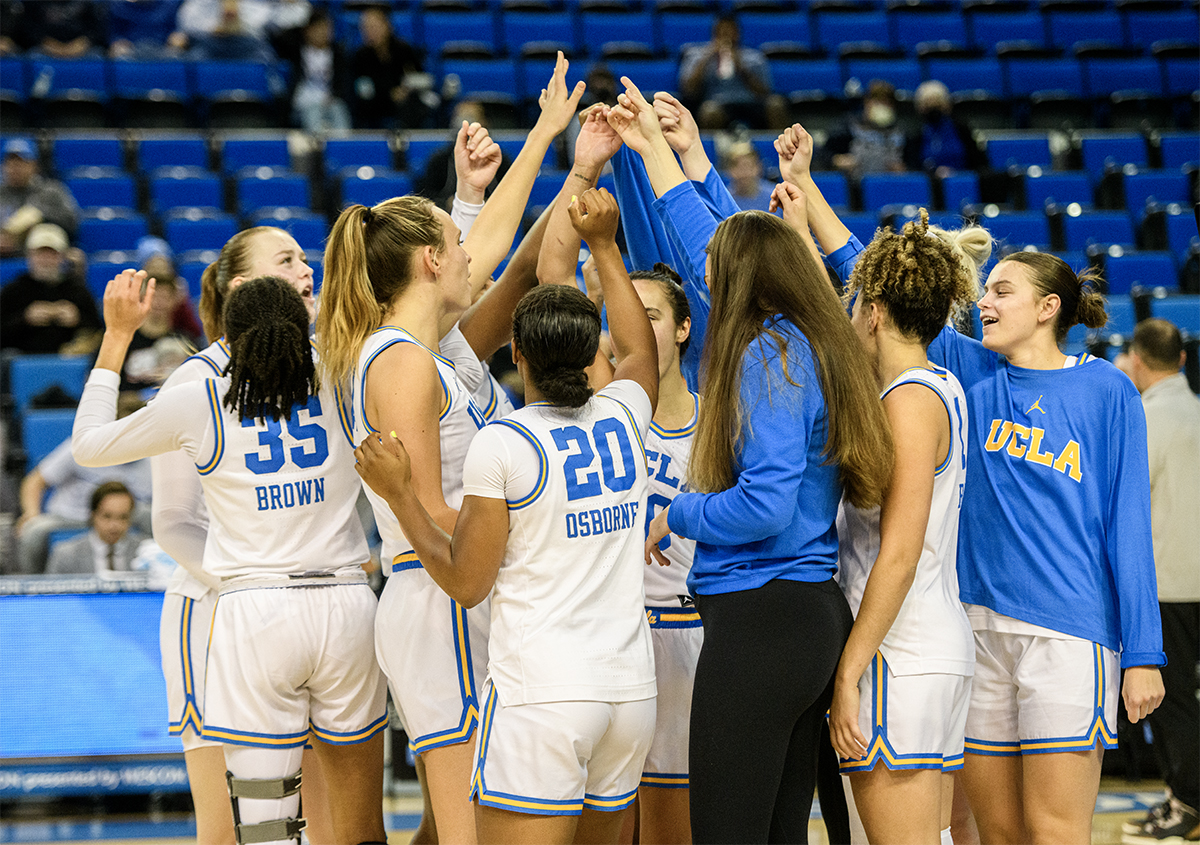 The UCLA women's basketball team stands in a huddle, with arms raised to cheer. The Bruins are currently 21-7 this season and 10-6 in the Pac-12. (Anika Chakrabarti/Photo editor)
One of the most important aspects of team sports is the camaraderie of the team.
Each player undeniably has to shoulder the responsibility of being an elite athlete but also the obligation of being a good teammate.
No. 17 UCLA women's basketball (21-7, 10-6 Pac-12) emphasizes that it values team spirit like no other. The Bruins' campaign last season was riddled with injuries and COVID-19 complications, which landed in a .500 Pac-12 record and left the blue and gold without a March Madness bid. However, the Bruins wouldn't let their struggles deter them from their genuine bond.
Senior guard Charisma Osborne said that despite last season's difficulties with only a limited number of teammates available to play, the squad was able to stay passionate entering the 2022-2023 season by keeping spirits high.
"We have so much joy and fun while playing with each other," Osborne said. "We just have such a high standard. The joy that we have when we're with each other and when we play carries over to the court and off the court."
At the start of last year's Pac-12 play, the blue and gold sustained two postponements, a loss and a depleted roster with only three available starters. This year, after an 11-1 preseason record, the Bruins begin conference competition with a full, healthy bench and renewed energy.
The Bruins also acknowledged that the innate passion for basketball is at the heart of coach Cori Close's mission. Even in her 12th season coaching for the Bruins, she hasn't lost the excitement and devotion that the sport brings to her.
Close said if there was one thing that she thinks the team lives by, it would be the commitment to give and grow.
"There's a responsibility every day to make somebody else's day better, to make someone else perform at a higher level," Close said. "We're all responsible, coaches and players together, for the energy that we bring to each other's growth and to giving to each other."
From players to coaches to staff, the Bruin program is spirited throughout. The blue and gold expressed that the environment at practices and games continues to be a motivating force in order to maintain the team's bond.
In the locker room prior to games, the Bruins take a beet shot together and dance to TikTok songs before heading out to the court. At practices, different fun drills and rituals encourage the players to not only work hard but work hard for each other.
Freshman guard Londynn Jones said that despite being a new player on the team, the atmosphere made it easier for her to adapt to the collegiate level.
"They made me feel very comfortable," Jones said. "The first week that I was here, I felt really comfortable just by everybody that's engaged, and everyone really cares about me. We do a great job of that."
Heading into the last few games of the regular season and the Pac-12 tournament, the blue and gold will continue to exercise its companionship and passion for basketball.
In spite of some tough, close losses this season, UCLA women's basketball has demonstrated undeniable strides compared to last season. The Bruins went 8-8 during the conference last season, while this season, they've only lost six Pac-12 matches, three of which were decided by two possessions or less.
Their athletic skill and talent have not only affected their level of play but also the pure friendship and familial bond that they've created, according to Osborne.
"This is our saying for the year – sometimes me, sometimes you, always us," Osborne said. "That's super important because obviously, everyone's not going to play great every single game. As long as we know in the end that everyone's putting the team first."