UCLA swim and dive to head for Pac-12 championships with roster depth in mind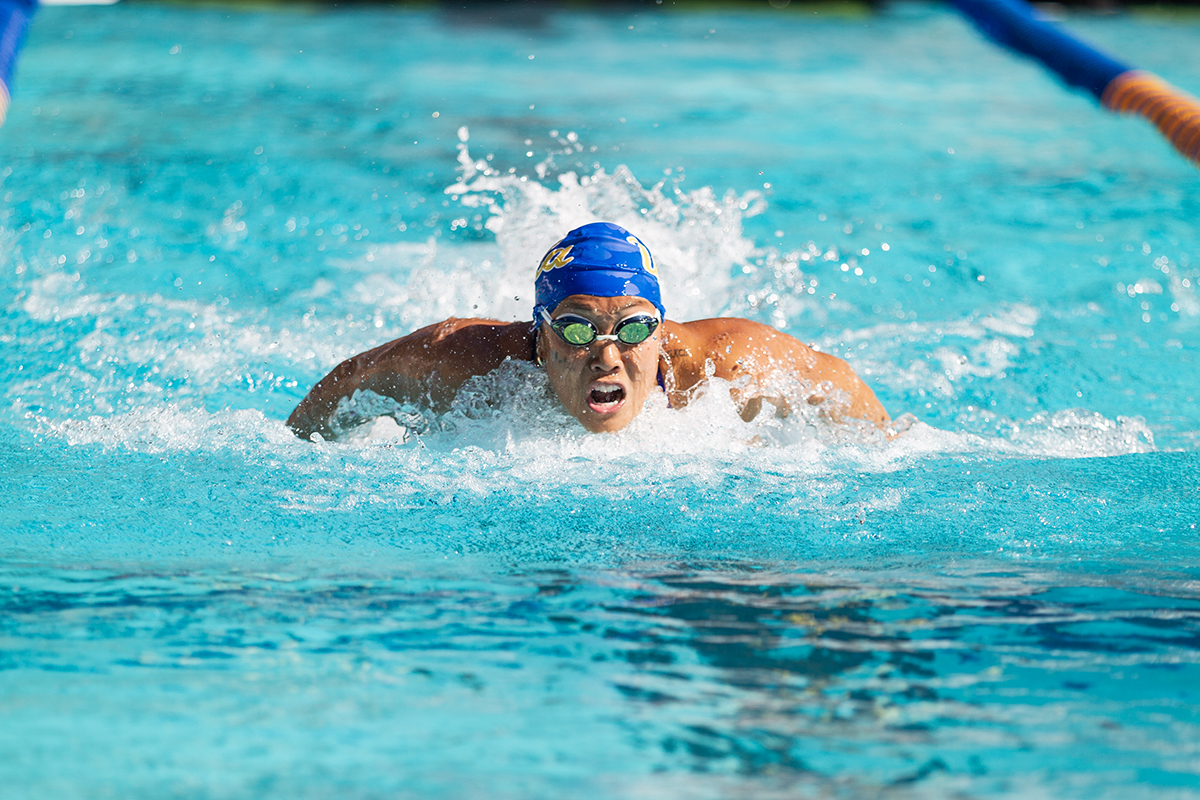 Senior swimmer Gabby Dang of UCLA swim and dive swims during a meet. The team will kick off the Pac-12 championships Wednesday. (Joseph Jimenez/Assistant Photo editor)
The Bruins' postseason journey will begin with a trip to the Pacific Northwest.
UCLA swim and dive (6-3, 3-3 Pac-12) will head to Weyerhaeuser King County Aquatic Center in Federal Way, Washington, to compete in the Pac-12 championships beginning Wednesday. The meet – featuring both swimming and diving events – will take place over four days as the blue and gold faces off against seven other Pac-12 teams, including conference favorites No. 3 Stanford, No. 12 California and No. 14 USC.
Last week, the Bruins fell to the Trojans in a dual meet by a narrow four-point margin. Two seasons ago, UCLA beat USC by three points in the rivals' dual meet, and ended up beating its crosstown foes by over 160 points at the Pac-12 championship meet.
Coach Jordan Wolfrum said her team's ability to win with a greater point differential at championship meets is due to the team's depth.
"In a dual meet, you cannot get more points in an event without having got first place in that event," Wolfrum said. "In a championship meet, though, the scoring is a lot different. … Having the depth that we have really pays off at this time of the year."
With nine senior swimmers and divers and one fifth-year swimmer on the roster, there are 10 athletes who will be competing in the Pac-12 championships for the last time.
Senior swimmer Gabby Dang – who has competed at the conference championships every year since her freshman campaign – said her freshman-year self would be proud.
"Freshman-year me, at Pac-12s, was a little nervous and kind of didn't do what she wanted to do at that meet," Dang said. "So, coming in already being better than freshman-year me, I have a little more confidence."
On the other hand, the Bruins' roster consists of nine freshman swimmers and divers who will likely be competing for the first time at this meet, including freshman swimmer Fay Lustria.
Lustria said she is excited about competing at a meet of this caliber while representing a deep Bruin squad.
"It's really inspiring to be with a bunch of people who are so fast on my swim team and such great role models," Lustria said. "They've been competing at Pac-12s for a while, so having their wisdom around and being around those kinds of people is another thing that makes me excited for our team."
Throughout the season, the blue and gold has seen prowess in the freestyle events, specifically the 50-yard, 100-yard and 200-yard events. Last week against USC, UCLA finished 1-2-3 in the 100-yard freestyle and 1-2 in the 50-yard freestyle.
Wolfrum said the Bruins have demonstrated progress in those events all season.
"Across the board, our depth (in those events) is really good," Wolfrum said. "We've gotten better this year. We've developed better speed. We knew we were going to be good, but I am really proud and impressed with how good we've gotten."
Under Wolfrum, the Bruins have notched three consecutive top-four finishes at the Pac-12 championships. The best finish occurred in the 2020-2021 season with a third-place finish behind Stanford and Cal. Prior to those performances, UCLA had not finished top four since 2014.
Everyone on the team, except fifth-year swimmer Claire Grover, has yet to experience a Pac-12 championships result less than fourth place.
Dang, who has contributed to all of those top-four finishes, said her advice to her younger teammates is to not view the meet any differently than other meets.
"You kind of get worked up in the whole idea that it is Pac-12s," Dang said. "But, we've raced all these girls before. It's just another meet. Every pool is the same. It's all 25 yards. So, trust in yourself, trust in all the training you've done."
The four-day event will commence with the 200-yard medley relay Wednesday. Each day after will see at least three swimming events and one diving event with both preliminary and finals rounds.
As the Bruins head into their championship season, Wolfrum said they will be relying on their team mantra: "We ready."
"That sums up this whole championship meet," Wolfrum said. "We just finished up with a great practice, a quick team meeting and a great breakfast this morning. That sums it up. We ready."
Baker is currently a Sports contributor on the swim & dive beat.
Baker is currently a Sports contributor on the swim & dive beat.