Pitcher Alonzo Tredwell makes 1st start for UCLA baseball in shutout over Omaha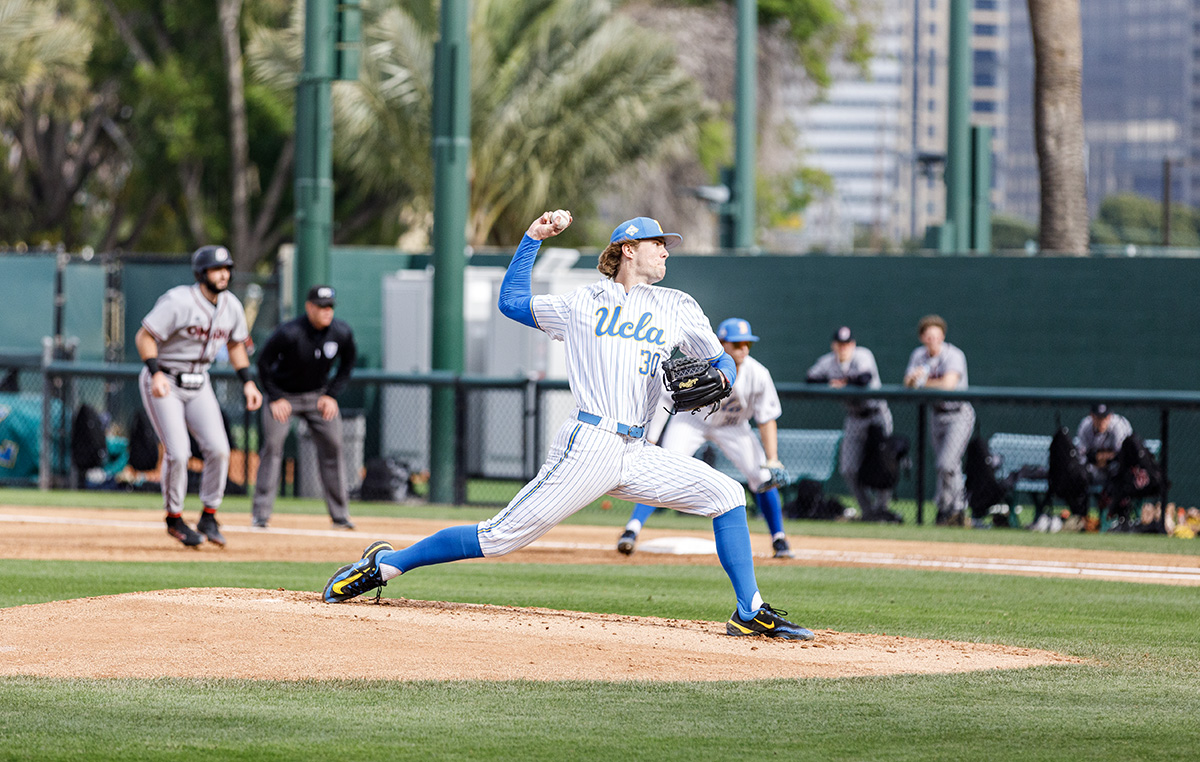 Sophomore right-hander Alonzo Tredwell delivers a pitch against Omaha on Saturday. Tredwell allowed just four baserunners across six shutout innings of work. (Grace Wilson/Daily Bruin)
The iconic PAC-MAN sound effect rang about Jackie Robinson Stadium during the bottom of the first inning.
As sophomore shortstop Cody Schrier crossed home, the Bruins jumped out to an early lead that the Mavericks never recovered from.
Sophomore right-hander Alonzo Tredwell collected a career-high 10 strikeouts in his first collegiate start, setting up No. 17 UCLA baseball's (2-0) 23-0 shutout win over Omaha (0-2) on Saturday afternoon. With an eight-run seventh inning eerily reminiscent of Friday's 10-run eighth, the Bruins clinched a series victory.
Tredwell's starting pitching debut was much anticipated after his performance out of the bullpen last year. The former closer said his chemistry with senior catcher Darius Perry allowed him to stay on track.
"That was the first time I've been able to extend myself as a starter, … and I felt good," Tredwell said. "Just getting my breath, just slowing the moment down a little bit and just competing the way I always know how to compete."
Tredwell led the team with a pair of perfect innings in the middle of his six shutout frames while surrendering just four hits and no walks.
Coach John Savage said Tredwell's start was big for the team.
"He's a really good Saturday guy who's potentially a Friday guy," Savage said. "He held his stuff, he held his velocity, and that's always what you're always looking for out of a starting pitcher. Can he go through the second time to the lineup? Can he get through the third time in the lineup? Today was a very encouraging day for us."
Offensively, the Bruins led the entirety of the game, scoring 23 runs behind a quartet of homers and five multi-run innings. Junior third baseman Kyle Karros – who notched a long ball of his own and scored three times – said it's all about competing and showing up with confidence each game.
"After two big results like that, it's easy to get caught up in, 'Oh no, I got to do the same thing or all that stuff,'" Karros said. "But no, just try to slow it back down and get another rally going with just getting to the base anyway."
High-fiving and celebrating each play, the dugout could be heard throughout Jackie Robinson Stadium. Most innings featured hugs and handshakes at home plate after scoring.
Karros said the team has a special dynamic.
"I think just being an older guy on the team, now I know how I looked up to older guys when I was a younger guy," Karros said. "So just try to be a good example for them, play hard and play the right way."
With a mixed team of both veteran Bruins and a new generation of players, Savage isn't looking too far forward into the schedule.
"We don't really look at it like, 'Hey, we won big on Friday and we're going to … cruise the rest of the weekend.' It doesn't operate that way," Savage said. "What we're doing well is realizing what … a good team looks like."
UCLA returns to Jackie Robinson Stadium on Sunday at 1 p.m. for the series finale against Omaha.