Sisters and supporters: How Margzetta and eMjae Frazier made it to NCAA gymnastics together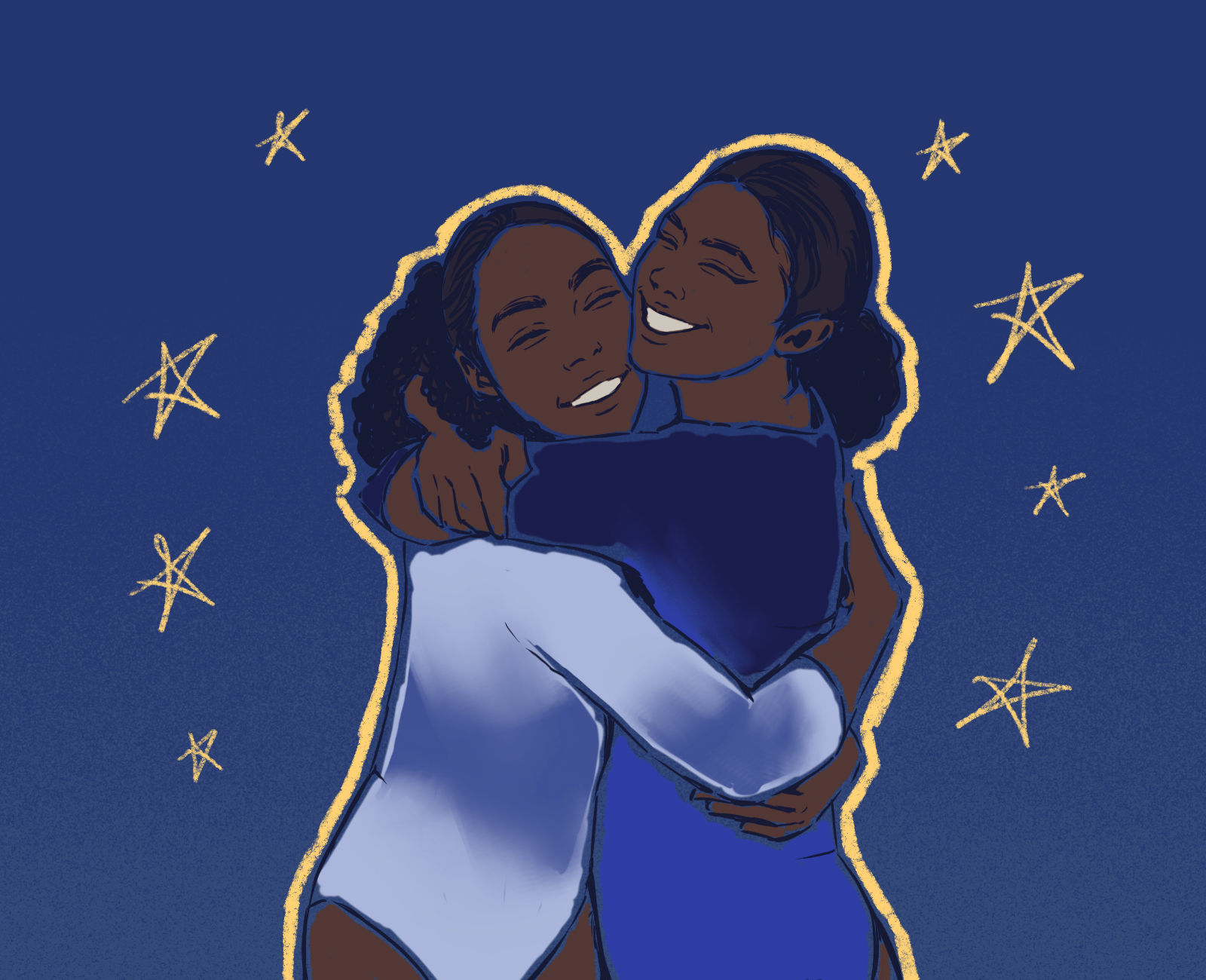 (Isabella Lee/Illustrations director)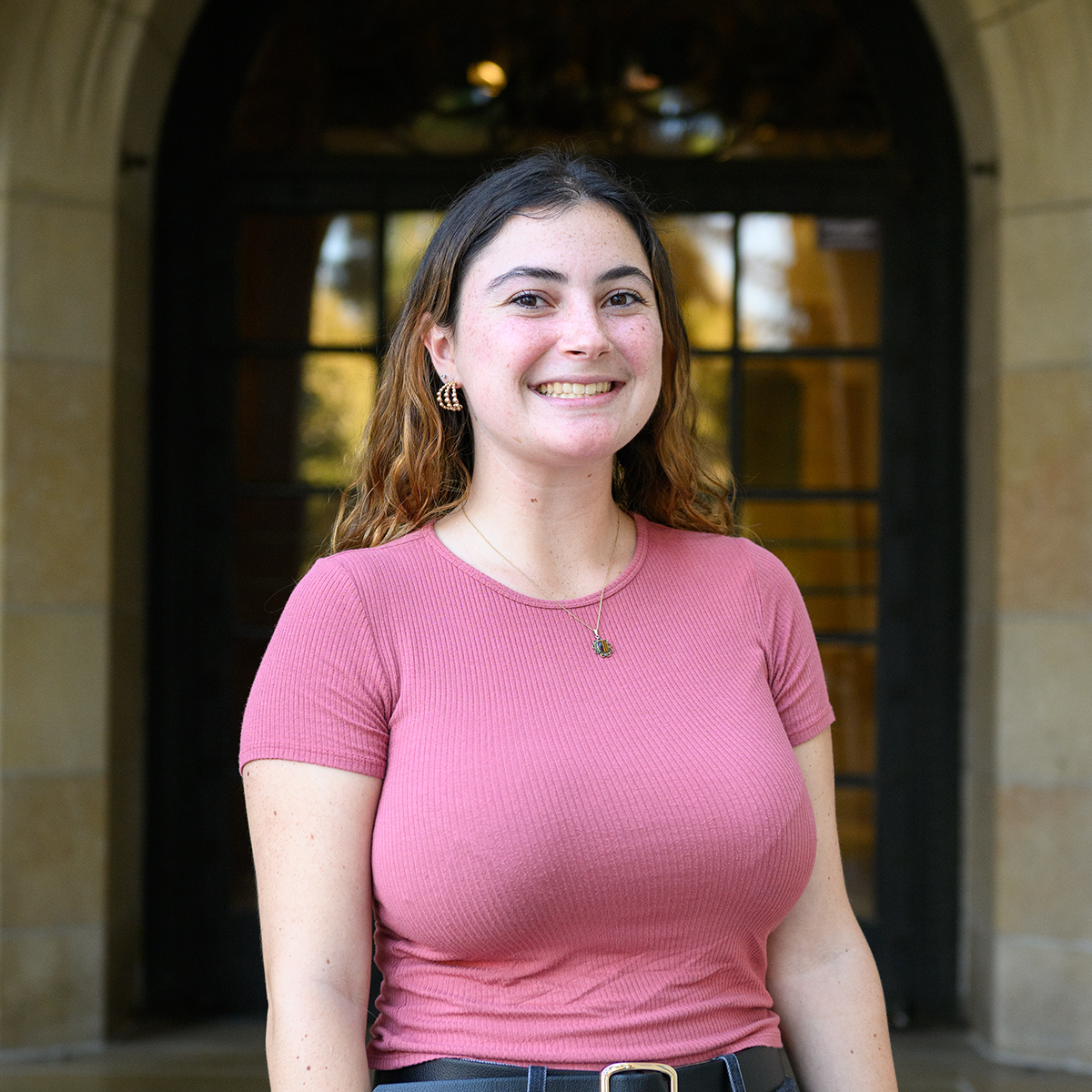 This post was updated on Feb. 16 at 10:29 p.m.
Margzetta Frazier was ready to compete again.
Following a season-ending foot injury, surgery, months of rehabilitation and even her college graduation, Frazier found herself back in UCLA gymnastics' lineup ahead of the Super 16 in Las Vegas to kick off the team's 2023 season.
But the pressures of competition and navigating back from injury weren't at the forefront of the redshirt senior's mind.
Her little sister would be there competing too, and Frazier wanted to cheer her on.
"There's just nothing more special than just watching your sister be great," Frazier said.
Margzetta's younger sister eMjae Frazier, a freshman at UC Berkeley, went on to land two 9.950s in her collegiate debut that day in January. Since eMjae arrived in Berkeley this season, the Frazier sisters have competed at two of the same meets and are preparing to meet up once again when UCLA and California meet in the Bay Area on Saturday.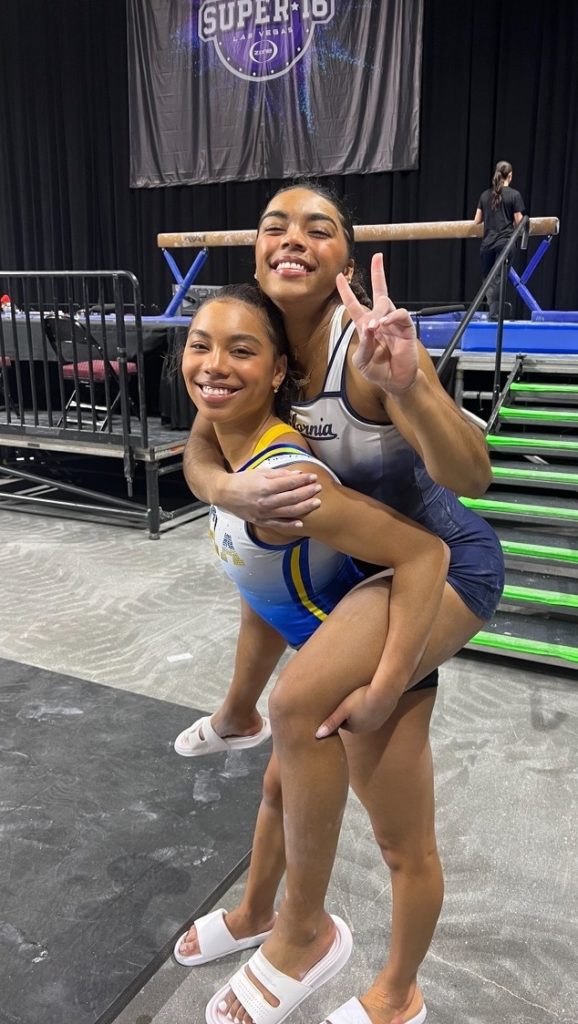 Hailing from New Jersey, the sisters said their close proximity and shared competitions have meant family often comes to visit the pair, and they've even gotten to see a lot of each other this year. eMjae likes to joke that her sister lives an hour away from her given how short the flight time is.
But, while Saturday's meet is the sisters' first true head-to-head matchup, eMjae is certain the competition won't get between them.
"We're definitely going to be cheering for each other, but when it comes down to it, we're going to be in our zones," eMjae said. "She'll probably end up crying because that's what she always does."
But it took a long road for the pair to get where they are today.
When Margzetta was young, the Frazier family had little experience with gymnastics. Her parents sent her to a variety of activities – karate, soccer, dance – but gymnastics just clicked for Margzetta.
Tina Frazier, Margzetta and eMjae's mom, recalled how her oldest daughter started by just copying the more experienced gymnasts – swinging her arms around in imitation before trying it for herself. But, after years of dedication, she kept learning and growing and moving up levels until her gym couldn't keep up.
According to Tina, they had never even considered elite gymnastics until that point. But coaches saw the potential in Margzetta, and she began training at Parkettes National Gymnastics Training Center, a two-hour drive away from their home in New Jersey.
Taking her work on the road, Tina began to drive Margzetta across the state border to Allentown, Pennsylvania, nearly every day.
"There's quite a few parents that I know that make sacrifices, and it's not always a bad thing," Tina said. "If it meant that this was our lifestyle for basically 10 years, then we got through it, and we have no regrets and no complaints."
A few years later, eMjae joined them in the car.
After watching her sister for years, eMjae grew to love gymnastics as much as Margzetta did. According to her older sister, eMjae was destined for the sport.
"Sometimes, gymnasts are just born with a certain special something to them, and eMjae is one of them. She's so naturally great," Margzetta said. "I feel like if the roles were reversed and she started gymnastics when I did, she would have been an Olympic champion."
When gymnastics became more serious for eMjae, Margzetta was ready to show her the ropes. Even though the family didn't know what to expect when Margzetta was navigating the elite world, this time around would be different.
"Having her as a role model has really just set me up really well," eMjae said. "She's my favorite gymnast. I know I'm her favorite gymnast, but she's my favorite gymnast."
The pressures and time commitment of elite gymnastics meant Margzetta started home-schooling in middle school. In her time in elite gymnastics, she was named to the 2017-2018 U.S. National Team and earned silver in the all-around at the 2018 Birmingham World Cup.
For eMjae, priorities were different from her big sister's. Friends, socialization, soccer and traditional school experiences were important to her, so she held off on elite gymnastics. But, according to her sister, eMjae got too good and had to join Margzetta in the gym.
"I felt so bad for her at first because I knew how much she loved her freedom and relaxation time," Margzetta said. "None of that. No more soccer. You got to really eat, sleep, breathe gymnastics, and she did a great job. She still played soccer on the side to be sneaky. But we really bonded in the gym. I loved training with her."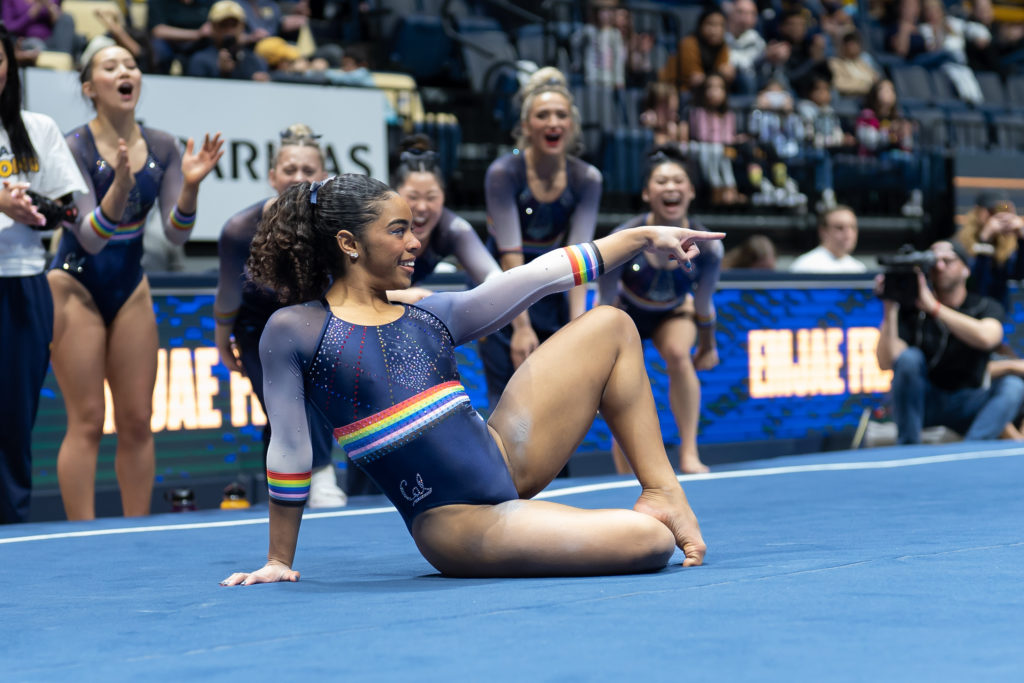 At the elite level, gymnastics is not regarded as a team sport. Individual success takes priority, and eMjae even recalled competitiveness felt among gymnasts training at the same gym together.
But Margzetta and eMjae had each other.
"Having my sister as my teammate and as my friend, I knew I had a supporter. I knew I had fans. I was her fan, and I was her supporter," eMjae said. "We had each other's back then."
With Margzetta spotting her, filming practice clips, coaching from the sidelines and always cheering her on, eMjae got better and better.
With a personal drive to challenge herself and be the best she could, eMjae also qualified for the U.S. National Team and landed a spot at the 2021 World Gymnastics Championships.
Having accomplished her ultimate dream, eMjae went on to compete for Team USA in Germany and Italy last year. But she never forgot what was important to her.
eMjae had just enough time to go back to high school in person for a senior trip, prom and graduation, and she wanted to retire from elite gymnastics. Just as she had encouraged her sister to get into elite gymnastics, Margzetta supported her sister the whole way through her retirement.
"I was still up in the air," Tina said. "And then Margzetta stepped in, and she was like, 'This is what I missed out on. I think she really needs to do this.'"
A few months after graduating from high school, eMjae was on to the next challenge: college.
And once again, her sister would be right by her side.
"We made it," Margzetta said. "We started from the bottom, and we made it to the top, which is actually insane. And we did it together."
Although they both made it to the highest levels of gymnastics, Margzetta's collegiate comeback this season wasn't easy. But as always, her sister was there. Facing her first-ever surgery, Margzetta turned to eMjae to walk her through what to expect. eMjae had previously injured her knee and knew what the road to recovery might look like.
So with her younger sister helping her, Margzetta went on to land her 100th straight collegiate routine without a fall in her third meet back in action in January.
"She was hungry and eager," eMjae said. "It's a hard journey. It's very difficult to get hurt in general, but she went through the whole year and then decided that she wanted to do it again."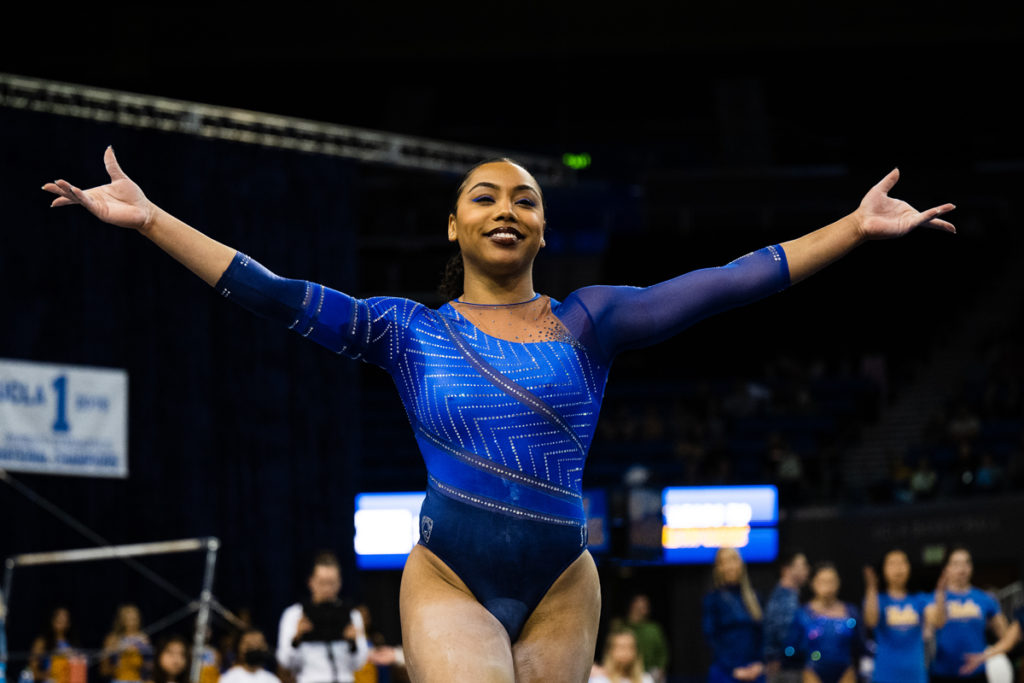 Now competing at the same level and age group together for the first time, the sisters are Pac-12 rivals for the 2023 season.
So far, eMjae has already proven herself as an all-arounder for the Golden Bears and grabbed four 9.950s across five meets, all the while bringing elite skills to NCAA gymnastics far beyond what's necessary for a 10.0 start value.
"She's not even pushing herself. It's so easy for her," Margzetta said.
Even though they'll be representing different teams Saturday, Margzetta is always proud of her favorite gymnast, and she said she's looking forward to seeing her in Berkeley for a meet day together.
No matter who ends up on top, the Frazier sisters will never stop supporting each other.
"She's like a big deal," Margzetta said. "When girls come take pictures of me, I go, 'Go get a picture with her. That's eMjae Frazier.'"
Friedman is the 2023-2024 editor in chief. She was previously the Copy chief, a Slot editor and a Copy intern. She also contributes as a Sports reporter to the women's soccer and gymnastics beats.
Friedman is the 2023-2024 editor in chief. She was previously the Copy chief, a Slot editor and a Copy intern. She also contributes as a Sports reporter to the women's soccer and gymnastics beats.