In tough circumstances, Bruins turn to room swaps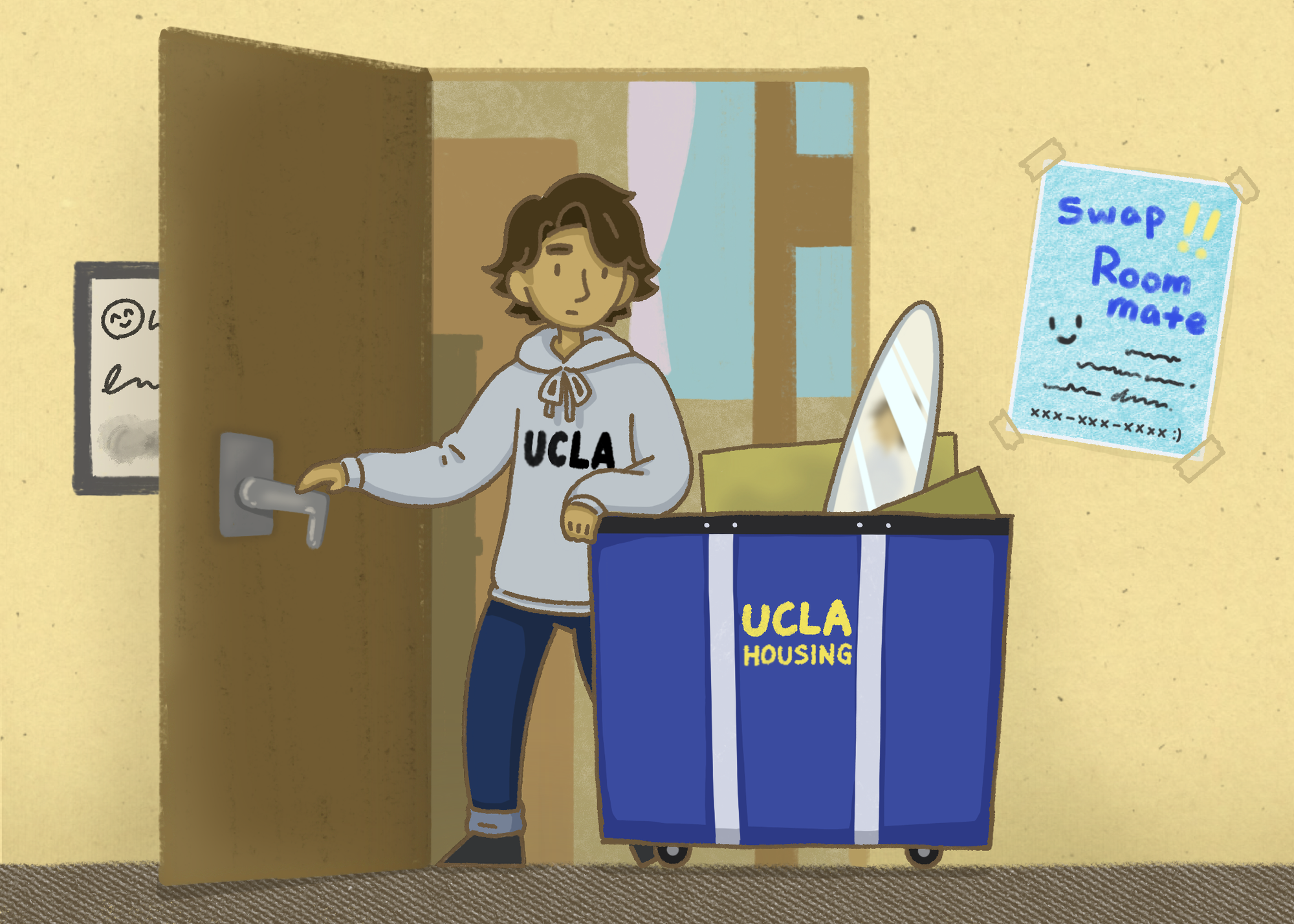 (By Lucy Chang/Daily Bruin)
Throughout fall quarter, Kath Miller struggled to get enough sleep – and not just because of thin walls or loud neighbors.
The third-year transfer English student said she couldn't compromise with some of her roommates on a schedule for late-night guests and quiet hours. She said the roommate agreement created by her resident assistant was not respected by all of her roommates, and she felt she was left with one option: to swap rooms.
"Once I started encountering these issues with them very early on, I was like, 'No, I need to get out of here,'" Miller said.
As of Thursday, 257 students have switched rooms since fall, UCLA Housing said in an emailed statement. Roommate conflicts, financial factors and requests for better accommodations are often reasons they receive for swapping, they said, adding that some of these changes are facilitated through room swap events where residents can mutually agree to swap rooms.
For Bruins like Miller, emergency swaps address more urgent cases, but they do not guarantee improved roommate situations. Liam Chia, a first-year political science and public affairs student who was issued an emergency room transfer to move out the last week of fall quarter, said that uncertainty was a price he was willing to pay.
"The emergency transfer was a risk," Chia said. "I didn't feel in danger, but it was just about as far from (my) living preferences as I could think of."
Chia's roommates had different lifestyle choices, he said, adding that they often left things strewn on the floor and intruded upon his personal space. At one point, his roommates used his personal hygiene items, much to his discomfort, he said. When his RA suggested a mediation meeting, Chia said he felt that he would be restricting his roommates and their lifestyle choices rather than reaching a solution.
Like Chia, Miller spent much of fall quarter dealing with roommate conflicts. For weeks, she said, she watched some of her roommates push her boundaries. Feeling neglected in her living situation, she decided to pursue a room swap. She communicated with her resident director for weeks, going back and forth before receiving her emergency transfer into a Saxon suite.
"This is more of what I pictured my college experience to be," Miller said. "There's not as many surprises as there were living in the (previous) apartment."
Resident assistant Ryan Barry has facilitated a variety of room transfers. In his experience, he said roommates who let go of the expectation of becoming close are more successful at co-existing in shared spaces.
Barry said this mindset allows residents to accept each other's differences and establish successful roommate dynamics, though there are exceptions in more extreme cases. When residents do pursue room transfers, they are generally happier in their new living environments, he said.
"I think with a lot of freshmen, they have an image of what their first year is going to be like and what their roommates are going to be like," Barry said. "But, I don't know, life just doesn't work out like that."
At one point, Miller said she and two of her former roommates stopped speaking entirely, so resolving their issues by communicating was challenging. Following her swap, Miller said she now practices open communication with her new roommates, which has created a calmer and more peaceful environment for all of them.
"I can just be like, 'Hey, this is a thing that I'm dealing with. Thoughts?'" Miller said. "And I already feel that kinship with them that I did not feel at the (previous) apartment."
Chia also said he is now content with his current living situation. He said he's learned the importance of prioritizing one's well-being, even when that means taking a gamble on a new housing situation.
Although residents can try to resolve problems on their own, Miller said students should not be afraid to ask for help and pursue room swaps to preserve their mental health.
"If your living situation is not a situation that is ideal for you, work with your resident director, see what room swap events are coming up, really just try to get out of there," Miller said. "Because it will make all the difference in the world."