'Rewriting our record books': Track and field runners smash records in big weekend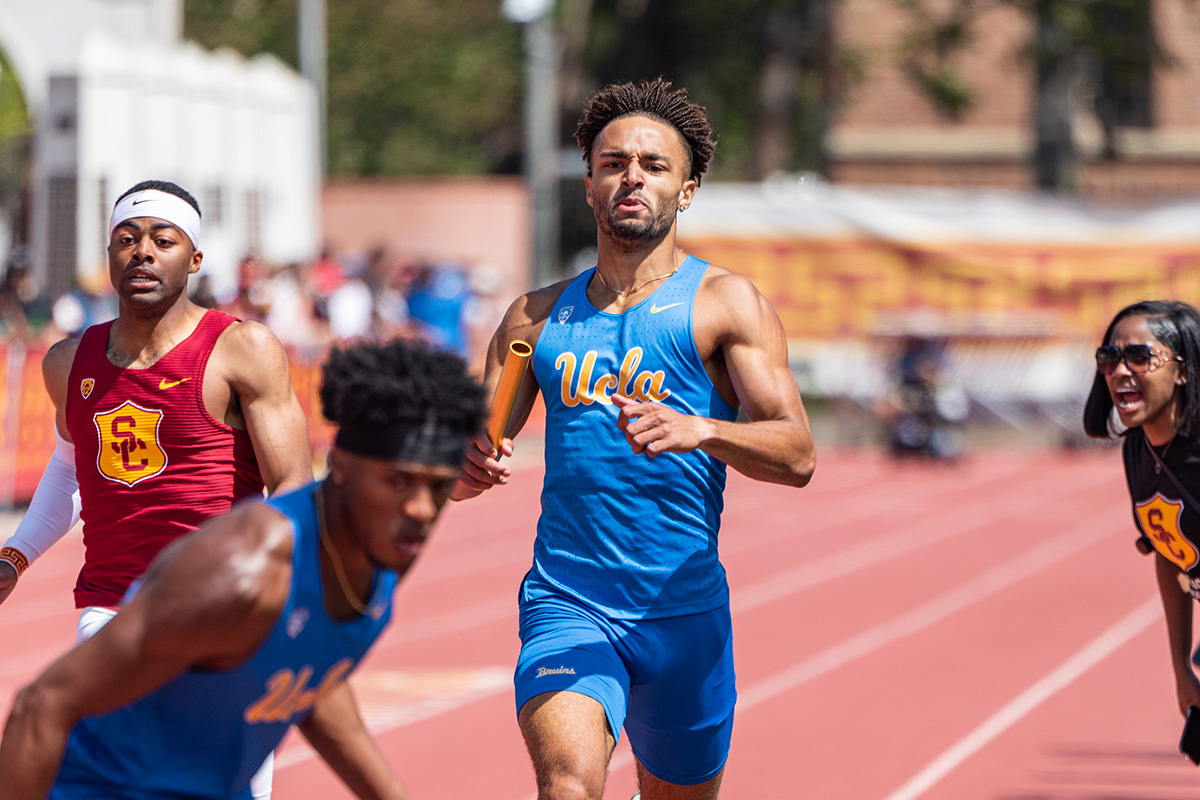 Senior sprinter Miles Misener-Daley prepares to handoff the baton. Misener-Daley sits atop UCLA's all-time men's 200-meter dash leaderboard. (Jeremy Chen/Assistant Photo editor)
This post was updated Feb. 14 at 10:11 p.m.
The blue and gold competed in a trio of events across the country this weekend and broke records across the board.
UCLA track and field sent squads to the Don Kirby Invitational in Albuquerque, New Mexico, the Washington Husky Classic in Seattle, and the Boston University David Hemery Valentine Invitational in Boston to measure up against athletes from coast to coast.
At the Don Kirby Invitational, senior sprinter Ismail Turner broke the all-time UCLA record in the men's 400-meter race with a time of 45.94 seconds, which also topped the leaderboard in the event. The previous record had stood for nearly 17 years.
The veteran broke another all-time school record, though this time it was a team effort. The men's 4×400 relay team, consisting of senior sprinter Myles Misener-Daley, graduate student sprinter Willington Wright, junior sprinter Antonie Nortje and Turner finished in second place with a time of 3:03.48. The squad broke the all-time UCLA record that it had set just a few weeks prior.
Misener-Daley was not only part of one record-setting performance but also won the men's 200-meter dash unseeded with a time of 20.83 seconds – the third-best time in program history. Misener-Daley set the all-time school record in the event earlier this season, but says his approach at meets is unwavering and unchanged.
"You always want to not only race against your competitors, but race against yourself – try to push yourself and see just how good you can do," Misener-Daley said. "Every time I go out there, I'm just trying to do better than last time."
With an accomplished season already, Misener-Daley said he has his sights set on a few more long-term goals.
"We want to get a ring for sure," Misener-Daley said. "I think everyone is working pretty hard towards that right now. I know personally I would like to get some 20-point lows on the 200 and 44s in the 400 and just go from there, and hopefully represent Canada at the world games this summer."
At the Washington Husky Classic, redshirt junior sprinter Peter Herold set a new personal record in the 5,000-meter men's run with a time of 13:42.20. Herold now owns the second- and third-best times in UCLA history in the event, trailing only Robert Brandt's time of 13:40.82 set in 2019.
Herold also set a new personal record in the one-mile run with a time of 4:01.71. The previous seventh-best UCLA performance in the event was Herold's previous personal record, which he beat by just four one-hundredths of a second.
Coach Avery Anderson said the caliber of the competition is increasing, demanding more from his squad as it eyes a nationals berth.
"Most teams and schools and conferences are heading toward conference championships in two weeks," Anderson said. "We don't necessarily have that, but with that being the case for most of the rest of the country, the level of competition is starting to step up. So we wanted to make sure that we were starting to step up our level of competition."
At the David Hemery Valentine Invitational, the Bruins set two school records. The women's team consisting of senior Gwyn George, junior Kate Jendrezak, junior Rose Pittman and sophomore sprinter Mia Barnett won the 4,000-meter Distance Medley Relay with a time of 10:54.49, breaking the school record set in 2002. On the men's side, junior Ronan McMahon-Staggs notched a personal record with his 3:56.41 mile time and continues to top the UCLA all-time list for the one-mile run.
With so many record-breaking performances at these meets, Anderson had high praise for his team. The fourth-year coach added that, considering the history of the Bruin program, the elite performances of his squad as of late should not be taken lightly.
"I just want to remark on how astonishing some of the performances that our athletes are putting up (are) when it comes to the UCLA record book," Anderson said. "We are essentially, in a lot of cases, rewriting our record books and we have the most storied track program in the history of the sport."