Undergraduate Students Association Council supports construction of heavy rail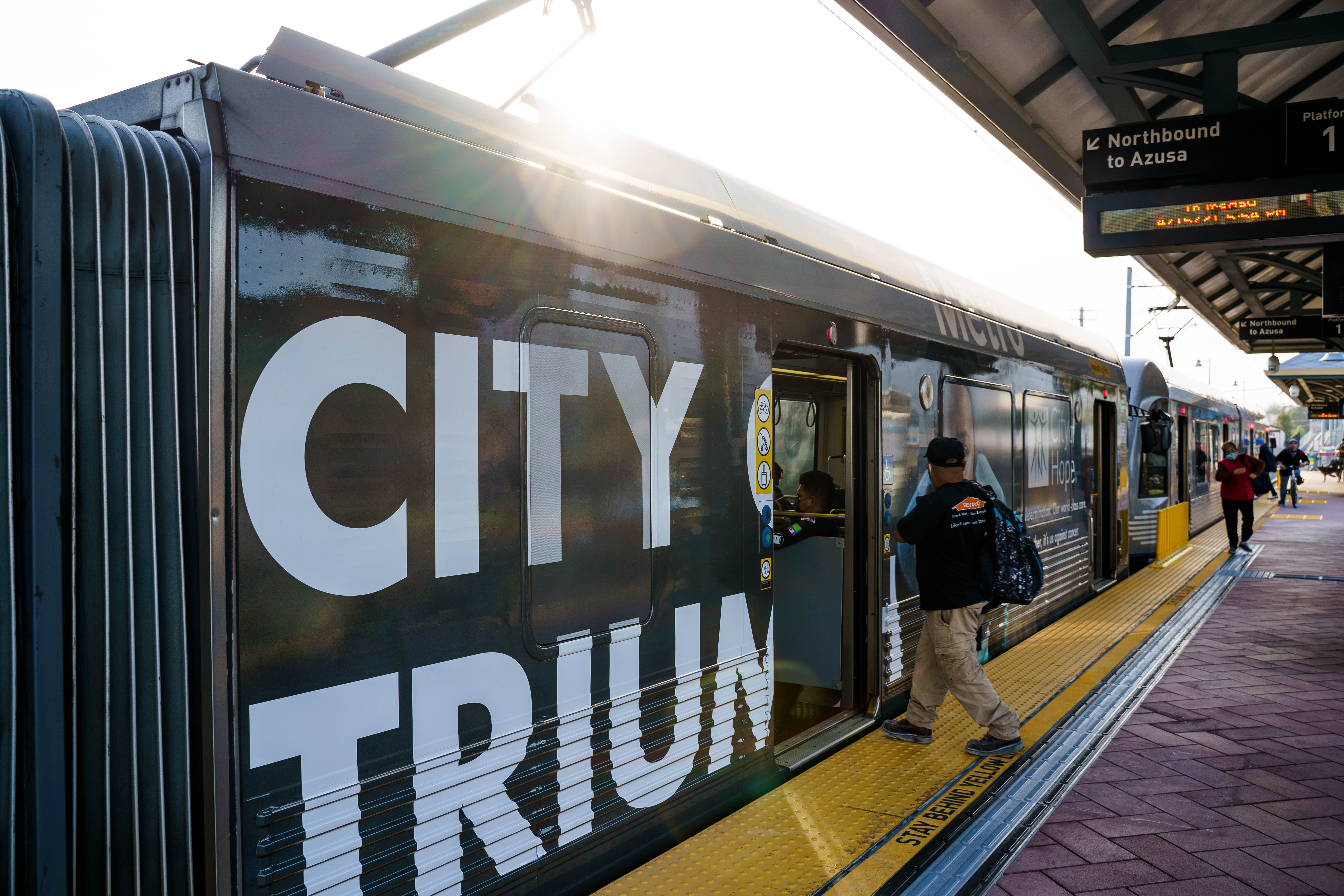 The Metro is pictured. The Undergraduate Students Association Council called on UCLA to endorse a heavy rail alternative for the Sepulveda Transit Corridor Project. (Esther Ma/Daily Bruin staff)
The Undergraduate Students Association Council passed a resolution Jan. 17 calling on UCLA to endorse a heavy rail alternative for the Sepulveda Transit Corridor Project and criticizing Vice Chancellor Michael Beck for meetings that the Los Angeles Metro says breached their pre-development agreement with BYD.
The corridor aims to link UCLA and Westwood to the existing Metro network in the San Fernando Valley, according to the Metro website. Currently, seven plans are being evaluated through public comment, including both monorail and heavy rail options. UCLA is currently engaging with Metro on all six of the seven proposals that involve a system expansion, said David Karwaski, director of mobility planning and traffic systems at UCLA Transportation, in an emailed statement. The other proposal won't expand Metro's system at all and involves stopping the project in its entirety.
Despite opposition from homeowner groups and a lack of clear support from UCLA leadership, USAC unanimously endorsed all alternatives that would add a heavy rail line with a stop at UCLA Gateway Plaza.
Evan Curran, director of local relations in the USAC Office of the External Vice President, said heavy rail development has the potential to benefit UCLA students and faculty members. UCLA is currently lagging behind other high-ranking universities when it comes to commuting and transport infrastructure, he said.
"Heavy rail, at least as it's proposed, would be much quicker," said Curran, a second-year public affairs student. "I think that if we did have a transit stop like this and a transit line, it would be completely transformational."
Curran also said there were huge environmental implications associated with new public transport infrastructure, adding that a large percentage of California's carbon emissions come from the transport sector. He said he feels shifting people from driving to using public transport is important for the planet's future. According to the California Energy Commission, the transportation sector accounts for 50% of the state's greenhouse gas emissions.
Sara Broukhim, USAC's financial supports commissioner, expressed concerns about the impact of three proposals involving a monorail down the median of Interstate 405.
"It just sounds like a bad idea to build a monorail on the most congested freeway in the United States," said Broukhim, a third-year cognitive science and political science student. "The heavier alternative would have a stop on campus as opposed to next to the 405 exit, which is a harder walk to campus."
However, some external stakeholders were opposed to USAC's position.
Fredric Rosen, director of the Bel-Air Association, expressed concern about the viability of a heavy rail option, adding that other comparable projects across the U.S. have struggled to be completed within a reasonable time frame and within the budgets they have allocated.
"When you deal with all the issues and you go underground, everything costs a lot more money and nothing is ever done on time," he said.
Rosen added that he feels the line is unlikely to be used as much as Metro claims. He also said he feels people would be uncomfortable with an underground railway because of the danger of earthquakes.
Another source of conflict has emerged over the influence external lobbyists have had over UCLA's decision-making progress, with USAC's resolution condemning Vice Chancellor Beck for meeting with the Bel-Air Association regarding the transportation project.
"Vice Chancellor Michael Beck has shown an uncomfortable degree of deference to the BAA, whose constituency has little to no relation with UCLA," the resolution said.
Eric Coestad, secretary for the North Westwood Neighborhood Council and a second-year political science student, said he agreed that UCLA had spent too much time consulting with the BAA rather than with other stakeholders who are more affected by the decision.
"I think there's a lack of community input," Coestad said. "Vice Chancellor Beck has been meeting with Fred Rosen from the Bel-Air Association, but he won't meet directly with students."
Rosen defended Beck's engagement with the BAA, saying that the job of the vice chancellor is to engage with all external stakeholders. In the emailed statement, Karwaski said UCLA has been in contact with a variety of neighborhood and student groups throughout the process.
In a letter from July 5, Metro complained that meetings and disclosures between BYD, the developer of the monorail alternatives, and Vice Chancellor Beck violated the pre-development agreement signed with the company. The minutes of that meeting, which happened June 13, recorded Beck, Rosen and representatives from LA SkyRail Express as being present. According to the USAC resolution, this breach was another reason for not endorsing the monorail alternatives.
"One of our biggest concerns is the fact that one of the meetings that they had actually violated Metro's pre-development contract," Curran said. "I think that, obviously, it is very much a red flag for us."
Public comment was open on proposals until Feb. 11, and according to the Metro website, BYD has not faced any punitive action.
"We expect that contractors will honor the terms of their agreements with Metro," said Dave Soretto, communications director for LA Metro, in an emailed statement.