UCLA women's golf to face Pac-12 foes in the Therese Hession Regional Challenge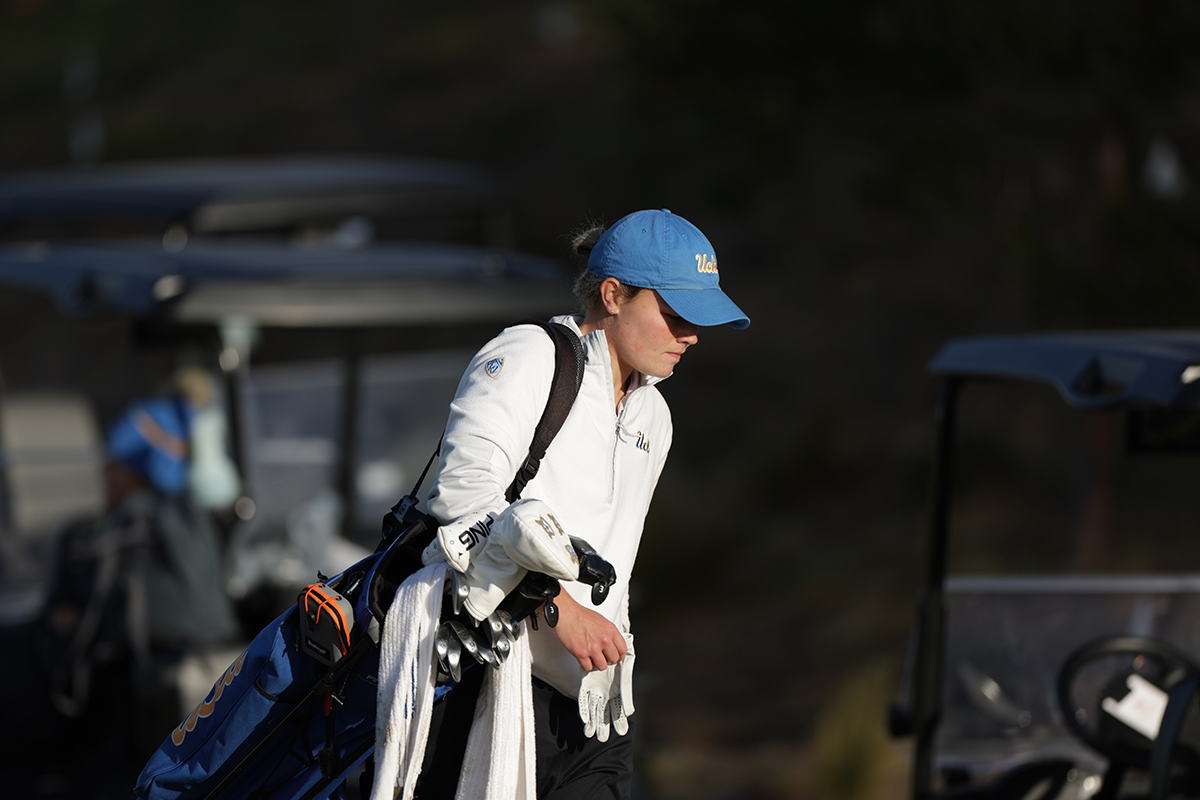 UCLA women's golf senior Annabel Wilson walks with her golf bag. (Courtesy of UCLA Athletics)
WOMEN'S GOLF
Therese Hession Regional Challenge
Sunday to Tuesday
Palos Verde, CA
The Bruins will have the chance to continue their win streak in their third tournament of the spring season.
No. 20 UCLA women's golf will compete in the Therese Hession Regional Challenge at Palos Verdes Golf Club starting Sunday. The field consists of 16 teams, including five Pac-12 foes – No. 1 Stanford, No. 4 Oregon, No. 15 Arizona, No. 17 USC and Washington. The Bruins recently beat the Trojans at the inaugural Battle for the Bell for the blue and gold's second win of the year.
Coach Carrie Forsyth said the competitive field helps the blue and gold measure up against other elite squads.
"We always try to play the most difficult competition that we can," Forsyth said. "This is our first major event of the quarter. We are really excited to have this opportunity to compete against these really strong teams."
Sophomore Caroline Canales, a consistent starter for the Bruins, has played in a handful of junior tournaments at this course. She has yet to play this course for a collegiate event.
Canales said her previous course knowledge provides a level of comfort heading into this tournament.
"Usually, we go into sites not seeing it before, no one has played it before, and we really have to figure it out in our one practice round," Canales said. "So, having prior knowledge of the course will help me have a more effective practice round."
Seniors Annabel Wilson and Emilie Paltrinieri will also be in the lineup for this tournament and previously played in it during the 2019-2020 season. Sophomore Zoe Antoinette Campos and redshirt sophomore Alessia Nobilio round out the starting five, while graduate student Phoebe Yue, who also played the course in 2020, will compete individually.
Wilson said playing in this tournament is a full-circle moment from her freshman year.
"I played the course last week, and it brought back some good memories from my freshman year," Wilson said. "I'm super excited to finish here in my senior year."
The weekend will, however, present the challenge of cooler temperatures. The temperature is projected to drop to a high of 57 degrees on Sunday, with similar temperatures in the days to follow.
Forsyth said the cooler temperatures make the golf course play longer.
"The drop in temperature makes the golf ball be colder," Forsyth said. "Then, you can't hit it as far, and the air is heavier, so the course will just play longer than it was planned."
Canales is the lone Bruin who has had her score count toward the team's score in every round this season. She is also averaging 71.8 strokes per round this season, a figure lower than the typical par 72 of many golf courses.
Canales said, while she doesn't pay much attention to statistics like these, they can be useful at times.
"I think it is really easy to get wrapped up in the numbers," Canales said. "Although, when I am with my personal coaches – my putting coach or my swing coach – we do take a quick look at the stats to see weaknesses and areas that we can spend the most time on. So, stats are helpful in that sense."
The Bruins are coming off two wins – one at the Match in the Desert and one against USC. But, this will be the largest field of teams that the Bruins have faced all season, with 16 teams playing 54 holes of stroke play on a par 71 course over three days.
Wilson said she does not have a preference between smaller tournaments and bigger ones.
"With golf, (the number of teams) doesn't really matter," Wilson said. "The only thing it affects is the pace of play, so it will probably be a little slower this week."
Round one of the Therese Hession Regional Challenge begins Sunday.
Baker is currently a Sports contributor on the swim & dive beat.
Baker is currently a Sports contributor on the swim & dive beat.