UCLA softball to start season with rotation of fresh faces and experience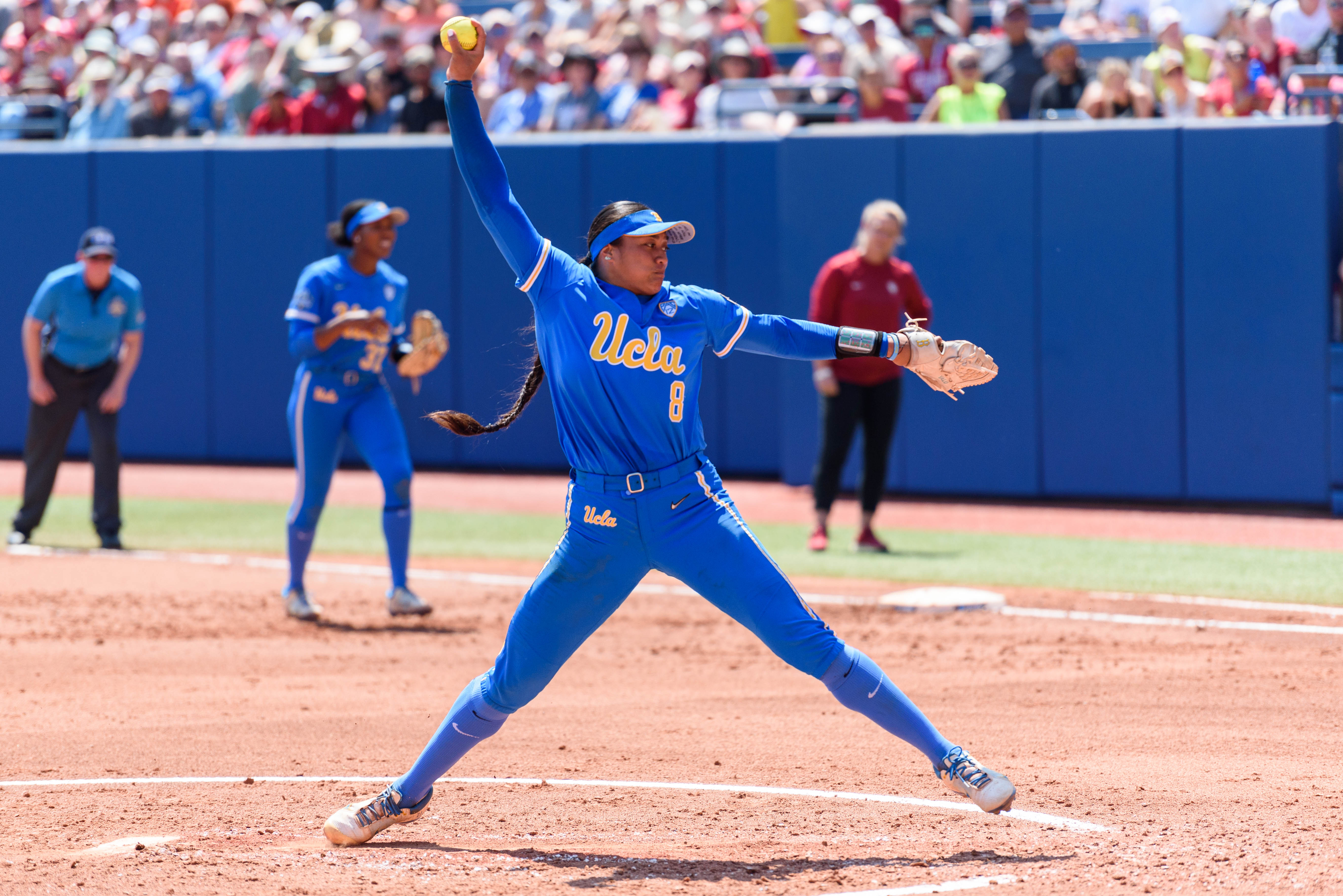 Redshirt senior pitcher/first baseman Megan Faraimo reaches the top of her backswing as she prepares to deliver a pitch. Faraimo tossed a trio of perfect games in 2022 and will have the chance to add another this weekend. (Daily Bruin file photo)
Softball
---
Stacy Winsberg Memorial Tournament
Thursday – Sunday
Easton Stadium
UCLA Live Stream
After narrowly missing a national championship in 2022, the Bruins will begin their season with a display of their depth and new talent.
No. 2 UCLA softball will begin its 2023 campaign at home Thursday against Cal State Fullerton, followed by a game against CSU Bakersfield on Friday. The Bruins will then take on back-to-back games against Loyola Marymount and CSU Bakersfield on Saturday, with a doubleheader against San Diego on Sunday at the Stacy Winsberg Memorial Tournament.
Redshirt senior pitcher/first baseman Megan Faraimo said these opening games are crucial, and the team has been preparing accordingly.
"We're really excited. We have this tournament every year and it means a lot to us and this program," Faraimo said. "We've been doing a lot of practicing – team practicing and making sure that we're understanding each other."
Faraimo is coming off a season in which she won Pac-12 Pitcher of the Year, and is one of 50 players named to the Preseason National Player of the Year watch list, joined by redshirt junior utility Maya Brady and redshirt junior catcher Sharlize Palacios. This weekend will be the first opportunity for Palacios and Faraimo to play together wearing the blue and gold.
"It's been really fun. I think me and Shar (Sharlize) connect super well," Faraimo said. "We got the chance to play with each other in Team USA over the summer, so I know how she is, and she knows how I am. I'm really excited. I think we're going to be a good battery."
Palacios is one of two transfers coming from Arizona, joined by redshirt junior outfielder Janelle Meoño. Alongside the pair of former Wildcats, the Bruins added a second transfer tandem from Oregon and seven incoming freshmen marking the most newcomers for a single season in program history.
Coach Kelly Inouye-Perez said now that the fresh faces know what being a Bruin looks like, she is excited to see them contribute.
"It all goes back to just representing the four letters, and I'm very proud of where we are," Inouye-Perez said. "All fall was building a strong foundation of what it means to represent UCLA – how we walk, talk and act, and how softball is what we love to do."
The blue and gold will have the opportunity to put its depth on display over the course of the tournament, as the six-game trek is the only such stretch they will play all season.
"You're going to see a lot of rotation, but that's the exciting part for me," Inouye-Perez said. "There's a lot of people that haven't played in the uniform, so I look forward to seeing how 2023 UCLA softball plays together. Everyone is prepared to do whatever they can to help the team, so I think that part is clear."
Another player hoping to make an impact for the Bruins is redshirt junior utility Seneca Curo, who has started 81 games in her time with the blue and gold at a variety of positions across the diamond.
Curo said her team's preparedness comes through in their post-practice habits.
"(We are) super prepared. You see everyone is working here overtime," Curo said. "Practice is done (for today), but we're still putting in work. So that just goes to show you the team camaraderie and how ready we are for this season, no matter what comes our way."
UCLA will host Cal State Fullerton to commence its season at home, with opening pitch slated for Thursday at 7 p.m.
Darrow is currently a Sports reporter on the men's soccer beat. He was previously a contributor on the women's tennis, men's volleyball and men's soccer beats.
Darrow is currently a Sports reporter on the men's soccer beat. He was previously a contributor on the women's tennis, men's volleyball and men's soccer beats.