Charisma Osborne breaks into top 15 of UCLA's all-time scorers list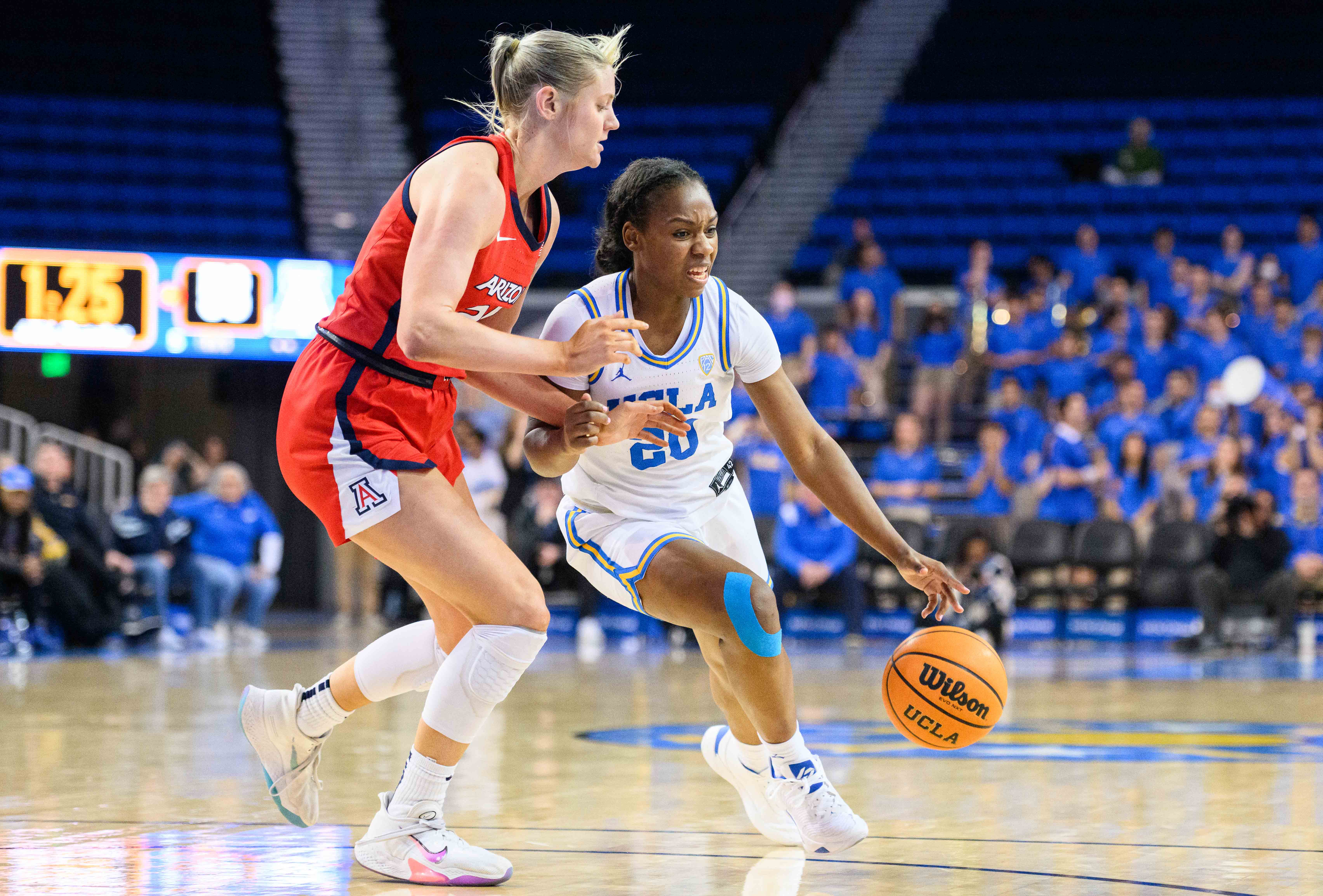 Senior guard Charisma Osborne wards off Arizona defender Cate Reese. Osborne scored 23 points in the Bruins' matchup against Arizona State, contributing to her 1,590 career points. (Amelie Ionescu/Daily Bruin senior staff)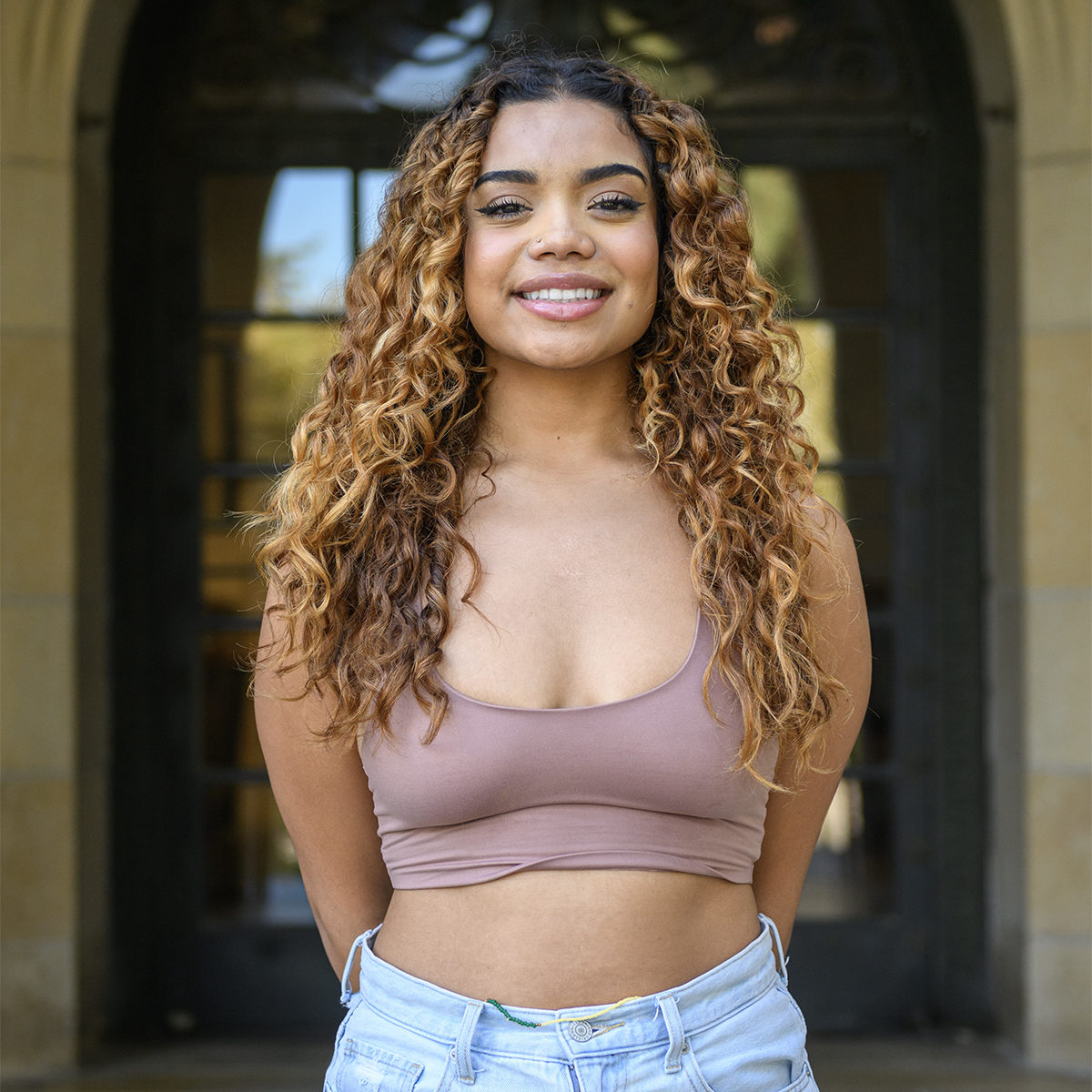 Last weekend, senior guard Charisma Osborne emerged from an offensive slump and fittingly moved up the UCLA all-time scoring ranks.
No. 18 UCLA women's basketball's leading scorer was stagnant at three or fewer made field goals for five consecutive games before an offensive surge in Pauley Pavilion on Sunday afternoon. Behind Osborne's 23 points, the blue and gold defeated the Sun Devils to snap its three-game losing streak.
"These last couple of games were really hard because they were one-possession games we were losing by," Osborne said. "We did not even watch the film the first day. We were just like, 'We're going to focus on us.'"
The veteran's offensive struggles began after a shoulder injury at Matthew Knight Arena in Oregon on Dec. 30 that caused her to miss the Oregon State game, which saw UCLA endure its second loss of the season.
Osborne returned for the close win against crosstown rival USC with her lowest field goal percentage of the season, 12.5%, and finished with nine points across the game. Osborne explained that she has grown accustomed to playing through injury.
"I'm not 100% yet. I don't know when that's going to come," Osborne said. "Once the adrenaline kicks in, I'm usually fine. … I played with injury all last year, so it's nothing new to me."
Before Osborne's 23-point performance against the Sun Devils, she spoke with Japreece Dean, a former UCLA guard who was drafted to the Chicago Sky in 2020.
"She was just kind of reminding me of who I was and when she played against me," said Osborne. "That meant the world to me because I respect her so much."
Coach Cori Close emphasized that when overcoming struggles on the offensive side, it has been critical for Osborne to turn to her teammates, coaching staff and mentors.
"When you get in those tough slumps, you have to really claw your way back," Close said. "You can't crawl your way back into a vacuum. You got to do it with people and connect to people, and I think that takes a lot of courage."
In a timely display of Osborne's prowess, the veteran cracked the top 15 in UCLA women's basketball's all-time scorers list with 1,590 career points, courtesy of her 23 points scored on Sunday.
"Yeah, I didn't know that, that's kind of cool," Osborne said immediately following the win on Sunday. "I don't really focus on that too much. … I just want to win, honestly."
UCLA will attempt to avenge its loss against Oregon State on Friday, this time with Osborne on the court as she attempts to maintain her offensive prowess.
Bivins is currently a Sports contributor on the men's volleyball beat.
Bivins is currently a Sports contributor on the men's volleyball beat.