Unique training techniques help UCLA gymnastics find success in Utah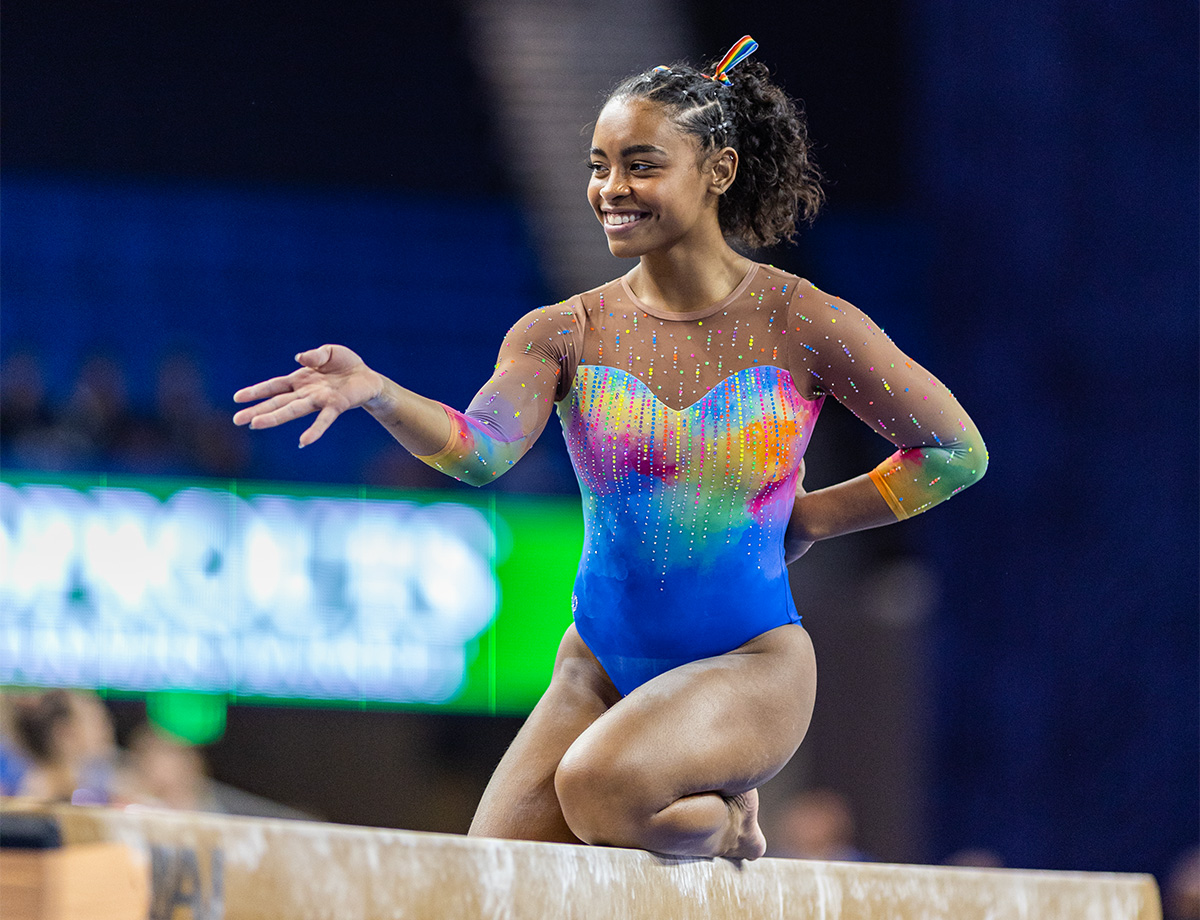 Freshman Selena Harris smiles during a beam routine. Harris and UCLA gymnastics moved up from 20th in the country on beam to 13th after a season-high 49.575 on the event in their latest meet. (David Rimer/Daily Bruin senior staff)
This post was updated Feb. 7 at 9:01 p.m.
KIDZ BOP, Now That's What I Call Music!, Disney songs and the Chicken Dance.
The Bruins attempted a new strategy before boarding the plane to the Beehive state.
Four random styles of music helped set the tone for then-No. 5 UCLA gymnastics to score a season-high 49.575 on beam Friday night in its meet against No. 4 Utah. Freshman Selena Harris said throughout beam practice in Westwood on Wednesday, the Bruins' coaching staff played intentionally distracting music to help prepare the team for the atmosphere at the Red Rocks' Jon M. Huntsman Center.
"The day before we left (for Utah), we trained beam with super obnoxious songs, and we played them super loud so that it could distract us," Harris said. "I was so distracted the whole time. That was horrible. But that was the whole point – to still do a strong beam routine while so much noise is happening."
UCLA's unorthodox training technique paid off for Harris. The four-time reigning Pac-12 Freshman/Newcomer of the Week notched a career-high 9.950 on beam – her highest score of the four events in Utah.
Coach Janelle McDonald said the Bruins love playing music during practice and ask to switch the song often if they do not enjoy the one playing. Changing up the atmosphere and focus was a major part of meet planning, she added.
"You may have things in a big arena or a big stage like Utah that are going to try to throw your focus away from what your job is," McDonald said. "And so just stay in your bubble, keep putting your head down, doing the work and do what you do in the gym every day."
During redshirt senior Margzetta Frazier's bars routine, the crowd of nearly 14,000 erupted at a Utah vault score in the middle of her performance.
McDonald said it was one of the loudest moments she had heard in her gymnastics career, while Frazier compared the Utah crowd to the likes of a football stadium.
"Utah is very intense," Frazier said. "I feel like I'm playing at the Staples Center and all these people yelling (are) at me because their fan base is die-hard. … We don't run around and play soccer or basketball, so this is the closest thing to it. It's a very different feeling."
During the Super 16 meet on Jan. 7, Frazier landed short on her floor routine and walked up to freshman Ciena Alipio to tell her that she would replace her on beam in UCLA's following rotation.
Alipio has kept her spot in the beam lineup in every meet since, earning a career-high 9.875 on the event Friday.
Even though Frazier has not competed on beam herself this season, the fifth-year Bruin said she has helped her teammates prepare for the event during meets. Frazier said she was not shocked by the Bruins' season-best beam result just five days after they were forced to count a fall on the apparatus.
"I'm not surprised at all," Frazier said. "Those girls train so hard, and (volunteer assistant coach) Autumn (Grable) cares so much. I knew that after the last meet, she was probably not stressed, but a little tense. Those mistakes we made were very uncharacteristic and very fluke-like, and we proved that."
UCLA rose from 20th in the national beam rankings to 13th after Friday's showing, a number that could continue to rise if consistency on beam continues.
Harris said the Bruins had a simple message in the huddle before they rotated to finish the meet on beam.
"Our message was to do beautiful gymnastics and (show) how we've been working in the gym to put on display what we've been training," Harris said.