UCLA women's basketball seeks redemption in contests against Arizona schools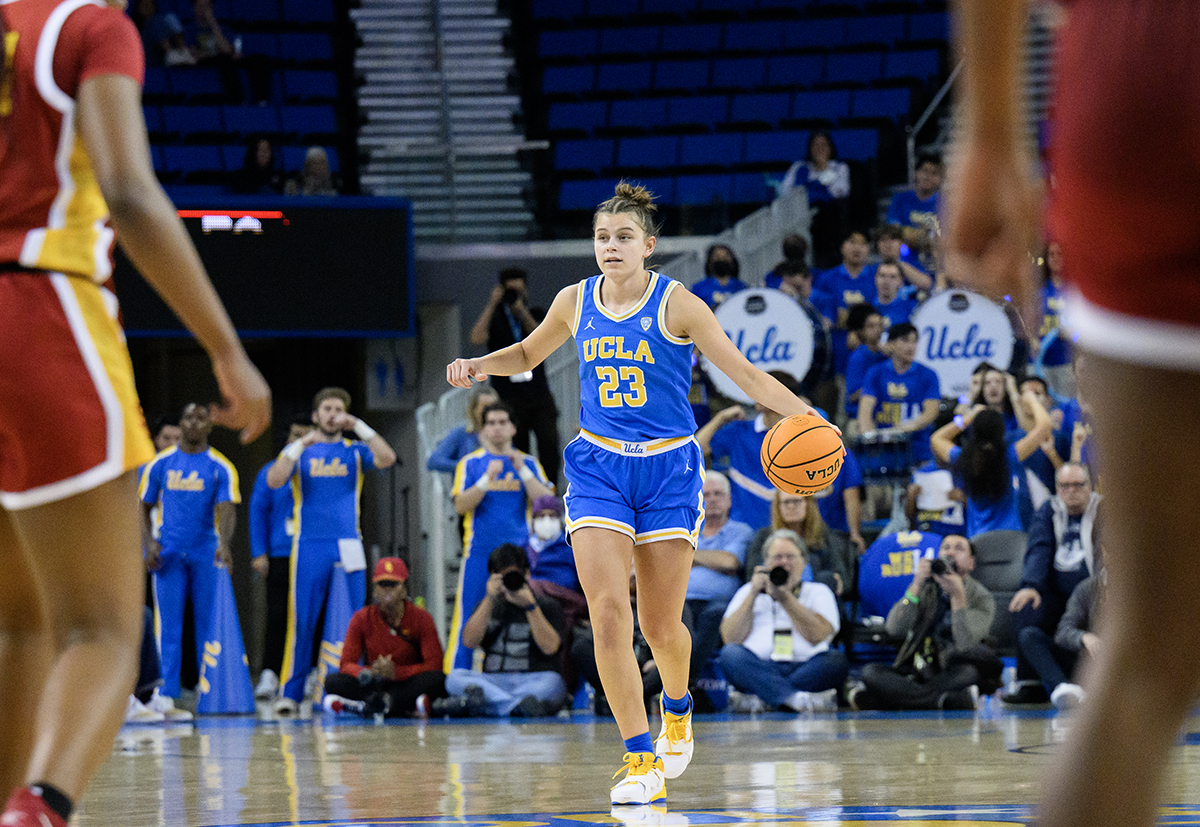 Freshman forward Gabriela Jaquez readies to call a play on the court. Jaquez provides the Bruins with a spark off the bench, averaging 6.9 points and 3.8 rebounds on the season. (Anika Chakrabarti/Photo editor)
After two losses on the road, the Bruins are standing in a fourth-place deadlock and have fallen down the AP poll.
This weekend, the blue and gold will host the Pac-12's two Arizona schools back in Pauley Pavilion to attempt to avenge the two losses and bolster its NCAA tournament resume.
No. 14 UCLA women's basketball (17-5, 6-4 Pac-12) will battle No. 22 Arizona (16-5, 6-4) and Arizona State (7-14, 0-10) on Friday and Sunday, respectively. This weekend's contests may shake up the Pac-12 standings, as UCLA, Arizona and USC are currently locked in a tie for fourth place.
Graduate student guard Gina Conti said the blue and gold is looking to work as a unit and utilize its strengths this weekend.
"We just talked about the things that are under our control, like playing together and being tougher together," Conti said. "Focusing on different situations, like end-game situations, just to get our team comfortable and confident moving on in the rest of the season."
Friday's contest against Arizona is projected to be a challenging one. Last year, the Bruins lost to the Wildcats in the first home contest of the season, but they were able to defeat them the second time with the lowest total scored against in that conference season.
But this year, both teams are navigating uncharted territory.
Last season, the Bruins had players out from injury who were unable to play to their full potential, such as Conti, redshirt sophomore forward Emily Bessoir and senior forward Brynn Masikewich. But now, with all returning players healthy and supported by the No.1-ranked freshman recruiting class in the nation, the Wildcats might not recognize this new squad.
Freshman forward Gabriela Jaquez said the Bruins have been working on playing with perseverance and grit for Friday's game.
"We're just really focusing on our toughness and intentionality when we're playing basketball and out on the court because we have a lot in us," Jaquez said. "We're just ready to get back out on the court and play games again."
Arizona has also developed after only five players from their last roster have returned. They've used the transfer portal to their advantage, as players such as guard/forward Jade Loville and forward Esmery Martinez are dominating in the starting lineup. Loville is the team's second leading scorer, shooting 42% beyond the arc. Martinez is also a prominent three-point shooter and dominant rebounder.
Coach Cori Close emphasized that the Bruins will need to protect the ball under the basket on both ends of the court.
"(The) big key for this weekend is rebounding and taking care of the ball," Close said. "They're a great presser team, they love to deny, they're great in their press. So it's going to be really important that we handle their pressure well. Defensively, we have to really defend the tunnel and do a great job of rebounding the basket."
Arizona State, who is currently ranked 12th in the Pac-12, will be the Bruins' second matchup of the weekend. The blue and gold has defeated the Sun Devils the last 12 times out since 2015.
The Sun Devils' losing streak this season was increased by a couple of forfeits due to a plethora of injuries and unavailable players. Despite the losses, Arizona State has continued to improve each game behind its new coach Natasha Adair and guard Tyi Skinner, who averages 18.7 points per game.
Close said every weekend, no matter the opponent, is about developing both individually and as a team.
"The thing about the Pac-12 is that every week is going to look a little different," Close said. "I'm looking for that gut check, personal responsibility, everybody taking responsibility to improve, and that fight to get better. That's what I want to see in our team this weekend."