Scouting report: UCLA women's basketball vs. Arizona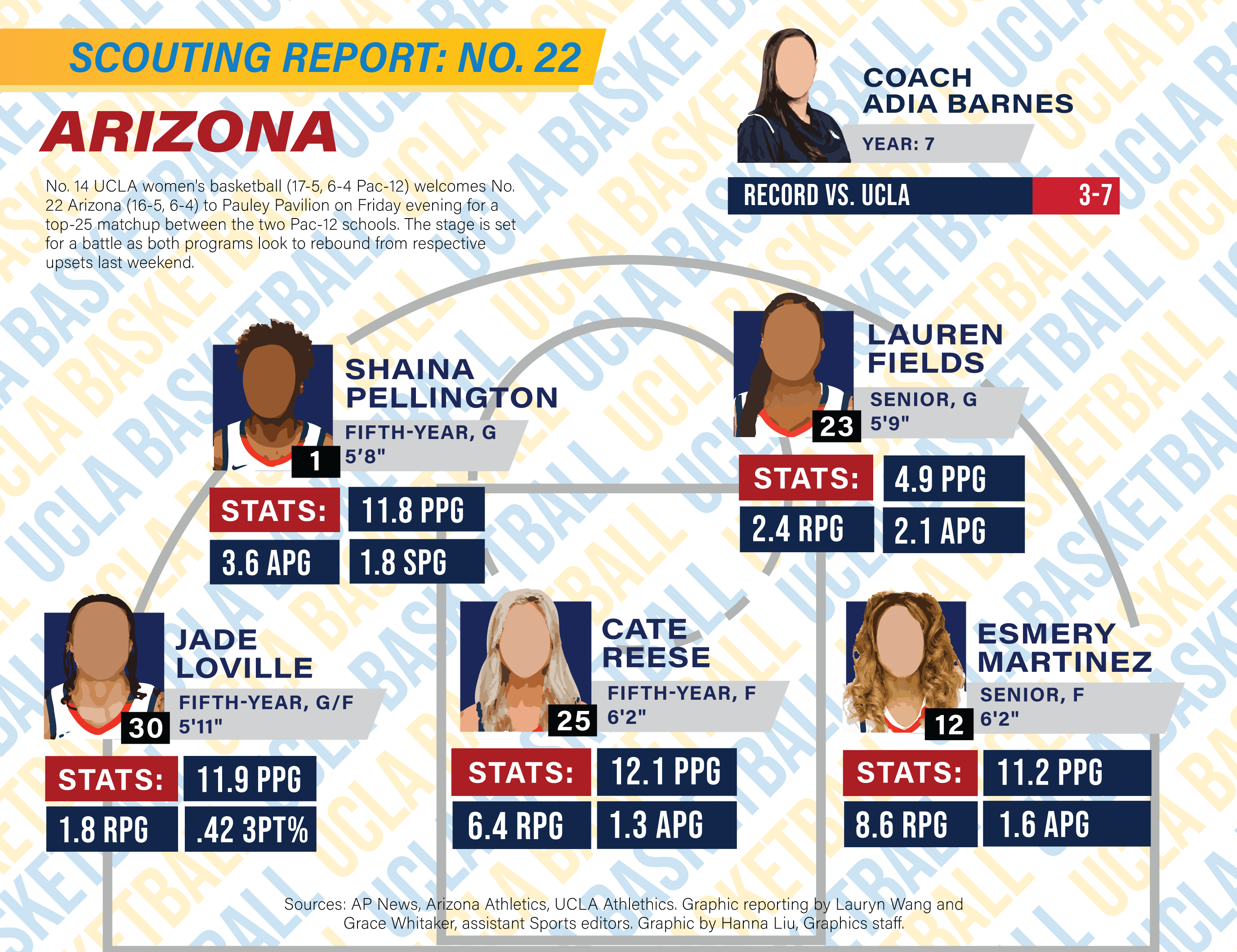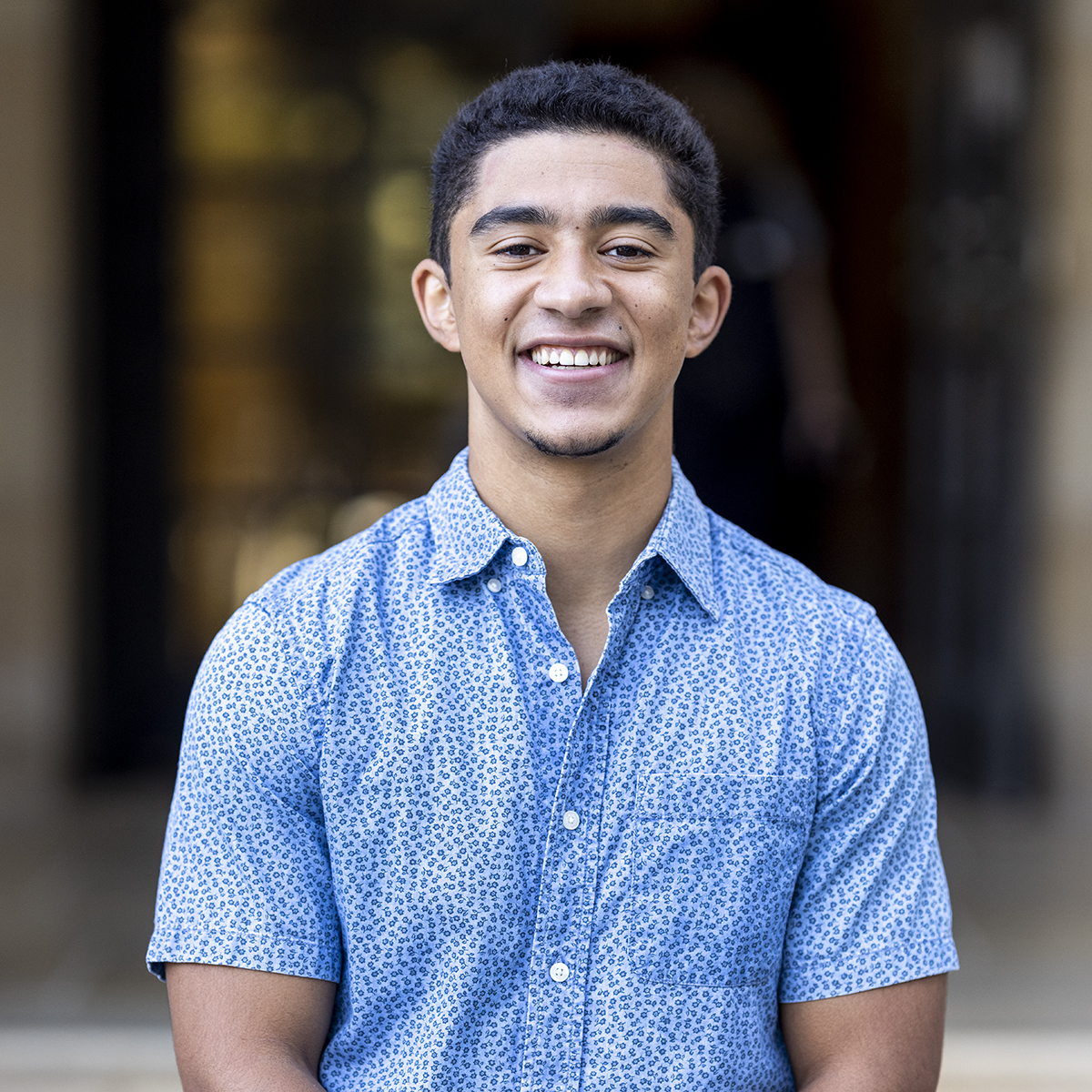 No. 14 UCLA women's basketball (17-5, 6-4 Pac-12) is set to host No. 22 Arizona (16-5, 6-4) on Friday in Pauley Pavilion after a setback on its mountain road trip. After succumbing to Colorado and No. 9 Utah last week, the Bruins have fallen from the No. 8 spot in the AP poll to the 14th. Friday's game will also give the Bruins an opportunity to emerge from a fourth-place deadlock with Arizona and USC in the Pac-12 standings. Here's this week's scouting report from staff writer Gavin Carlson – who's picking the blue and gold to win Friday – and contributor Alexis Hinkle – who grew up traveling to Tucson every year and watched Arizona forward Cate Reese as a freshman to a fifth-year senior.
Personnel:
Coach: Adia Barnes
Starting lineup: G Shaina Pellington, G Lauren Fields, G/F Jade Loville, F Esmery Martinez, F Cate Reese
Best Player: F Cate Reese
X-Factor: F Esmery Martinez
Stat Profile:
Points per game: 76.6
Field goal percentage: .449
Points allowed per game: 63.0
Field goal percentage allowed: .411
In recent memory, the matchup between Arizona and UCLA has become one of the most heated in the Pac-12. Now the Bruins and Wildcats are each coming off losses that have dropped them in the AP rankings, so Friday's battle is poised to be just as competitive.
Arizona's offense headlines four starters that boast double-digit scoring averages. The most efficient of the bunch is the Wildcats' most experienced player on their entire roster – Shaina Pellington.
The fifth-year guard ranks third on the team by averaging 11.8 points per game – just 0.3 less than Arizona's best scorer – on 53.9% shooting from the field. That scoring efficiency is the second highest on the entire team and the best among players who average at least five shot attempts per game.
And Pellington doesn't find scoring success in the ways that you would expect.
Despite being the shortest Arizona starter at 5-foot-8, Pellington operates exclusively inside the 3-point arc. She's not great from deep, but she understands that.
Pellington has attempted just 10 3-pointers this season across 19 games, the fourth-least on the team and the least among Wildcats who attempt at least four shots per game. Having only made three of them, the Bruins will succeed if they can force her to shoot the long ball.
They'll find even better success if she ends up at the free-throw line.
Pellington's operation inside the arc has resulted in her shooting a team-high 80 free throws this season, but she's the third-worst free throw shooter for Arizona at 55%. Keep her out of the paint, but if she gets in there, you might as well send her to the charity stripe. It's been anything but free for Pellington this season, and it's UCLA's best way to stop her.
Finally, the experienced guard is unsurprisingly the best distributor for the Wildcats, as she's tallied a team-high 69 assists on the season, which ranks eighth in the Pac-12. She dictates Arizona's offensive flow.
Pellington's backcourt mate is Lauren Fields, who is anything but the efficient scorer Pellington is.
Standing one inch taller at 5-foot-9, Fields is the worst shooter on the team with an abysmal 26.3% rate from the field this season. Remarkably, Fields averages just 2.8 points per contest in Pac-12 play on an even worse 22.2% shooting. And yet, she has started all 10 conference games this season, almost exclusively because of her defense. She has 41 steals on the season – second-most on the team – and is among the top five in the entire conference.
Put simply, the Bruins want the ball in Fields' hands, and they'll have to be careful when she's guarding them.
The Wildcats' small forward is guard/forward Jade Loville, another impressive fifth-year scorer, who is on her third team in her collegiate career. She played at Boise State for her first three years, then took her talents to Arizona State for a lone campaign where she was an All-Pac-12 team performer, and now finds herself in Tucson for a fifth year.
Loville is Arizona's second-leading scorer averaging 11.9 points per game, and her 36 made 3-pointers this season represents nearly a third of the team's overall output from behind the arc. Standing at 5-foot-11, Loville is able to shoot over smaller guards and boasts the ninth-best 3-point shooting percentage in the Pac-12 at 42.4%.
Out of all of the Wildcats, Loville has the greatest potential to take a game over with her scoring. She dropped 27 points on 10 made field goals and drained six 3-pointers against New Mexico earlier this season. All three of those marks were the highest by any Arizona player this season. She has the ability to take over games with her shooting, so UCLA must be prepared to prevent her from catching fire.
Cate Reese, standing at 6-foot-2, is a power forward that the Bruins must watch out for on the offensive side. The three-time All-Pac-12 team selection returned to Tucson for her fifth season and continues to be Arizona's scoring anchor.
Starting in all 21 games for the Wildcats this season, Reese paces the team with 12.1 points per game and is reliable in the paint. She has the ability to make difficult layups against other bigs and stays out of foul trouble on the other end. But matching up against the blue and gold's freshman forward Christeen Iwuala and senior guard Camryn Brown, despite her smaller size, may pose a threat to Reese. Iwuala and Brown have been defensive weapons for the Bruins at the backcourt.
Reese is also crafty and powerful in clutch moments. In a contest against Oregon earlier this season, she was able to get a bucket in the final minute of the contest to tie the game 69-69 and ultimately win. Although not a threat from deep, Reese's athleticism allows her to drive and get solid shot selection inside.
The other starting forward, Esmery Martinez, has proven an important addition to the Wildcats this season. Transferring from West Virginia, Martinez is a dominant rebounder. This season, she is leading the team in rebounding with 8.6 per game, and the Bruins will need to be strong against Martinez on both ends of the court.
Reese and Martinez, Arizona's two prolific bigs, ultimately dominate the front court. Reese's weakness from beyond the arc is covered by Martinez, who boasts the second-best mark for made 3s among starters. With both of them standing at 6-foot-2, their effective size and veteran knowledge are key for the Wildcat rotation.
Carlson is currently a staff writer on the football, men's basketball and women's basketball beats. He was previously a reporter on the softball and men's golf beats.
Carlson is currently a staff writer on the football, men's basketball and women's basketball beats. He was previously a reporter on the softball and men's golf beats.