Op-ed: UCLA must further address housing affordability to increase educational equity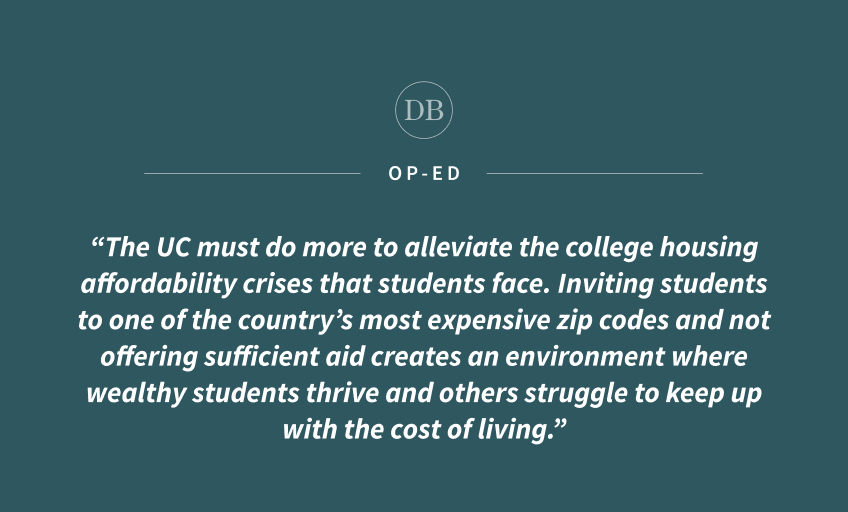 As spring approaches, UCLA students will soon begin the hunt for an apartment for the 2023-2024 academic year. For many, Westwood rents are unattainably high, which presents a crisis to the UCLA student community.
UCLA students, drawn to Los Angeles to earn a degree from the top public university in the country, compete for housing in one of the most expensive neighborhoods in the country. Situated between Santa Monica and Beverly Hills, Westwood was not only named the most expensive neighborhood to rent in California, both in 2018 and 2019, but also the fourth most expensive neighborhood for renters in the nation.
According to Curbed, in 2021 there were only about 950 available affordable rental units close to UCLA, affordable housing stock that is clearly insufficient for the approximately 40,000 students that attend UCLA.
This creates an unnecessary hardship for many students, who resort to commuting long distances, living in their cars and cramming into overcrowded apartments. Federal, state and University of California grant money only goes so far, oftentimes only covering the cost of tuition, which leaves over half of UC students with an average of $18,000 in student loans after graduation. To avoid taking on enormous debt, students often accept overcrowded or unstable housing situations.
The UC must do more to alleviate the college housing affordability crisis that students face. Inviting students to one of the country's most expensive zip codes and not offering sufficient aid creates an environment where wealthy students thrive, and others struggle to keep up with the cost of living.
Although UCLA has recently constructed new student housing, adding 1,800 beds on campus at Olympic and Centennial Halls in 2021 and three off-campus apartment buildings in 2022, this new construction is at least partly in anticipation of the 2028 Olympics, for which UCLA Housing will serve as the Olympic Village. These added units are a drop-in-the-bucket solution to the housing and displacement crises that the games will soon thrust upon our community.
In August of last year, the California State Assembly passed Senate Bill 886, a bill that allows universities to construct on-campus housing faster and at a lower cost. Hopefully, this provides student collectives the momentum to achieve goals from sufficient affordable housing to a tuition-free and police-free university.
As cost of living adjustment movements across all UC campuses are growing, it's clear that the living and learning conditions at the UC are inequitable and inaccessible. Students are demanding change.
This year, our university must respond to student calls for an affordable and equitable education.
Julia Rowell is a fourth-year public affairs student at UCLA.