North Westwood Neighborhood Council recap – Feb. 1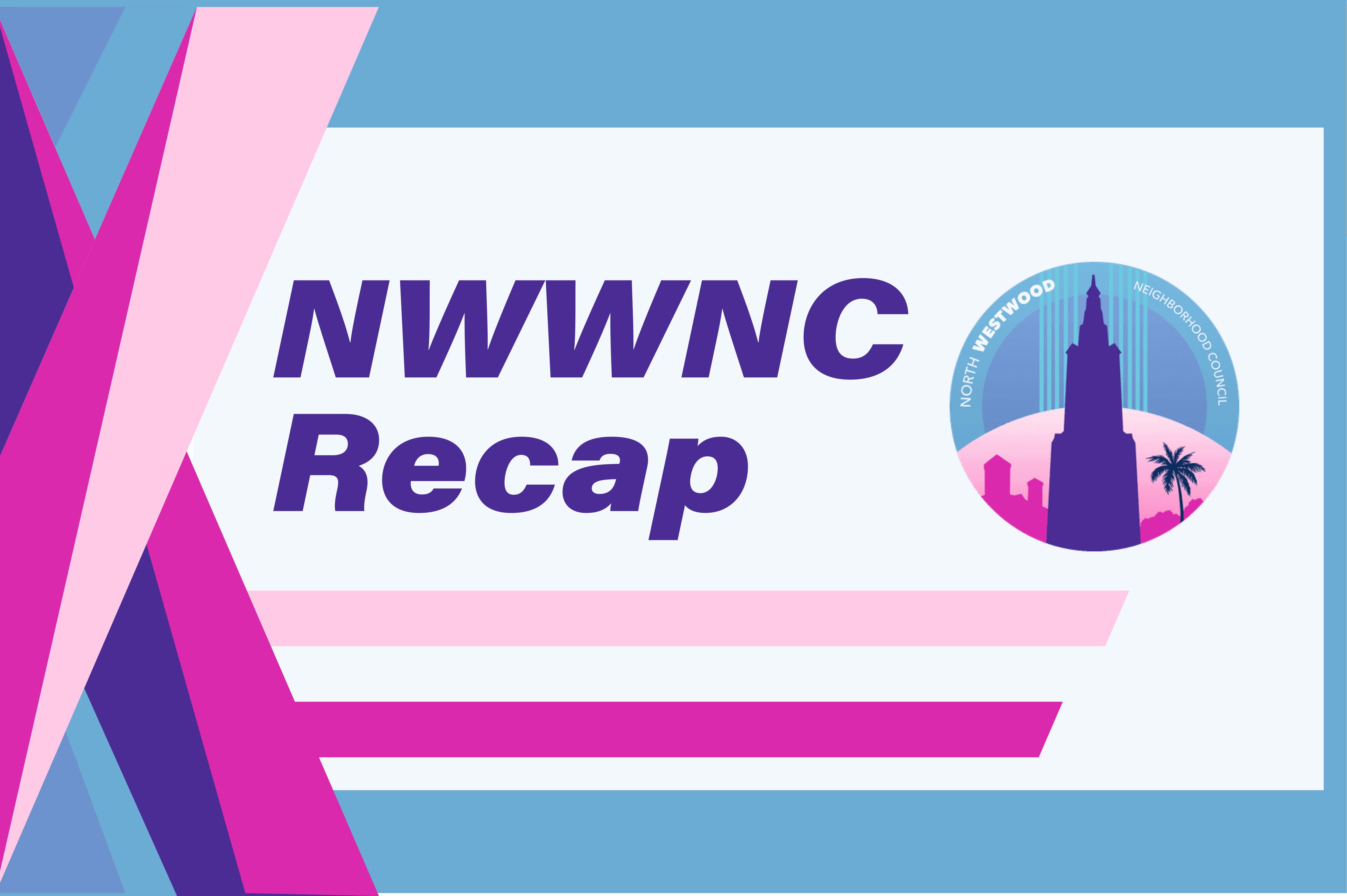 This post was updated Feb. 10 at 1:25 a.m.
The North Westwood Neighborhood Council is the official neighborhood council representing UCLA and Westwood Village to the Los Angeles City Council. Council meetings are held each month and are open to the public via Zoom. The council convened Feb. 1, and the next meeting will be held in person March 1 at UCLA's Weyburn Terrace.
Comments by public officials:
James Allen, senior lead officer in the LAPD's West LA division, provided an update on local crime data. He said crime is down in the community, despite the rise in home burglaries and parked car burglaries. He said he recommends that residents start neighborhood watch groups and install security cameras to deter burglaries.
Patricia Macias, field deputy for District 5 Councilmember Katy Young Yaroslavsky, said she is working on getting the council member to come to the next neighborhood council meeting. She added that the district's homelessness liaison team has begun working and is providing outreach to the unhoused communities of Westwood. She said the council member also looks forward to starting a cleaning team to address litter on District 5's streets.
Hannah Wenger, field representative for Assemblymember Rick Zbur, summarized Zbur's first weeks in office. She said he presented three bills to the legislature – one to accelerate offshore wind energy development projects, another to provide resources for underrepresented communities in elementary and middle schools, and a third to allocate funding for transition-aged youth in foster care.
Janet Turner, a representative for Congressman Ted Lieu, updated the council on the congressman's committee assignments. He currently serves on the foreign affairs committee and judiciary committee, and this year he joined the science, space and technology committee to study the advancement of artificial intelligence. She said the congressman also supported a stop on UCLA's campus for the Sepulveda Transit Corridor Project.
Carmen Zambrano, UCLA's assistant director of community and local government relations, shared information with the council about the First Thursdays event on Broxton Avenue. She also said Administrative Vice Chancellor Michael Beck plans to participate in an upcoming Undergraduate Students Association Council meeting to discuss the Sepulveda Transit Corridor Project.
Erica Gatica, Department of Neighborhood Empowerment project coordinator, said the city had provided a report to the council about a proper return to in-person meetings. She also said the candidate filing deadline for the neighborhood council's May election was Friday.
Public comment:
Steven Sann, co-chair of the Westwood Homeless Count, said last week's annual count was a success. He said he expects the new data to show a rise in homelessness throughout Westwood. However, he said that the data from the LA Homeless Services Authority will not be available until June. He also called for community members to attend the Second Saturdays event at the Westwood Public Library on Saturday.
Agenda:
The council unanimously approved the meeting minutes from last month's board meeting.
The council unanimously approved the conditional use permit at 1100 Glendon Ave. for fine dining restaurant STK to serve alcohol until 2 a.m., extending the previous establishment's permit by two hours. An STK spokesperson said the restaurant plans to open by May 14, which is Mother's Day.
The council unanimously approved a return to in-person meetings at UCLA's Weyburn Terrace in its university apartments complex. Andrew Lewis, the council's vice president, said he visited with city officials earlier this week to make sure the building was still compliant with the Americans with Disabilities Act.
The council unanimously approved undergraduate student stakeholder Samantha Smithies' motion for election materials to increase turnout for May's election. It also unanimously approved her motion to attend First Thursdays, Second Saturdays and USAC meetings to push voter turnout.
Yasir Gillani, captain of LAPD's West LA station, spoke to the council about staffing and the recent shooting in Beverly Crest, where three people were killed and four were wounded. He said that the Robbery-Homicide Division is investigating the incident and that there is no longer a threat to the community.
The council unanimously approved second-year student Evan Curran to become Transportation and Safety Committee chair and community stakeholder Jacob Wasserman as co-chair of the committee.
The council unanimously approved three LA City council members' motion to remove street widening guidelines for new developments in the city. Business representative Kevin Crummy said he supported the measure because of the need to keep costs low in Westwood's newer developments.
Organizational stakeholder Eric Coestad presented Crosstown's analytics for the past year. Westwood added 37 accessory dwelling units last year.