New proposal seeks holistic investigation of 2015 Aliso Canyon gas leak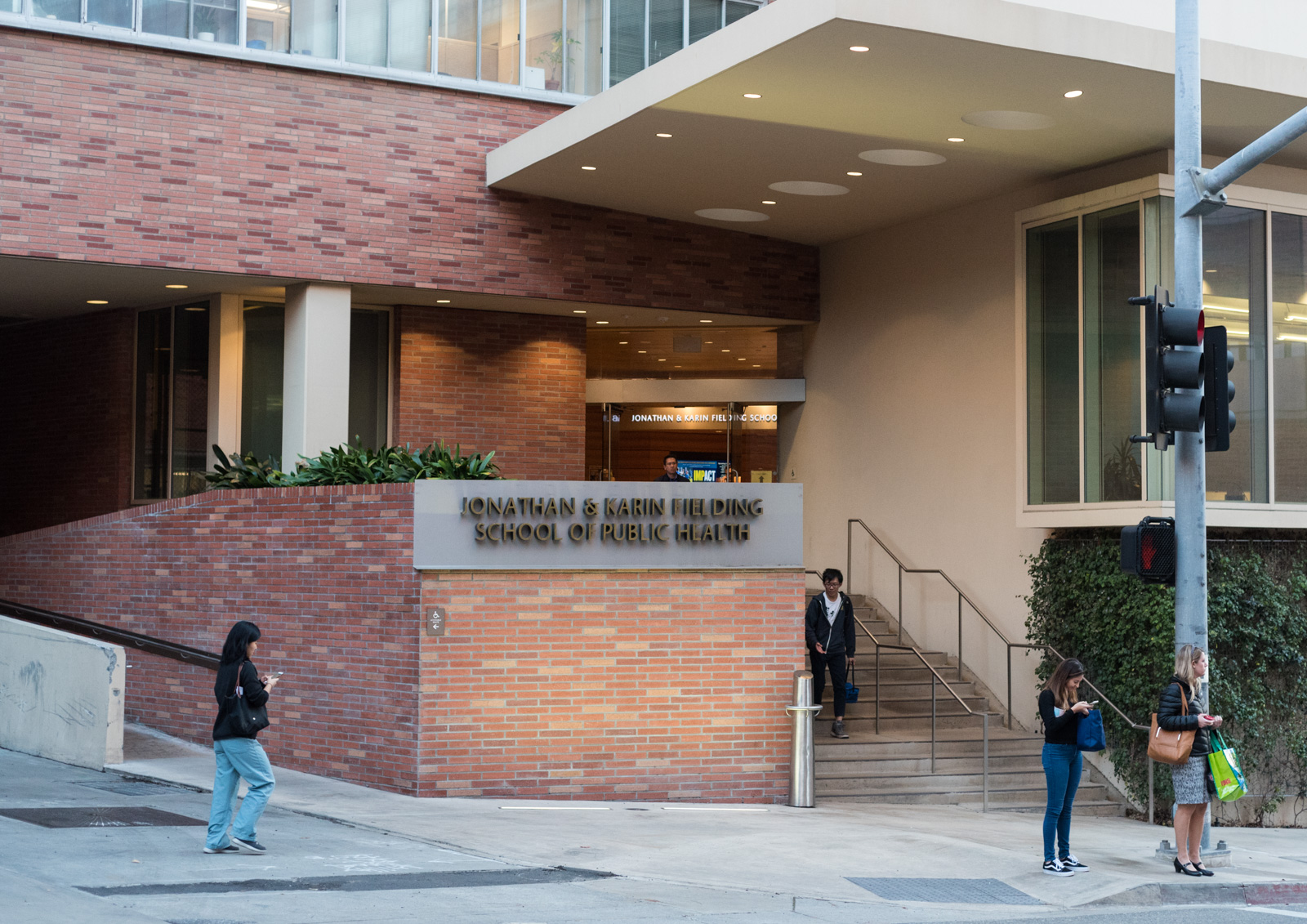 The Fielding School of Public Health is pictured. Researchers from multiple schools, including UCLA, recently were awarded a grant to investigate the 2015 Aliso Canyon gas leak. (Daily Bruin file photo)
This post was updated Feb. 5 at 9:29 p.m.
Researchers from UCLA, New York University and the California Institute of Technology recently received a federal grant to investigate the Aliso Canyon gas leak that occurred in the fall of 2015.
According to resources from Michael Jerrett, a professor at the Fielding School of Public Health, Aliso Canyon is the largest natural gas facility in California, and residents of the nearby Porter Ranch community experienced many pollution-related health effects after the leak. Researchers conducted preliminary investigations of the area in 2016, but the need for further study led to a proposal for a comprehensive research project.
The proposal aims to conduct a holistic investigation of the Aliso Canyon facility and nearby areas by examining the short- and long-term health effects of ongoing gas exposure for residents living near the facility. Led by Jerrett and Honghu Liu, a professor at the UCLA School of Dentistry, the research team plans to meet with the Los Angeles County Department of Public Health and Porter Ranch community members on a regular basis until 2027 when the project concludes.
Diane Garcia-Gonzales, one of the researchers on the case who began to study the area as a doctoral student at UC Berkeley, said this type of holistic investigation is feasible with their resources, which include more than 30 researchers, five years to study the area and substantive funds. This research is especially important for residents living in another area where a leak could occur in the future, she added.
Because the Aliso Canyon gas leak has been one of the only times when such a large natural gas leak has occurred so close to a community, Garcia-Gonzales said it is a unique research opportunity to learn about its impacts on the health of nearby residents.
Dr. David Eisenman, the director of the Center for Public Health and Disasters and a researcher on the case, said the project has also been a great opportunity to work with researchers from other institutions.
"We have a great set of collaborators from Cal State Sacramento who are really wise and thoughtful in how to communicate and work with communities that have been affected by environmental disasters like this," Eisenman said.
Nadereh Pourat, a professor at the Fielding School of Public Health and researcher on the case, said she will indirectly measure the health of residents in Aliso Canyon's surrounding areas by identifying where residents utilized health care, which will help understand the short- and long-term health impacts of exposure on residents compared to those who were not exposed to the gas leak.
In studying the Aliso Canyon gas leak, researchers will explore what happened in the area, she said, and while there is evidence that shows people who were exposed suffered negative health effects from the leak, there is little to no evidence as to how residents' health is impacted in the long-term.
Ultimately, Eisenman said he is seeking to learn about what helps individuals recover from disasters like Aliso Canyon, and in adding to that literature, public health sectors can begin to create resources and policies for individuals who experience these events.
Eisenman, who leads the community engagement sector of the study, said they need to provide opportunities for interactions between the researchers and Porter Ranch community members, as they have a thorough understanding of the leak and are personally concerned about how the leak is affecting their health.
The researchers hope to develop a community advisory board to allow for their input on the study, host town halls and create a social media presence to provide ways for the community to stay in communication, he said.
"We can only do our best job here if we hear directly from them," Eisenman said.
He will also be leading the group that provides mental health evaluations for the Porter Ranch community members, Eisenman added. Evaluating the residents' mental and social well-being can provide his team with a richer understanding through qualitative data of the effects on people's lives and how certain recovery methods have helped them mentally and socially, he said.
While most disaster research studies focus on mental and physical health, Eisenman said their study is novel, as it looks into community recovery. Most people actually recover and continue living their lives, so the team is investigating what this process of recovery looked like in Porter Ranch and how these people recovered to understand the strength and resiliency of the community, he said.
"We are going to be a part of their storytelling of the disaster and what happened afterwards," Eisenman said.
Pourat said beyond scientific investigation, the study will also be useful to inform future actions from entities like the LACDPH.
Garcia-Gonzales said this research could help improve how public health deals with disasters, re-analyze the impacts of natural gas and encourage scientists to conduct more holistic research.
Pourat said there are a number of innovative aspects of their research that she hopes can be used by others. It also raises awareness of the importance of paying attention to environmental disasters, she said.
Eisenman said UCLA plays a pivotal role in communicating the findings for the study because of its large focus on community engagement.
"Publicly funded projects about people's lives – they need to be easily accessible to people in order to be supported in the future," he said.