UCLA women's water polo shows freshman talent with win over UC Davis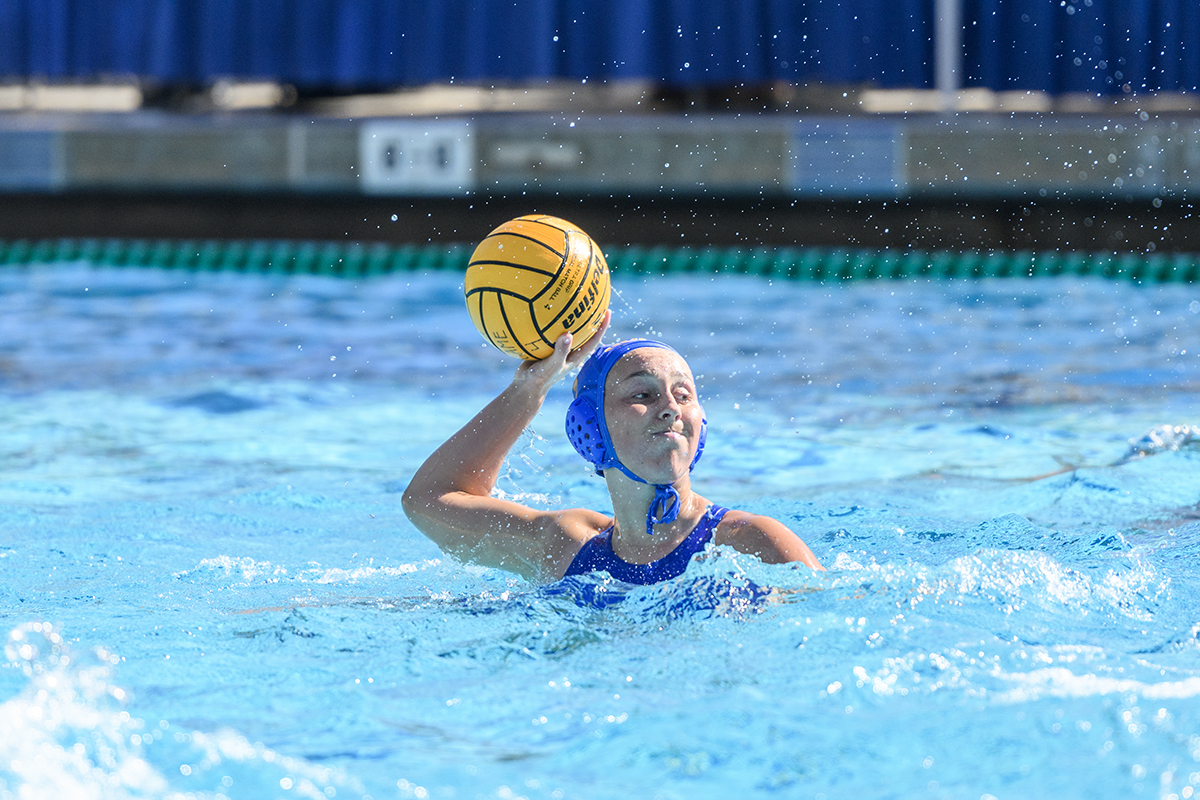 Freshman center/defender Lily Gess pulls back with the ball while on offense. Gess recorded her first collegiate hat trick Saturday against No. 11 UC Davis. (Javier Jauregui/Daily Bruin)
Women's Water Polo
---
| | |
| --- | --- |
| No. 3 UCLA | 21 |
| No. 11 UC Davis | 7 |
This post was updated Jan. 31 at 11:38 p.m.
Through two weeks of play, the Bruins have not lost.
For the 18th time in program history, No. 3 UCLA women's water polo (6-0, 1-0 MPSF) has finished the first six games of the season undefeated – winning every match by a minimum of five points – besting No. 11 UC Davis (1-3) at Spieker Aquatics Complex in Berkeley on Saturday.
The Bruins' 21-point showing was headlined by five goals from sophomore attacker Emma Lineback – her third consecutive hat trick – along with hat tricks from freshman center/defender Lily Gess, freshman utility Anna Pearson and graduate student attacker Val Ayala.
Gess said it was hard to contain her excitement when she completed her first collegiate hat trick.
"It felt really good," Gess said. "I was trying not to smile when everyone started cheering me on. I was just trying to execute what we're taught to do in our system, and things were working out."
UCLA's offensive efficiency did not distract from its defensive performance. The blue and gold held the opposition to seven points, a third of its own total.
Although the team has been successful on offense, Ayala said it has been prioritizing defense in practice.
"We're really focusing on our defense more than anything else right now," Ayala said. "We were working on closing up possessions, so communication was huge for us. We're trying to grow in that aspect and over-communicate so we can lock it down on defense."
Over the course of the game, nine Bruins found the back of the net, including four freshmen who accounted for eight of the team's 21 points.
Ayala said the impact the freshmen have made on the team so far is immeasurable.
"They're going to be absolutely vital this season," Ayala said. "They will only continue to grow and get experience. … Luckily, we have some good talent on our hands, so it's going to be big for them, especially for our season and for the future of the team as well."
The blue and gold went on two separate scoring runs during the match, notching a total of 13 unanswered goals between both.
With the season starting to pick up momentum, the blue and gold is looking to further grow the team chemistry as the seven freshmen become more acclimated to the team.
Coach Adam Wright said the performance of the Bruins' newest players was critical to propel the squad to victory this weekend.
"We have a great mix of young and old players," Wright said. "The group (of freshmen) will be really important, and they're only just getting their feet wet with college water polo. … One of our games this weekend, they had 13 of 17 goals."
The Bruins only had one official game over the weekend but competed in three additional exhibition matches.
With the win over Davis, UCLA has improved to 21-1 in the all-time series and has recorded a total of 12 hat tricks on the season.
Gess said the most appealing factor about UCLA's team before coming in was the relationship between the players.
"I immediately knew this was the perfect environment for me," Gess said. "I love everyone, and the team has such amazing chemistry. Every day I'm super happy and excited to go to practice because I just can't imagine doing this with anyone else."
Lizar is currently a Sports contributor on the women's water polo beat. He was previously a contributor on the men's water polo beat.
Lizar is currently a Sports contributor on the women's water polo beat. He was previously a contributor on the men's water polo beat.