UCLA track and field snags several top finishes at Dr. Sander Invitational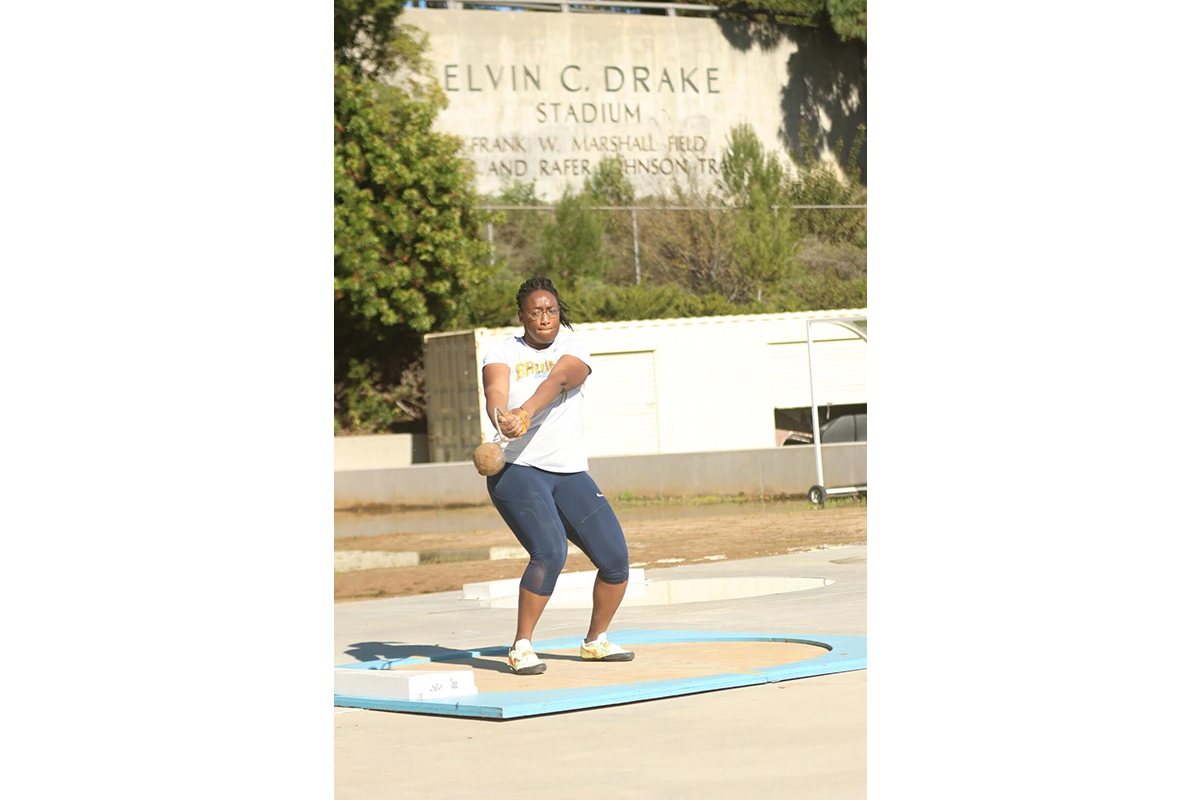 Graduate student thrower Mayyi Mahama readies to throw the weight. Mahama placed first in the women's weight throw for the second time in her career at the Dr. Sander Invitational in New York City last weekend. (Courtesy of Corey Mueller/UCLA Athletics)
The Bruins continued to showcase their offseason work.
UCLA track and field competed at the Dr. Sander Invitational hosted by Columbia over the weekend, notching multiple top finishes in its second meet of the season.
Both the Bruins' men's and women's squads placed first overall in a field of 15 teams, with the women's team notching 187 points, leaving South Carolina a distant second with 108 points. The men's team scored 101 points, with Connecticut in second at 95 points across the 16 events of the invitational.
Coach Avery Anderson said the results are manifestations of the team's dedication in training, but the blue and gold still has room for improvement.
"It is about the preparation. What we are seeing right now is the result of the work we put in the fall, the training plan and good execution," Anderson said. "At this time, we are training for longer and better times to move forward. But I think this is a culmination of the work we've put in."
Anderson added that the end goal is the NCAA indoor championships, a milestone that he said motivates his athletes throughout the year.
"We just keep trying to progressively sharpen our athletes and prepare them for bigger marks and bigger performances as we move towards the indoor championships," Anderson said.
The members of the women's team continued to demonstrate their prowess with top finishes in multiple events. Junior sprinters Rose Pittman and Kate Jendrezak put the Bruins on top by securing first and second place in the women's 800-meter, with times of 2:06:34 and 2:08:63, respectively.
The women's squad also dominated the 60-meter hurdles. Redshirt sophomore sprinter Yanla Ndjip-Nyemeck took first place with a time of 8.27, and graduate student sprinter Jada Jones took second place with a personal record-setting 8.47.
UCLA also snagged first place in the 4×400-meter race, with sprinters senior Ismail Turner, senior Myles Misener-Daley, junior Antonie Nortje and graduate student Willington Wright making their mark on the competition.
Once again, the Bruins swept gold in the weight throw event. Graduate student thrower Mayyi Mahama scored first-place with a 20.46-meter throw on the women's side, while freshman thrower Michael Pinckney won the event for the men.
Mahama said she felt an air of deja vu this year.
"I think this is my second time winning Dr. Sander Invitational, and just going back to that meet and being able to perform the same way I do was fun," Mahama said.
The Pennsylvania transfer said her plans to improve for future meets included both physical and mental preparation, adding that she is building her endurance and confidence.
"I think it's going to be confidence and getting more reps in," Mahama said. "I know that I could do better. There's always more distance, there's always more power, and there's always more speed."
At his second event, Pinckney made history for the furthest throw by an 18-year-old in an indoor school record with a distance of 22.05 meters.
"On the field, I wasn't thinking about breaking records, I was thinking about throwing far. But in the aftermath, everybody was celebrating and telling me what I have done," Pinckney said. "I feel that I accomplished one of the goals, which was to break school records, and I did that."
The freshman from Queens, New York, added that he celebrated his achievement with a taste of home.
"The first thing I did after leaving the field was eat," Pinckney said. "I went to Dallas BBQ with my family and my coaches."