Op-ed: UCLA should address and combat student food insecurity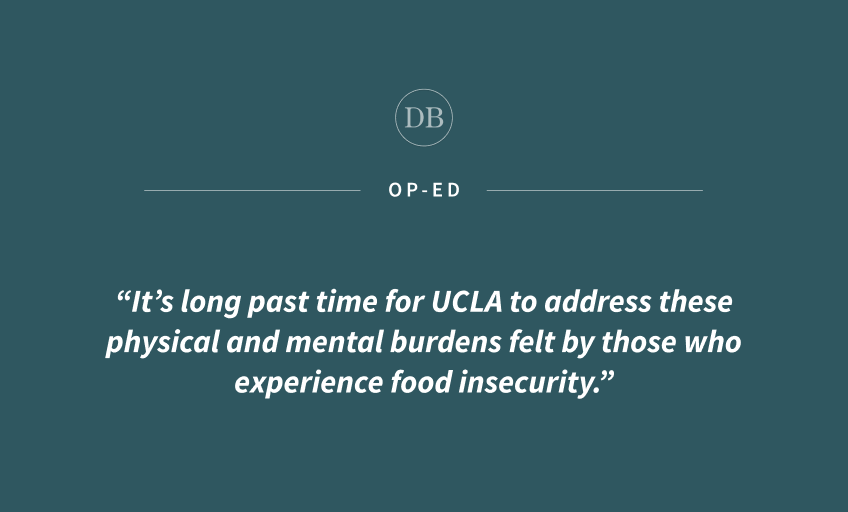 This post was updated Jan. 31 at 9:08 p.m.
At 2 a.m. in a dark study room, a stressed college student pulls an all-nighter to study for an 8 a.m. organic chemistry exam. Their stomach rumbles and they realize they've skipped dinner because money has been tight.
Although many think this phenomenon is simply a consequence of being a college student, this should never be the norm.
Every day, Bruins are stressed because of exams, papers, classes or jobs. But a stressor that's often forgotten is food insecurity – the lack of consistent physical and economic access to sufficient, safe food to meet the dietary needs and preferences for a healthy life – which 30% of college students in the United States experience at some point.
The additional stressor of wondering where one's next meal is coming from can take a detrimental toll on a student's health and academics. And when that happens, it is up to UCLA to implement affordable and healthy food initiatives that will aid its food-insecure student population.
Food insecurity is associated with poor nutrition, chronic disease and a higher risk of obesity, creating significant health disparities over time. Moreover, the condition of food insecurity can affect mental and emotional well-being, with the odds of depression and anxiety being nearly three times higher for first-year college students who experience food insecurity.
It's long past time for UCLA to address these physical and mental burdens felt by those who experience food insecurity.
While people in all stages of life feel the effects of this phenomenon, its effects on college students are especially profound – particularly on those of a specific race or economic status.
Food insecurity is one and a half times higher among Black and Latino students in comparison to white or Asian students, according to the National Library of Medicine. Students experiencing food insecurity were also more likely to receive financial aid, work as a full-time student, and have worse grades in comparison to their peers who were food-secure.
When individuals with these social determinants are disadvantaged, they are more at risk of mental health issues and lower grade point averages, and college retention and graduation rates are also impacted. Food-secure students are twice as likely to graduate from college as their food-insecure counterparts.
Research indicates that social determinants impact food insecurity, which goes on to create health disparities. Colleges, including UCLA, must develop infrastructure that aims to disrupt these disparities, thereby helping their food-insecure students.
At UCLA, low-cost on-campus meal plans should be developed for Bruins, which will eliminate the need for students to worry about where, how and when they can access safe and nutritious food. To mitigate the impacts of race and economic status, UCLA should implement mental health resources and workshops to help first-generation students navigate their new environments and should establish a highly-advertised, free food pantry stocked with nutrient-dense food items and recipe cards with meal ideas and tips.
Campuses must bridge the gap between food-insecure and food-secure students.
Jessica Yang is a fourth-year political science student at UCLA.