UCLA gymnastics to host Oregon State for 1st meet back in Pauley Pavilion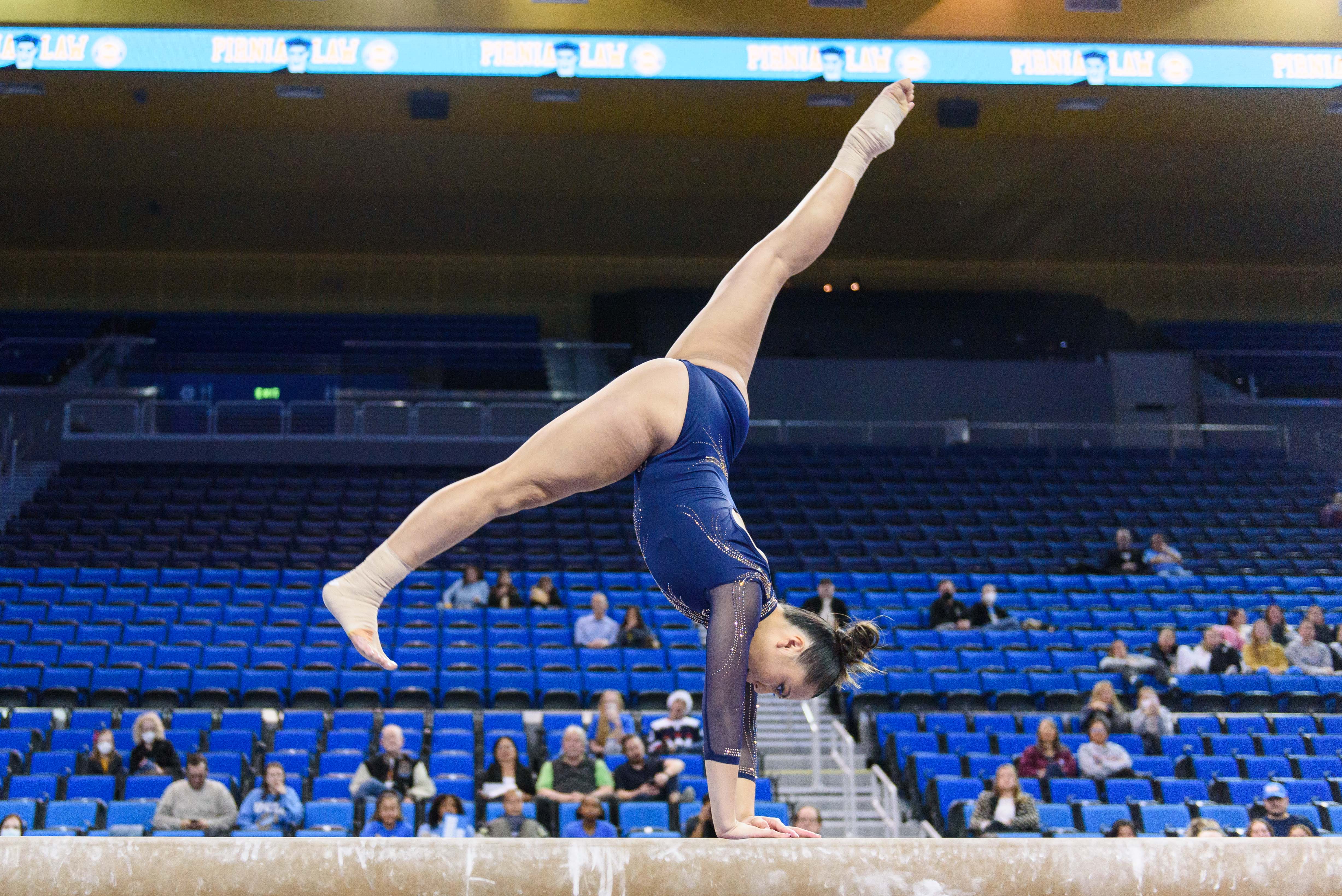 Sophomore Emma Malabuyo performs on beam at UCLA gymnastics' Meet the Bruins intrasquad in December. The Bruins will return to Pauley Pavilion for their first official home meet of the year Sunday. (Megan Cai/Assistant Photo editor)
Gymnastics
---
Oregon State
Sunday, 3 p.m.
Pauley Pavilion
Pac-12 Networks
Midway through her fifth year with the Bruins, Margzetta Frazier will be competing in her final home opener.
"It's going to be a party," the redshirt senior said.
Frazier and No. 6 UCLA gymnastics will return home to Westwood on Sunday following a season-opening three-meet road trip. No. 16 Oregon State will be the first Pauley Pavilion visitors this season as the blue and gold get set for coach Janelle McDonald's first official competition leading the blue and gold in front of the Bruin faithful.
McDonald said she is looking forward to the crowd Sunday.
"We're really excited to be in Pauley Pavilion," McDonald said. "Having our home crowd here – sounds like it's going to be a great crowd too – is something we were all really looking forward to performing for, for our fans."
Confidence has been a lingering theme for the Bruins through the first half of the season, and it appeared once more in the preparation for Sunday's meet, according to sophomore Emma Malabuyo.
Malabuyo added that energy across the team has been high with the meet nearing.
"We're just really excited and ready to come back out to Pauley," Malabuyo said. "I know everyone is on a high. We were acting a little bit crazy today, very energetic, and I think we just can't wait to just be out there on the floor."
Away from home at Washington, UCLA scored a 196.900, its lowest score of the season, and recorded a 48.950 on beam, the Bruins' first time scoring below 49 on an event in the McDonald era.
Malabuyo has been a constant on beam since joining the roster in 2022 and said the team is trying to leave past struggles on the event behind.
"We had a not-so-good meet last meet," Malabuyo said. "Let's just leave that to the side. Everyone was tired. Everyone was exhausted. It's good just to leave it."
McDonald said sophomore Ana Padurariu is set join the beam lineup. Last season, the Canadian averaged a team-best 9.850 on the event and only dropped below a 9.800 once in 11 routines.
The first-year head coach said she was excited about what Padurariu could bring to the apparatus.
"We're excited to have her (Padurariu) ready to go on beam this weekend," McDonald said. "That's something we're looking forward to, and she's really stepped up and locked into being ready on two events (bars and beam) now."
Next gymnast up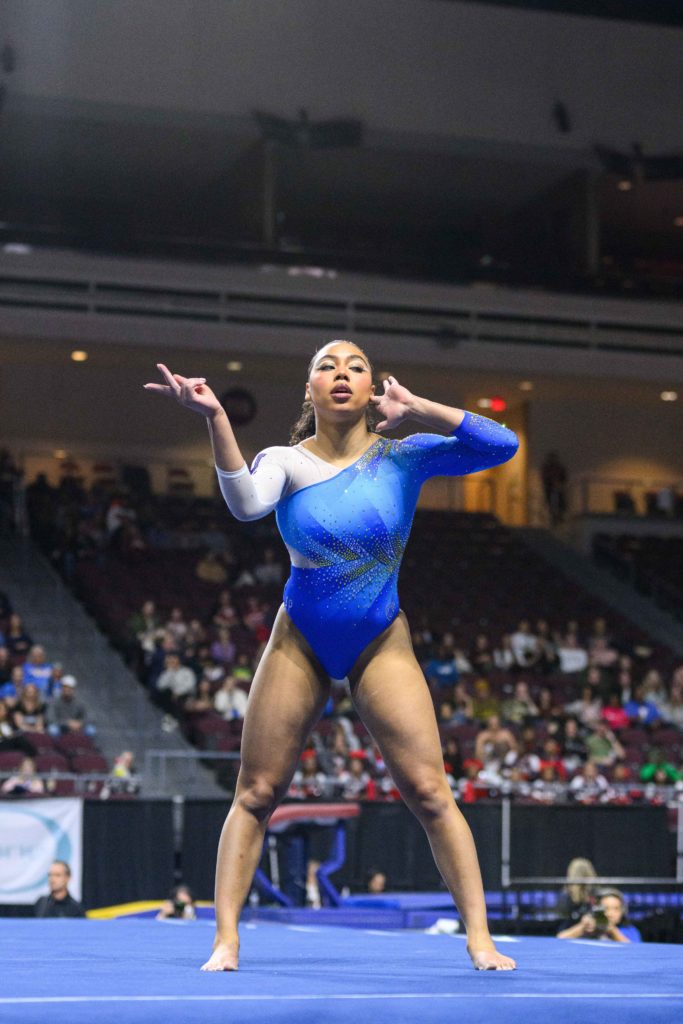 Before 2022, Frazier was an All-Pac-12 first-teamer in the all-around and a shoo-in wherever the Bruins needed her in the lineup.
Frazier's broken foot rehabilitation kept her out of competition for nearly a year. Now, almost a month into the campaign, the longest-tenured Bruin's role has shifted again.
"I remember coming back like, 'I'm going to set some records, I'm gonna do all this stuff,'" Frazier said. "But at this point, let's just make it through healthy – be a rock for my team. It's definitely hard. It's not easy. I wish there was a rulebook on how to do it."
After competing on bars, floor and vault at the Super 16 and the Wasatch Classic, Frazier has only competed on bars and vault since. With vault, she said the only recent attempt she had was at the Washington meet – not practicing on any event but bars.
Frazier said despite her absence from other events, she feels good that it allows her teammates to step in and compete.
"We have a lot of secret weapons," Frazier said. "I'm seeing (sophomore) Brooklyn (Moors) getting better. I'm seeing (junior) Frida (Esparza), (junior) Sara Ulias (and senior) Chloe (Lashbrooke). That's nice for me. I'm broken. I can only do so much in a day."
Recent exhibitions and returns have caused McDonald to reassess the team's lineups.
She said depth is an advantage that could help the Bruins as the regular season rolls toward the postseason.
"There are little things that pop up," McDonald said. "Illnesses, little injuries here and there that we might need to rest somebody. Being able to have people with competition experience to plug into those roles as needed is beneficial for the longevity of the season."
Frazier said that when the Bruins take the floor Sunday at 3 p.m. against the Beavers, she can take a deep breath because she knows her teammates will have her back.