UCLA gymnastics looks to honor legacy of Title IX in Equity Meet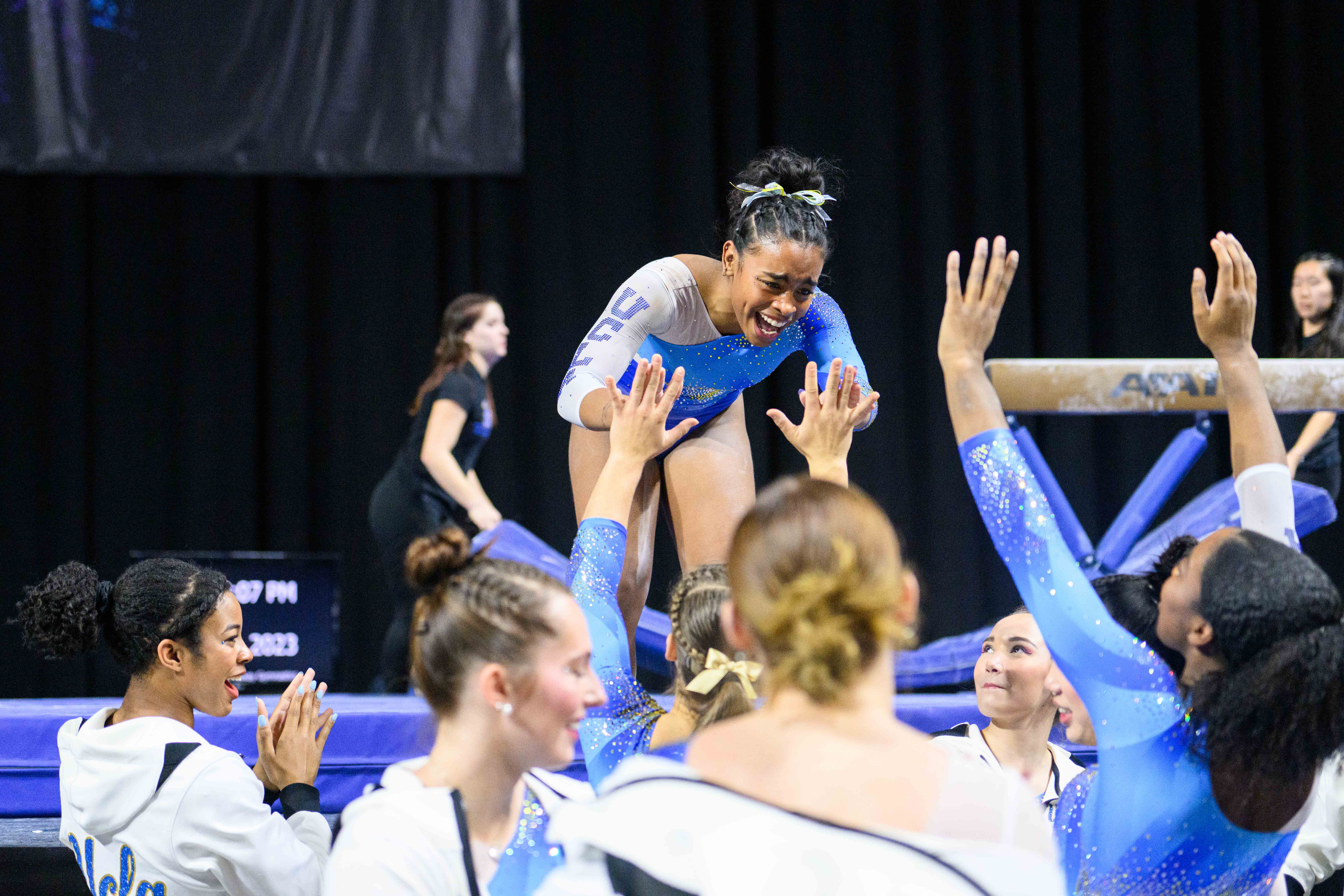 Freshman Selena Harris high-fives teammates after a beam routine. Harris and UCLA gymnastics will host their Equity Meet at Pauley Pavilion on Sunday. (Alex Driscoll/Daily Bruin staff)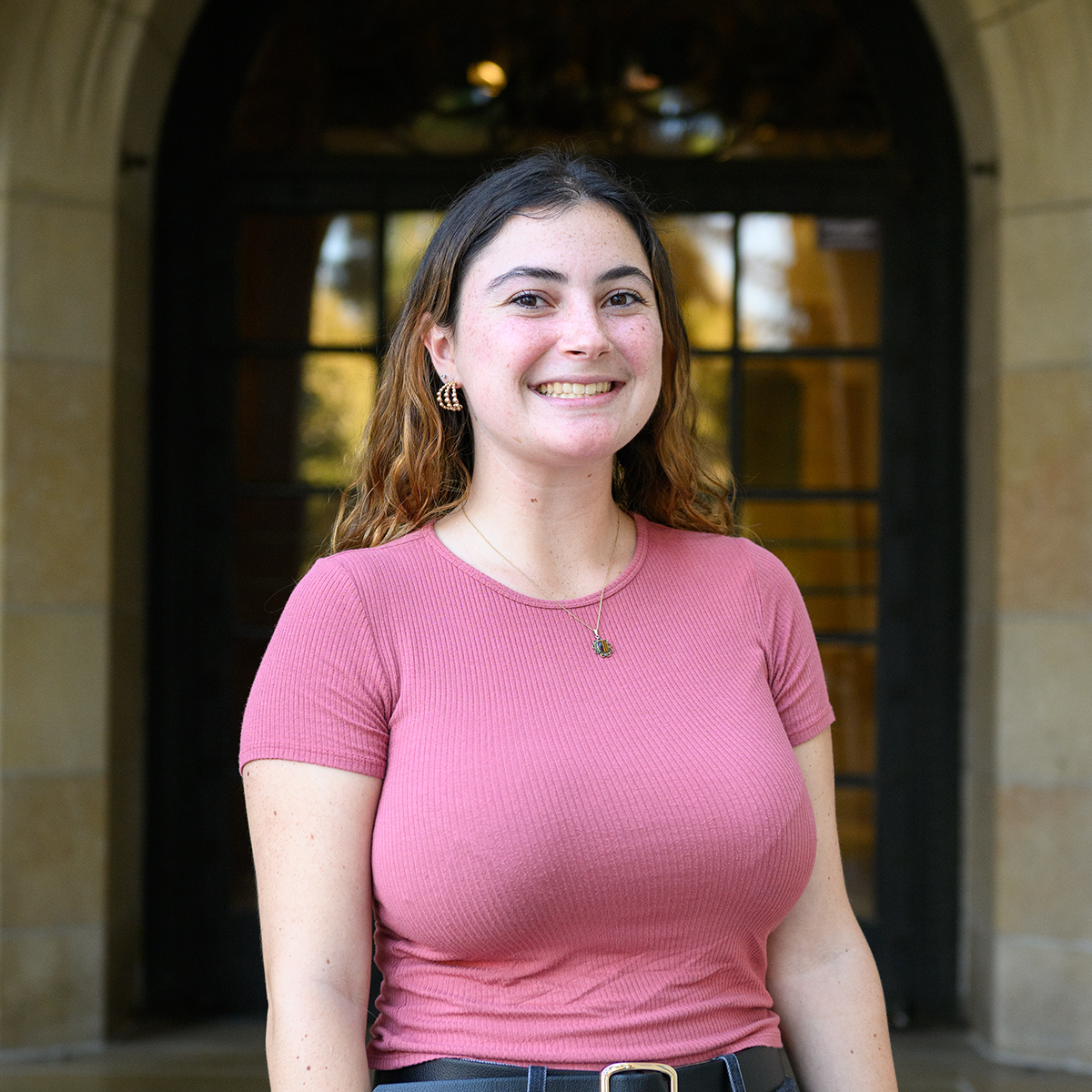 Fifty years ago, Title IX was passed to prohibit discrimination on the basis of sex in any program receiving federal assistance, including athletics.
With its passing, Title IX changed the landscape of sports by providing more opportunities and funding for women's sports across the nation. At UCLA, 29 of the program's 41 national championships since the turn of the century were brought back to Westwood by women's teams.
No. 6 UCLA gymnastics is striving to further the blue and gold's history of female-driven success with its 2023 campaign. To honor this commitment to equal opportunities, the Bruins' first home meet of the season on Sunday will double as their Equity Meet.
Coach Janelle McDonald said the program thought long and hard about how to theme its limited home meets this season, but it ultimately decided on the Equity Meet because of its all-encompassing nature.
"We kind of couldn't hit all the things we wanted to hit, and so we thought equity, that would be a good one to have as far as just being all encompassing of the type of inclusive environment we want to create here," McDonald said. "It's been really special having some conversations with our student-athletes on how they identify, how they see themselves, and why it's so important to be inclusive of everybody."
According to redshirt senior Margzetta Frazier, Title IX has been a large topic of conversation ahead of Sunday's meet.
Westwood's most recent national champion, the UCLA women's soccer program, stopped by the gym this week, and Frazier noted how those Bruins' success might not have been possible 51 years ago.
"If it wasn't for Title IX, we wouldn't have such incredible programs," Frazier said. "They're winning everything."
Sophomore Emma Malabuyo added how important the Equity Meet and representation as a whole are to the Bruins.
She said the upcoming meet has presented an opportunity to learn new things, and also allowed her to reflect further on her own culture.
"It's just awesome having representation all around," Malabuyo said. "It means so much to this team and for us to experience that."
McDonald said the team's conversations about identity have been especially valuable, as they open the door to celebrating each other for who they are.
Since McDonald was hired, she's said one of her primary goals has been building relationships with student-athletes as individuals and understanding where they come from. The first-year head coach re-emphasized the importance of that personal connection with her athletes ahead of the Equity Meet.
"I want to hear about who they are, how they think, how they feel, their experiences, their background," McDonald said. "The more you get to know somebody on that personal level, the more you can celebrate them and learn from them."
The Bruins' second competition of 2023 took them to Utah for the Wasatch Classic – their first of three trips to the state this season. Over the summer, Utah was one of several states to pass restrictions on transgender students' participation in sports.
When UCLA traveled to Utah, it discussed how the program could support the LGBTQ+ community, according to Frazier.
"We've done a lot of Title IX talk as far as being supportive of the LGBTQ+ community when we travel to banned states like Utah and still showing our support for the community," Frazier said. "We're always talking about it even before events come up. It's just part of a conversation that we have."
Frazier said she's proud and lucky to be able to compete in gymnastics as a woman.
She added that the team knows not to take its opportunities for granted when they haven't always been guaranteed.
"It's hard to be a woman in this world. It's very difficult," Frazier said. "I'm very lucky and very blessed to be here and to have this opportunity to perform, … just being grateful for what you're given, and that your journey will never be the same as someone else's. What's for you is for you."
Friedman is the 2022-2023 Copy chief and a Sports contributor on the women's soccer beat. She was previously a Slot editor, Copy intern and Sports contributor on the women's golf beat.
Friedman is the 2022-2023 Copy chief and a Sports contributor on the women's soccer beat. She was previously a Slot editor, Copy intern and Sports contributor on the women's golf beat.