Jordan Chiles, Jade Carey break bounds with bounce from elite to NCAA gymnastics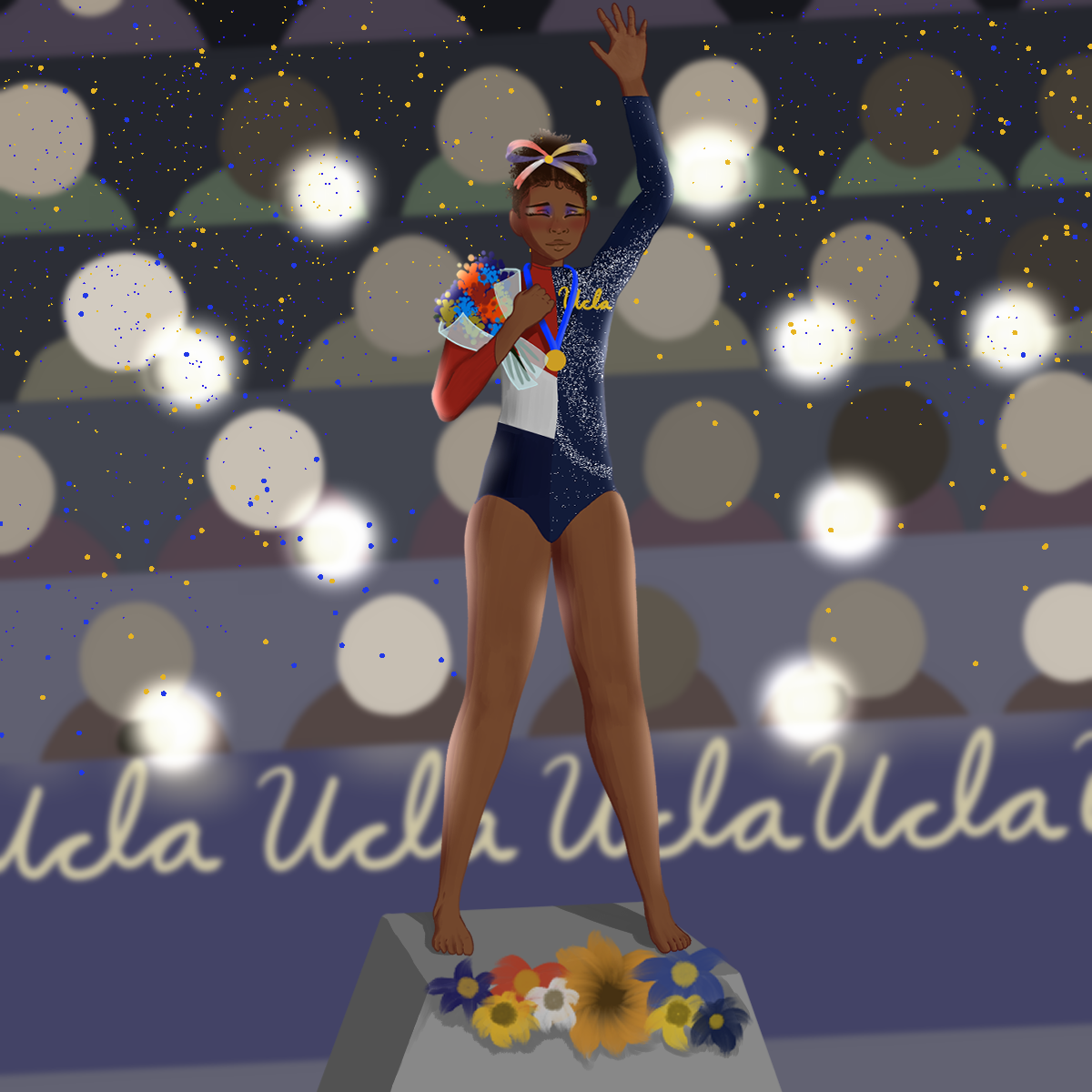 (Alicia Caldera/Daily Bruin)
Jordan Chiles and Jade Carey will face off as members of opposing teams Sunday.
In November, the pair was competing together for Team USA at the world championships.
And when the next opportunity on the international stage arises, the duo may very well be teammates once more.
Chiles, a sophomore for UCLA gymnastics, and Carey, a sophomore at Oregon State, have embarked on a path taken by very few in the gymnastics world. In the winter and spring, they represent their respective colleges. But in the summer and fall, they represent the United States on the elite stage.
"I want to be an NCAA athlete and represent a No. 1 school," Chiles said. "But I also want to be able to go back to elite and finish something that I feel like I still have more to give."
Chiles' desire to return to elite gymnastics began after qualifications in the 2020 Tokyo Olympics. The most consistent member of Team USA up to that point in the year, having hit 24-of-24 routines, she fell twice in the qualifying rounds, eliminating her chance to compete in the Olympic all-around final.
In that moment, Chiles knew she needed to give herself another chance.
"I was just on the biggest stage of my life, but yet, I feel like I didn't give my 100% of who I am as a gymnast," Chiles said. "So I just felt like, 'You know what, I'm coming back.'"
She left Tokyo with a silver medal, but it wouldn't be long until Chiles was right back on a similar stage.
A then-six-time senior national team member, Chiles had never competed at the World Gymnastics Championships. She had been to three selection camps but was ultimately never chosen to be on the team.
A desire to compete at a world championships made her want to come back for one more year. And then her plans grew bigger.
"I've never made it to a world championship, … so that was my main goal," Chiles said. "I was saying I want to continue with elite. That's when I decided: You know what, I might as well go for (the) 2024 (Olympics)."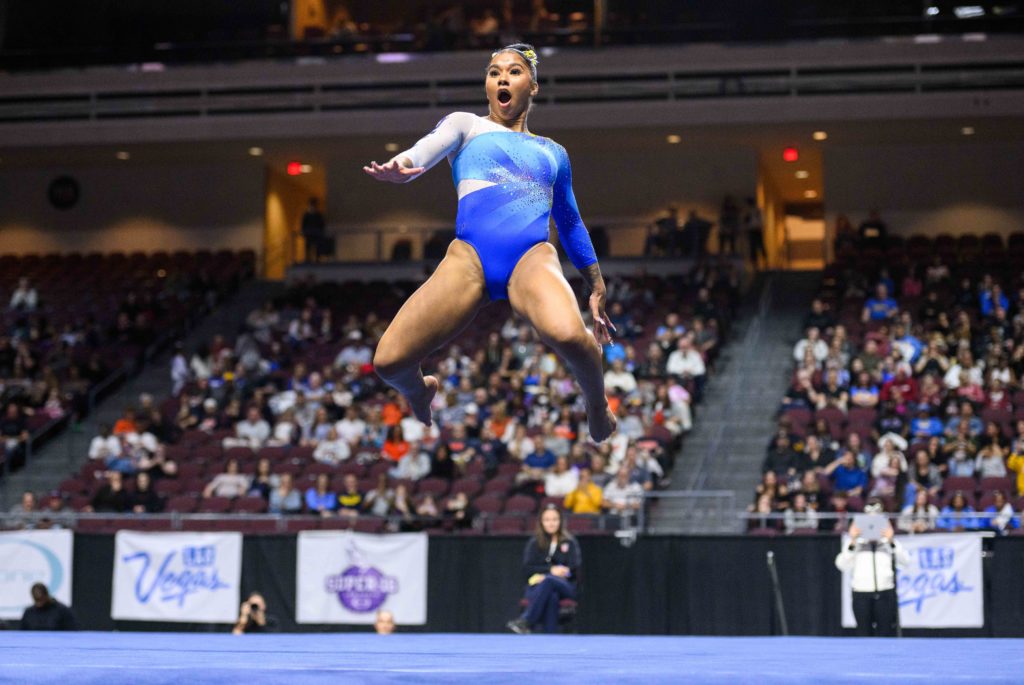 Carey competed alongside Chiles at the 2020 Olympics as an individual in a nominative role, winning the gold medal on floor. But before that, she balked on her first vault and finished last in the vault finals, where she had the highest qualifying score of every gymnast competing on the event that day.
She also left the Olympics feeling like she had something to prove.
"I knew that there was more for me and that I could do more," Carey said. "In the middle of the NCAA season, I started playing with elite skills again and decided that it was something that I wanted to give a shot one more time – to try to make it back to the Olympics and hopefully do even better than the first time."
Both Chiles and Carey made their return to elite gymnastics at the U.S. Championships in August. Success would follow for both, each medaling on individual events and placing in the top five in the all-around.
In October, both gymnasts were selected to compete for the U.S. in the world championships. The pair of collegiate rivals helped Team USA make history by setting the record for the most consecutive world championship titles by any country with six in a row. And they found personal success as well, each medaling on vault and floor.
The meet was a source of pride for Chiles, fueling her fire to continue her journey.
"Going to a world championships was just a huge thing for me," Chiles said. "I honestly was so proud of myself, and I couldn't be more excited going into these next few years knowing that I just did that."
Despite their near-immediate success in competition, the road back to elite competition was not always an easy one. NCAA gymnasts compete weekly with shorter, lower-difficulty routines, whereas elite competition is limited to fewer, high-pressure situations with harder routines.
Though both Chiles and Carey compete at a high level of difficulty in collegiate competition and regularly incorporate elite skills in their routines, they've each faced struggles in combining skills into a final routine.
Carey, an Olympic champion on floor, said she was surprised with how she struggled to get back to her peak elite condition on the event.
"It was definitely a challenge to work up the endurance to get those elite routines back," Carey said. "It was almost the most challenging on floor, which I think was even more frustrating for me because I have these high expectations of myself to be the best at floor now."
With gymnastics being a year-round commitment as she bounces back and forth between NCAA and elite, Chiles said she tries to create a separation between herself and her sport to stay mentally strong.
"When I'm not in the gym, I don't think about gymnastics at all," Chiles said. "I kind of just separate myself because it's just a draining thing to always think about your sport over and over again."
Balancing training to avoid burnout and injury is especially critical for two gymnasts who have been in the sport for nearly two decades. Gymnastics is a sport where most athletes find themselves retired before they even step foot on a college campus.
UCLA coach Janelle McDonald said she often works with Chiles' elite coaches, Laurent and Cecile Landi, to pace the veteran gymnast in her training.
"We definitely want to support her and whatever her dreams are," McDonald said. "Right now, it's to balance both, so we're just having great communication. I'm lucky to be really close with her elite coaches."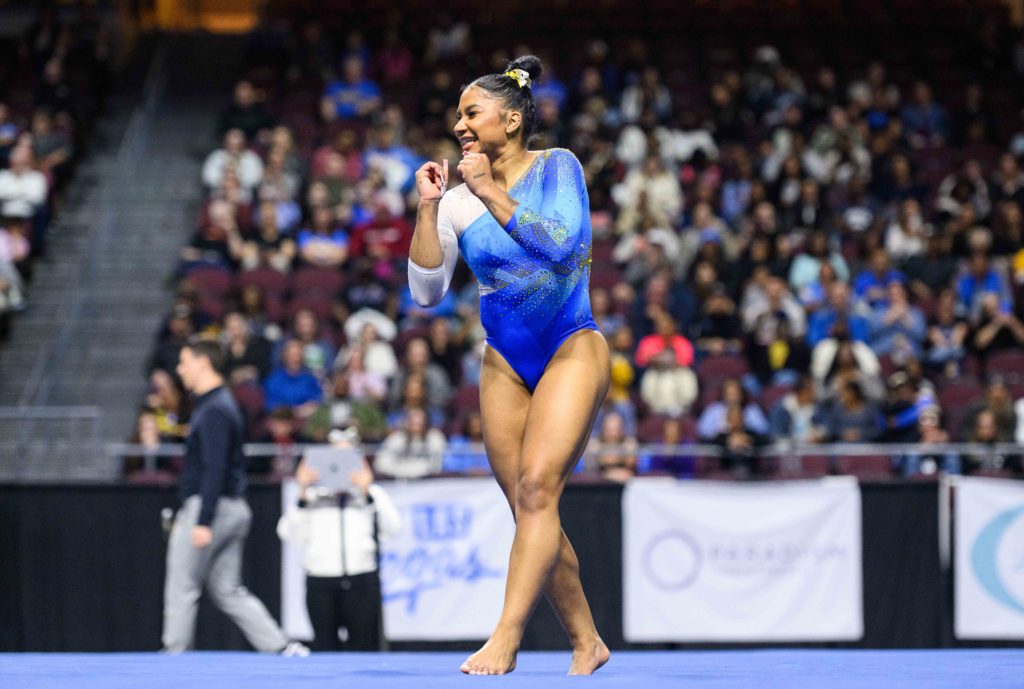 Despite the arduous competition schedule, being able to experience both the world stage and college competition has its perks.
Carey said her favorite part of college is the team atmosphere and camaraderie, and she and Chiles try to incorporate that in elite gymnastics.
"My favorite part of college is the team," Carey said. "Us college girls going back to elite have really tried to bring that atmosphere and environment to elite a little bit more."
Chiles said she wants to leave a mark by bringing the high energy that has become a hallmark of NCAA competition to the world stage.
"You can throw a fist pump, you can clap for yourself, you can do everything like that because gymnastics is supposed to be fun," Chiles said. "I want to be able to walk away from the sport knowing that I put an impact on people, that they can have fun with the sport."
Additionally, the difference in the structure of schedules and meets, while challenging to transition between, presents a training regimen for success in both college and elite gymnastics.
Carey said each form of competition entails unique situations which better equip her to perform well at any level.
"Competing in elite is so much pressure, I think it's really helped me take on the anchor role here," Carey said. "And I think competing in college each weekend has really helped me in elite because I'm used to competing so much that now in elite, it's like, 'Oh, we're competing. OK, no big deal.'"
In the midst of their second year of NCAA competition and a year and a half removed from the next Olympics, Carey and Chiles show no signs of stopping.
"If you love something, and you're good at what you do, then you should do it for as long as you want to," Carey said.
Chiles said she knows the best is yet to come.
"There's a lot more to me than a lot of people may see," Chiles said. "I chose this path because I feel like I have something to prove, not only to myself, but also to the outside world."
Trimbell is currently a contributor on the gymnastics and rowing beats.
Trimbell is currently a contributor on the gymnastics and rowing beats.