UCLA men's volleyball to kick off road trip with rematch against CSUN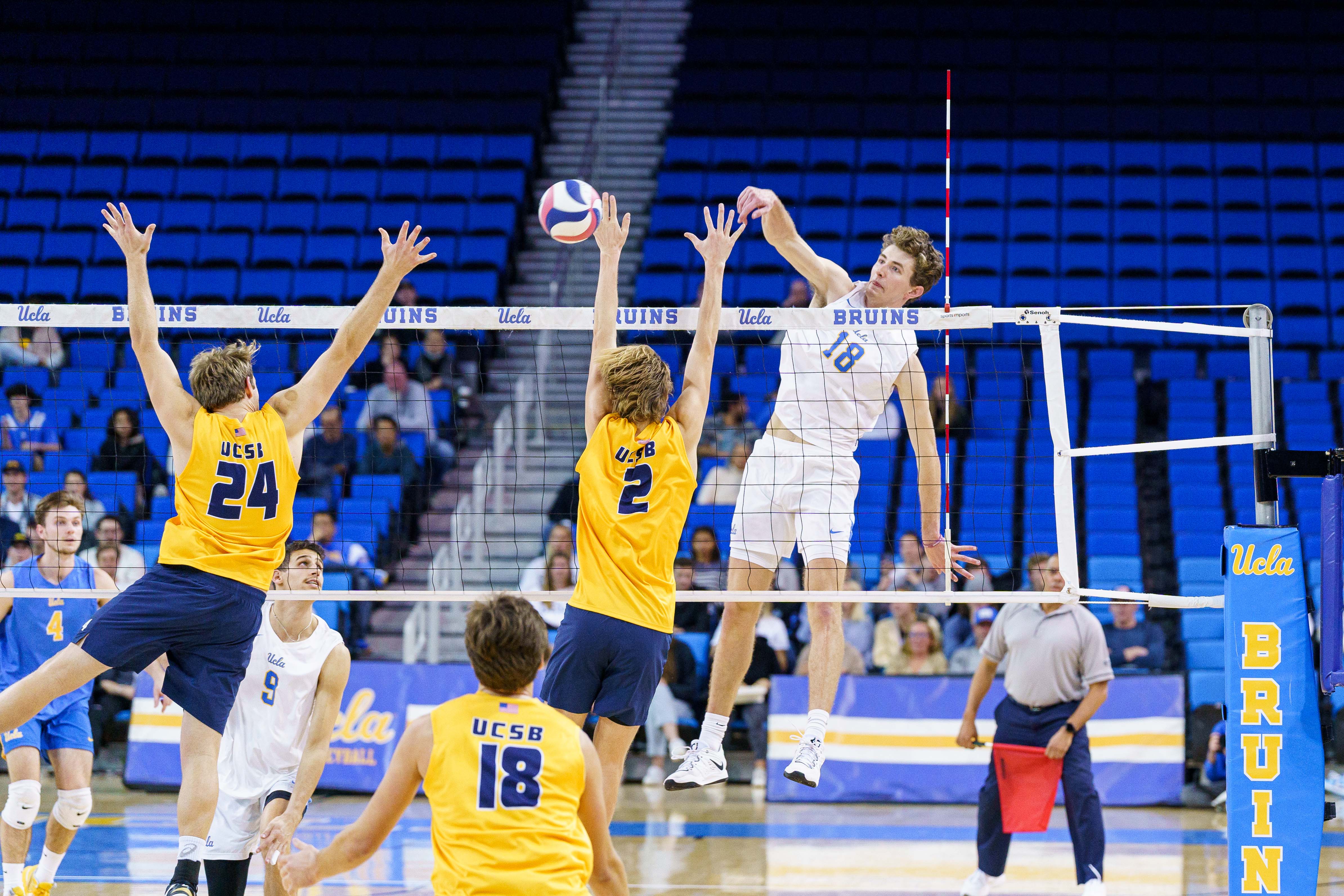 Redshirt sophomore outside hitter Grant Sloane goes up for a kill during the Bruins' matchup against UC Santa Barbara. Sloane had his Bruin debut against Cal State Northridge in 2022, and the team will look to sweep them for the second time this season Friday. (Brandon Morquecho/Daily Bruin)
Men's Volleyball
---
Cal State Northridge
Friday, 7 p.m.
Northridge
ESPN+
---
George Mason
Tuesday, 4 p.m.
Fairfax, Virginia
ESPN+
To commence their next road swing of the season, the Bruins will take on a rematch of their first competitor this season.
After back-to-back sweeps, No. 2 UCLA men's volleyball (6-0) will face Cal State Northridge (4-3) at the Matadome on Friday before traveling to Virginia to take on George Mason (0-4) on Tuesday. In what will be the first of four straight away games for the blue and gold, recent history lies between UCLA and CSUN.
The blue and gold hosted CSUN once last season and saw it recently at the Asics Invitational in Santa Barbara from Jan. 5 to Jan. 7. Both contests saw the Bruins wiping the scorecards 3-0, and UCLA out-hit CSUN .484 to .086 in the most recent affair.
[Related: UCLA men's volleyball dominates Asics Invitational, starting season undefeated]
Last season's face-off with the Matadors saw redshirt sophomore outside hitter Grant Sloane's debut game with the Bruins. Sloane's performance at the John Wooden Center affirmed his name in the starting lineup, as he led the team with a hitting percentage of .563.

When the Bruins opened their 2023 campaign against the Matadors on Jan. 5, Sloane built on his performance with a .500 hitting percentage along with two service aces.
Redshirt sophomore middle blocker Guy Genis opened the match alongside Sloane in both matchups against CSUN, with an average hitting percentage of .513 over two matches. During last season's CSUN competition, Genis was coming off an Off the Block National Middle Attacker of the Week honor and notched seven kills for the Bruins.
Both Genis and Sloane, relatively inexperienced players on the squad, are coming off impactful performances against the Matadors. Alongside more seasoned players such as junior outside hitter Ethan Champlin and redshirt junior middle blocker Merrick McHenry, the Bruins are set to display the depth of their roster.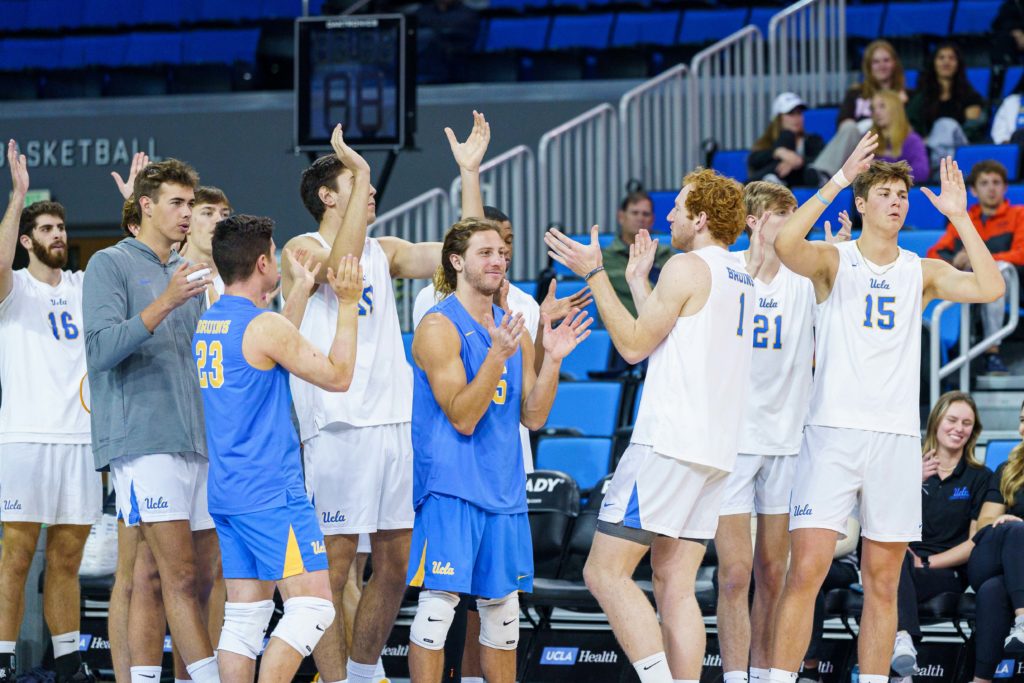 "With this team, we have so many great players, so we can switch it around, and the talent and the level is still there," said freshman setter Andrew Rowan.
Champlin opened his 2023 season against the Matadors with 12 kills on top of zero errors on 17 swings for a .706 hitting percentage. With similar numbers throughout the tournament, Champlin went on to secure Mountain Pacific Sports Federation/Molten Offensive Player of the Week and Off The Block National Outside Attacker of the Week.
"He was MVP of the tournament this past weekend," said coach John Speraw. "He has a significant amount of strength and contributes in his own way."
Similarly, McHenry comes off a National Volleyball Association/American Volleyball Coaches Association First Team selection and All-MPSF First Team pick after ranking third in the nation in hitting percentage – an average of .523 each game – in the 2022 season.
[Related: Men's volleyball sweeps UC Santa Barbara in 1st season game at Pauley Pavilion]
In the Bruins' last matchup against CSUN, however, McHenry turned in a hitting percentage of just .100.
"We have to figure out how to get Merrick going in. He hasn't really connected like he did last year," Speraw said.
Ahead of his team's rematch, Speraw said he knows exactly where to concentrate their attention during practice.
"We have some big bucket items that we got to really dow in," Speraw said. "We have to get severely better in transition attacking. It's not great. I know what the list is, it's just about how much we can improve over the next week."
The Bruins will serve off against the Matadors at 7 p.m. on Friday.