Op-ed: Attending community college offers affordable avenue to higher education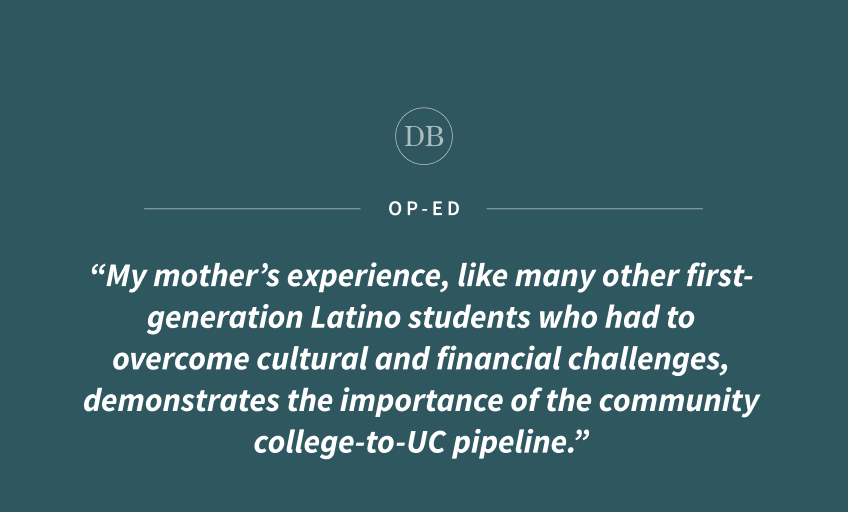 During the spring of 1993, my mother would anxiously wait for the arrival of the mailman.
She was hoping for the delivery of a large envelope, indicating she had been accepted as a transfer student to one of the five University of California campuses she had submitted an application to. After 2 1/2 years of attending a local community college and working full-time, my mother would be the first person in her family to attend a four-year university.
Both of my mother's parents were immigrants from Mexico who always stressed the importance and value of education without having had the benefit of experiencing it themselves. At the time, my mother's top priority was to contribute to the family income – quitting her job and moving out to pursue a degree didn't seem to be a feasible option. But even with the financial burden it would inflict on the household, both of my grandparents encouraged her to pursue her dreams of becoming a college graduate.
As a result of my mother's hard work and determination, she was accepted and ultimately enrolled at UC Berkeley.
By first attending community college, my mother was able to increase her chances of earning a degree from a well-respected four-year institution – one that could open doors to new opportunities. Almost 25 years after graduating from UC Berkeley, my mother returned to school to earn her master's degree and is now the assistant principal at a local middle school.
My mother's experience, like many other first-generation Latino students who had to overcome cultural and financial challenges, demonstrates the importance of the community college-to-UC pipeline. Without such a pipeline, my mother would never have been able to access the career opportunities that led to her current position as an educational leader.
Although my mother's story holds particular significance to me, it is just one of many that show the necessity of affordable community colleges that promote pathways to four-year colleges.
The average cost of a public four-year university in the United States for an in-state student is more than $25,000 per academic year, according to the Education Data Initiative. On the other hand, the average cost of a public community college for an in-district student is significantly less, averaging about $7,000.
Making the choice to attend a community college with the goal of transferring to a four-year university can be a more financially responsible decision, and those students receive many of the same benefits as those who attend all four years. Thus, this choice is often the most financially prudent path to accessing higher education, especially as it also allows for flexibility in student schedules for those who simultaneously work.
First-generation college students, like my mother, should not have to decide between pursuing their academic aspirations and honoring a responsibility to contribute to the income of their family.
The ability to transfer from a two-year community college to a four-year university is a route we must continue to promote within the Latino community.
11% of Latino elementary students eventually receive an undergraduate degree, 4% will receive a graduate degree, and 1% will receive a doctorate degree, according to the UCLA Chicano Studies Research Center.
There is an evident lack of Latino students pursuing and earning degrees in higher education. As a second-generation transfer student attending UCLA and the daughter of a first-generation transfer alum of another UC, I am a testament to how the pipeline from community college to a four-year university is a financially responsible option for low-income Latinos to achieve their goals.
¡Sí se puede!
Marissa Doty is a third-year political science transfer student at UCLA.