Billy Martin marks Bruin milestone with 40th year of legendary coaching career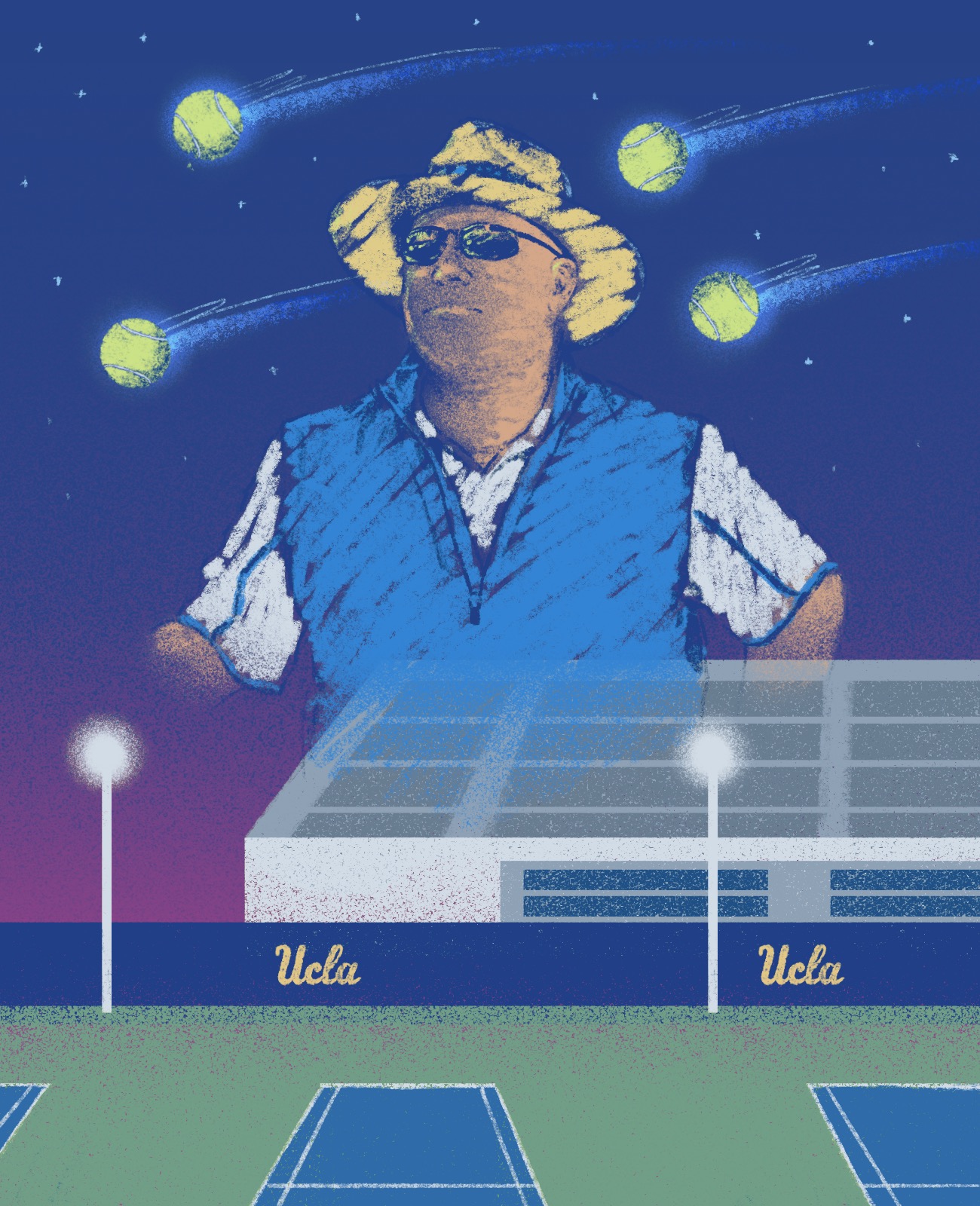 (Isabella Lee/Illustrations director)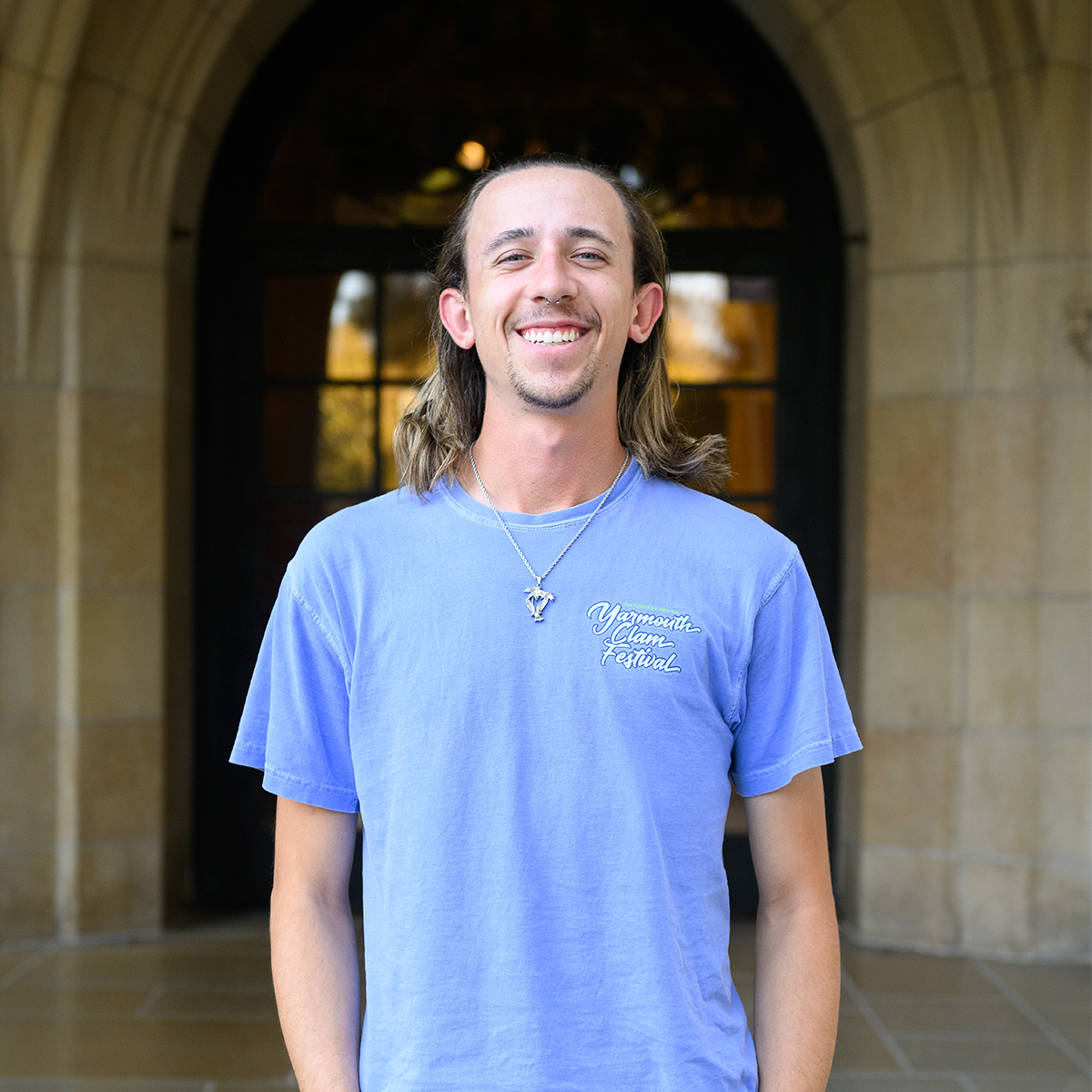 Billy Martin long resisted the idea of coaching.
The thought of spending his days in an office was unappealing in and of itself.
"I'm not a coat-and-tie guy, never have been," Martin said.
Even when his playing days came to a close, those thoughts remained unchanged. It took his parents' insistence and his mentor's persuasion to finally reel him into the coaching world.
Martin's 30th year as head coach of UCLA men's tennis – and his 40th since he first stepped in as an assistant – is underway. He's the not-so-newest face on the Mount Rushmore of head coaches that have spearheaded the program since 1921, with only four coaches ever having held the position.
His accolades speak for themselves. Martin boasts a career dual-match record of 630-147 and an even better mark in conference play, where he's accumulated a 173-34 resume. The five-time Pac-12 Coach of the Year has earned 15 regular-season conference titles, once rattling off a 33-match undefeated streak in regular-season conference play that spanned nearly six years.
On the national stage, the Martin-led Bruins have finished in the top five at the NCAA team championships 82.1% of the time. His crowning achievement came with the 2004-2005 team, which earned the sole NCAA team title of Martin's tenure.
At the root of all that success is a desire to win so intense that it baffled redshirt senior Patrick Zahraj back in his freshman year when he found himself in a clinching situation against USC.
"I didn't notice it on the court, but after the match, I was wondering, 'Where's Billy?'" Zahraj said. "During the tiebreaker when everything was going bananas over here, he was just in the tunnel apparently praying at the wall. He really has a passion for the game, and apparently if it gets too tight, it's tough to watch us."
But Martin's laundry list of accomplishments was never meant to pile up with him in the coaching chair.
After moving from Chicago to Palos Verdes, California, before his sophomore year of high school, Martin took the junior circuit by storm. He emerged as the victor at the Junior Wimbledon, Junior U.S. Open and Junior Orange Bowl singles tournaments in both 1973 and 1974. It was a multiyear campaign of dominance that pushed Inside Tennis Magazine to praise him as the Junior Player of the Century.
The praise didn't dissipate once he donned the blue and gold. Martin secured the NCAA singles and team championships as a freshman for UCLA in 1975, along with an undefeated dual-match season to boot, before bursting onto the ATP Tour. Inside Tennis Magazine subsequently recognized Martin with the 1977 Rookie of the Year award.
He was drawing comparisons to the Bruin-turned-tennis-pro greats of the past, but Martin's health was not as kind to him as it was to previous program legends. Hip dysplasia forced him out of the bigs in 1982.
The young retiree soon found himself back home with his parents' demands awaiting.
"My parents were adamant when my tennis career was over at 26, saying, 'You're going back to school,'" Martin said. "I reenrolled here, much to my displeasure."
His love for Westwood still burned, but it was a love that existed on the tennis courts, not in the classroom.
When Glenn Bassett – Martin's former coach at UCLA who still helmed the program at the time of his reenrollment – caught wind of his protege's return, he invited him to practice. He asked Martin what he thought about the players and if he'd be interested in helping guide them.
Ashamed by his abbreviated playing career, Martin didn't jump at the offer. But after all Bassett had done for him, he elected to return the favor.
"He was a marvelous coach, and that's why I went to UCLA, but he had a way with people and was very disciplined," Martin said. "He expected nothing less than 100% of anybody, including himself, and that's the kind of personality I was, quite honestly."
Ten years of returning the favor as an assistant coach would eventually help to earn Martin the position as Bassett's successor.
Martin said the principles of Bruin tennis that Bassett expected of him are precisely what he now expects of his own players.
"If you were going to wear blue and gold, you were going to go out there and give it 110%," Martin said. "If you didn't win, OK, but you better go down fighting your hardest. I've tried to keep that tradition going."
The professional landscape of tennis has evolved since Bassett once instructed Martin on how to translate his collegiate talents, but Martin has since successfully adapted to that evolution.
The top-70 trifecta of No. 41 Maxime Cressy, No. 56 Marcos Giron and No. 65 Mackenzie McDonald currently residing in the ATP singles rankings is the latest testament to the purveyor of UCLA's pro tennis pipeline. Martin products Justin Gimelstob and Jean-Julien Rojer have amassed six Grand Slam titles between the two, with Rojer most recently adding a 2022 French Open men's doubles title to his trophy case.
Player-turned-volunteer-assistant-coach Ben Goldberg said Martin's knack for enforcing next-level habits in his players contributes greatly to on-tour success.
"They do a great job of carrying themselves with professional-like behaviors here, and then they stick with it," Goldberg said. "They get out on the pro tour, and they're able to do all these habits they had here, but really just focus on tennis."
And when players arrive at UCLA expecting to leave prepared for the pros, Martin has little patience for unprofessional attitudes.
"You're kidding yourself," Martin said. "I'm very adamant about calling a spade a spade, if one day you're going to have that attitude and the next day, not."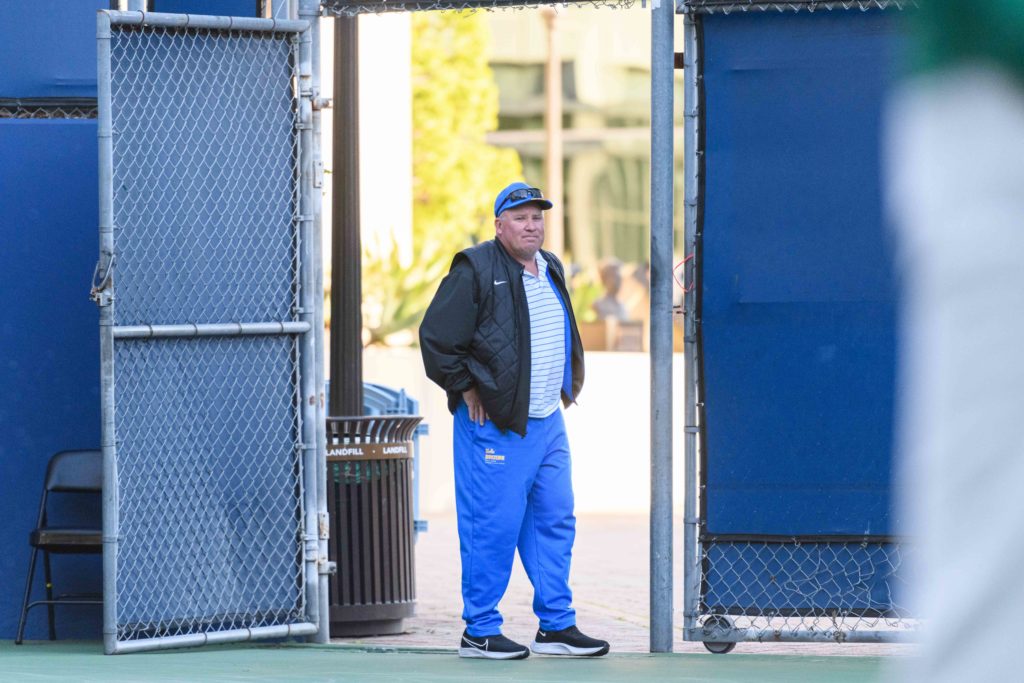 Beneath the blanket of successful students and accumulating awards, though, there is an undeniable passion for the game. There's a boy who fell in love with collegiate tennis while practicing with UCLA and USC as a high schooler, years before he ever stepped on the court as a Bruin.
Goldberg grew up attending Martin's tennis camps and, in part because of his father's job in the athletic department, interacted with Martin regularly from a young age. He considers Martin to be the person he's looked up to most in life, outside of family.
Among a sea of legends of the game, Goldberg said, Martin's humility is what distinguishes him.
"Always respecting the opponent, whether it's our greatest year ever, that hasn't really mattered," Goldberg said. "Just the most class, and I think other people would say the same."
As a member of four separate halls of fame following a 2015 induction into the UCLA Athletic Hall of Fame, Martin's legacy is secure.
But it was already secure in year 30, and few would refute it was 10 years prior.
Only men's volleyball coach Al Scates has reached the half-century tenure in UCLA history, and Martin doesn't plan on making a run at him.
"I'm hoping I can do this another three or four more years. I'll see how it goes. But I'm going to be honest with myself," Martin said. "And I've got to know that the guys respect me, that I can be relevant."
Whatever those years hold, they won't be needed to earn Martin his seat at the legends' table.
He's sitting there comfortably, and has been for some time.
Nelson is currently an assistant Sports editor on the softball, men's tennis and women's tennis beats. He was previously a contributor on the men's tennis and women's tennis beats.
Nelson is currently an assistant Sports editor on the softball, men's tennis and women's tennis beats. He was previously a contributor on the men's tennis and women's tennis beats.