UCLA women's tennis to bring young roster against LMU in 1st regular season match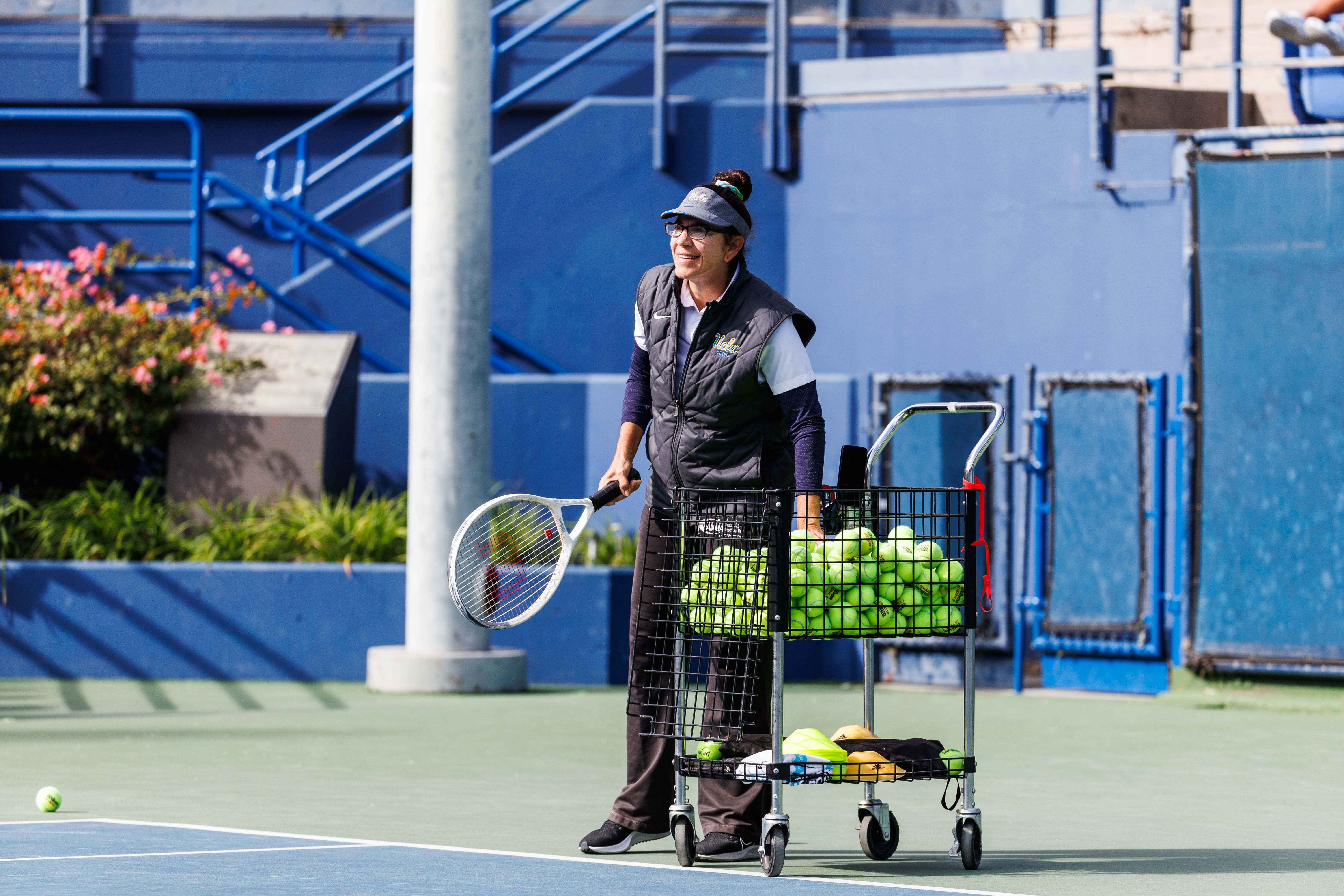 Coach Stella Sampras Webster of UCLA women's tennis feeds balls to her players during prematch warmups. (David Rimer/Daily Bruin senior staff)
Women's Tennis
---
Loyola Marymount
Wednesday, 1:30 p.m.
Los Angeles Tennis Center
UCLA Live Stream
The Bruins will look to debut their younger roster with a win in their home opener.
No. 16 UCLA women's tennis will host Loyola Marymount (0-2) for its first match of the regular season Wednesday at the Los Angeles Tennis Center. The Bruins lost to the Lions for the first time in school history last season after entering with a perfect 26-0 record in the all-time matchup.
Coach Stella Sampras Webster said although the team hasn't forgotten last year's match, it's concentrating on the current season.
"We're not really focusing too much on what happened last year," Sampras Webster said. "We're more about preparation for another match and knowing that it's going to be tough. They're a good team, and we got to take advantage of our home court."
Senior Sasha Vagramov, who dropped straight sets against LMU in last year's match, echoed Sampras Webster's sentiment.
"I think the thing about tennis is that you can't really use any previous result as a reference to the current match," Vagramov said. "I'm just going into it with a competitive mindset, and I think we can definitely be successful."
LMU entered the season unranked and has struggled in its first two matches, getting swept by No. 14 USC and No. 19 Arizona State.
A lot has changed since UCLA last faced LMU. The Bruins lost two upperclassmen starters from last year in then-junior Abbey Forbes and then-senior Elysia Bolton. This year's team is much younger, with Vagramov and junior Vanessa Ong now serving as the elder statesmen for the underclassmen that make up 62.5% of UCLA's roster.
Despite the youthful presence, No. 46-ranked sophomore Kimmi Hance said maturity has not been an issue.
"Our freshmen are really mature – they're really on top of it, they're doing better than me already," Hance said. "I think we have a good team with a bunch of leaders."
Hance had a breakout freshman season, ending with a 24-2 dual-match record and an All-Pac-12 Honorable Mention. She said she hopes to continue working on the intangible aspects of her game, such as her leadership.
"This year, I'm going to be playing a little higher in the lineup," Hance said. "I don't really want to focus on the outcome as much as just being a good leader on the team."
The Bruins may be young, but they've already shown potential to be key contributors once dual-match play is in full swing. Many of the underclassmen had winning preseasons, including Hance, sophomore Elise Wagle and No. 120 freshman Anne-Christine Lutkemeyer. The No. 11-ranked tandem of Hance and Wagle won the ITA Southwest Regional Championships doubles title, while Lutkemeyer was named the top singles player at the Women of Troy Invitational.
Sampras Webster commended how tight-knit her team has become since first assembling in the fall.
"They're a very close, cohesive team, so I know they have a lot of support for each other and trust in each other," Sampras Webster said. "I expect this team to really do well and have great opportunities."
First serve between UCLA and LMU is set for 1:30 p.m. on Wednesday.