Opinion: UCLA must eliminate institutionalized diet culture for health of students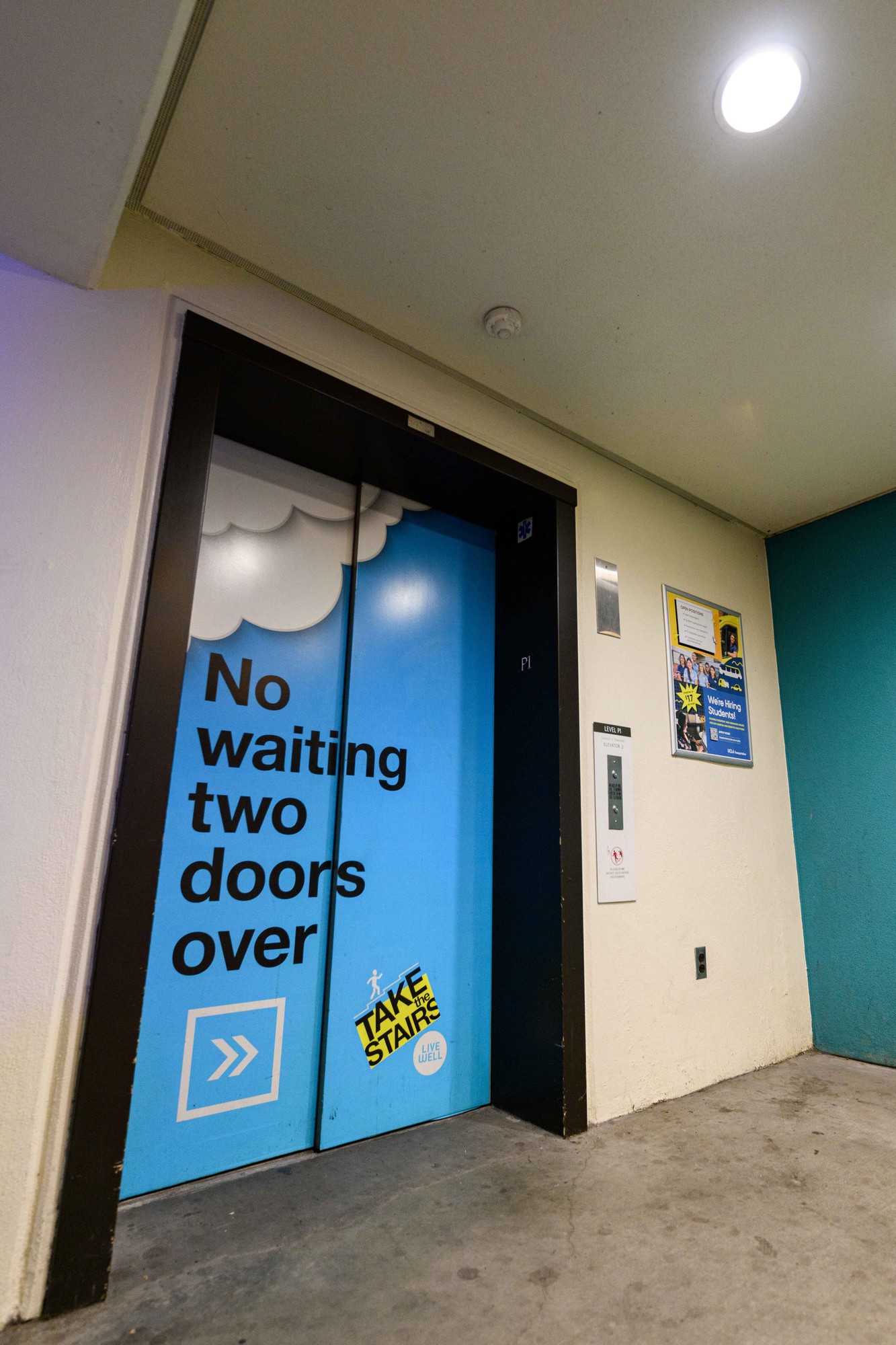 A UCLA elevator that reads, "No waiting two doors over; take the stairs" is pictured. Opinion columnist Zoe Saldanha describes the challenges of recovering from an eating disorder at UCLA amid the high prevalence of diet culture among students. (Myka Fromm/Daily Bruin)
This post was updated Jan. 26 at 9:41 p.m.
Editor's note: This article contains mentions of eating disorders that may be upsetting for some readers.
This February will mark my third anniversary of recovering from an eating disorder that came weeks away from taking my life. That is, assuming I stay recovered until then.
I was diagnosed with anorexia and immediately put in acute treatment during my sophomore year of high school. Since that day, I have been working to rebuild physically and psychologically. My eating disorder robbed me of years of sports and weeks of school. It caused days of crying at the kitchen table and hours of appointments.
Most importantly, anorexia deprived me of my autonomy and nearly stole my future.
Whether I could attend college or leave home was debated even after I clicked the "I plan to register" button on my UCLA portal.
Arriving on campus in September was more than embarking on my journey as a new college student. It was an opportunity to prove to my family, friends, treatment team and myself that I could survive independence.
However, in my first week on campus, I quickly realized it would be nearly impossible to follow through on my promise to adhere to guidelines set by my treatment team while simultaneously maintaining my mental and physical health.
UCLA, like many college campuses in the United States, is riddled with diet culture – a social system defined by prioritizing one's appearance over everything else, including psychological and physical well-being. It results in the normalization of eating and exercise with the intention of weight loss, labeling foods as "good" or "bad," and linking self-image to one's body shape or size. The pervasiveness of diet culture is part of the reason why 28% of college students are at risk of developing an eating disorder, according to a 2022 ScienceDirect study.
This statistic is a 15% increase from the data found in a 2013 study on eating disorder risk, with a 3% increase during the COVID-19 pandemic.
Students are struggling more than they ever have.
And I've continued to struggle.
Throughout the weekend, I hear students talk about "saving calories" for drinks when they go out that night to frat parties. In line for my burrito at Rendezvous, I'm plagued by the group behind me talking about what they did to "earn" what they are about to order. Walking past the John Wooden Center on my way to class, I can't seem to escape the talk of tracking calories and macros.
For most people, these everyday conversations seem inconsequential. But for someone whose brain is constantly trying to use calories, body image and exercise to calculate self-worth, they can be derailing.
But triggering language in everyday conversation is an unfortunate fact of life. It will take generations to change how we talk about food and bodies, especially on college campuses. Like most people in recovery, I have learned to adapt to it.
The struggle I did not expect to face was being implored to eat less and exercise more by my own college.
In every dining hall, the university has posted plaques that encourage students to "reduce portions, emphasizing calorie quality over quantity," framing its restrictive rhetoric under the guise of environmentalism.
However, UCLA calls its own bluff time and time again, providing "health" advice unrelated to reducing one's carbon footprint.
I can't check the menus for dinner without being bombarded with nutrition "tips" on the dining app advising students to "skip the urge to nibble when you're bored, frustrated, or stressed," "cut back on added sugars" to avoid "empty calories," and "choose healthy snacks" such as baby carrots because "3 ounces of potato chips is about 450 calories in addition to a hefty portion of salt."
I can't take the elevator in Parking Lot 7 without being informed that there's a "free workout just steps away" if I take the stairs. I can't get an iced tea from the vending machine because I am faced with signs that inform me that "calories count" and that I should "check then choose."
Promoting a healthy student body is a noble cause, but encouraging students to reduce portion sizes, track their caloric intake, make disordered food swaps and exercise obsessively will never achieve that goal.
Trust me, I tried – healthy is not where I wound up.
For students, with or without histories of disordered eating, food is fuel. Food is social. Food is culture. Rhetoric that teaches or reinforces fear and restriction of food strips it of its inherent necessity.
For students like me, reinforcing that fear leads quickly to a relapse into disordered eating.
I have had to fight harder than I ever have to hold onto my recovery since coming here. The beliefs that nearly killed me are being plastered everywhere and shouted from the rooftops, ingraining them in the people around me.
UCLA makes it nearly impossible to recover from an eating disorder and very easy to develop one.
UCLA must take steps to eliminate institutionalized diet culture on its campus. Promoting health doesn't look like calorie counting. It looks like intuitive eating and mindful movement. It looks like encouraging students to fuel their bodies sufficiently so that they can learn, live and thrive.
It is not just a matter of happiness, but of health and safety. For students like me, it will determine whether we will be able to complete our education or even survive our time at UCLA.