UCLA men's basketball looks to beat USC to break Galen Center losing streak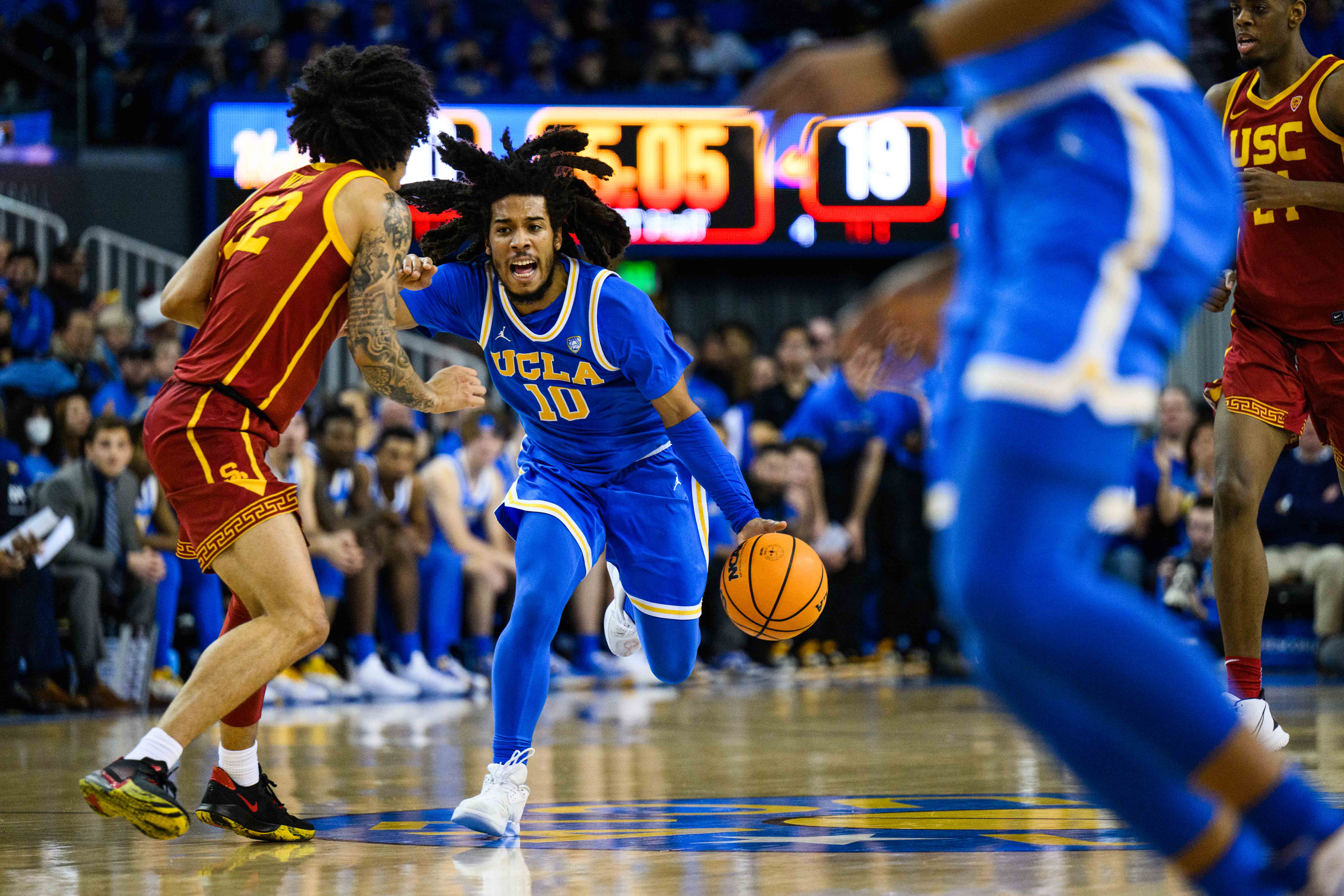 Redshirt senior guard Tyger Campbell runs the point in UCLA men's basketball's win over USC on Jan. 5. The Bruins and Trojans will play their second game of the season Thursday. (Joseph Jimenez/Assistant Photo editor)
Men's basketball
---
USC
Thursday, 6 p.m.
Galen Center
ESPN2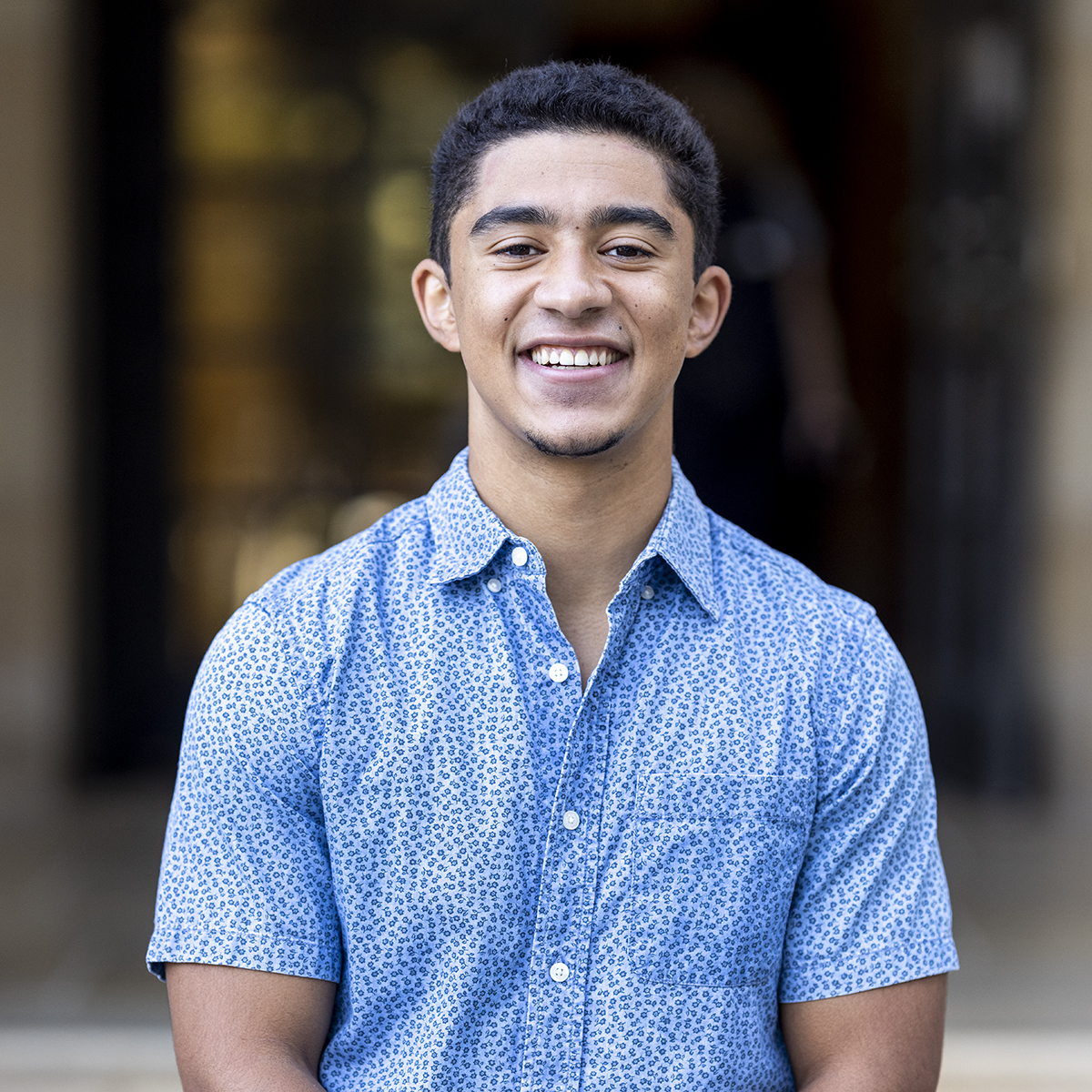 For the first time in more than two months, the Bruins are heading into their next game coming off a loss.
On Saturday, UCLA stumbled through its worst offensive performance of the year – setting season lows in scoring and efficiency with 52 points on 31.3% shooting – as its 14-game win streak came to an end against Arizona.
Now the blue and gold is faced with a second matchup against the team that held it to its second-worst offensive performance of the season – which happens to be its crosstown rival.
No. 8 UCLA men's basketball (17-3, 8-1 Pac-12) will look to start a new win streak and end its recent offensive struggles Thursday night when it squares off against USC (14-6, 6-3). After withstanding their worst offensive half of the season to earn a victory in the first meeting between the rivals, the Bruins will travel to the Galen Center with a chance to sweep the regular-season slate against the Trojans for the first time since the 2017-2018 season.
Coach Mick Cronin said the two teams' second matchup of the season has less to do with preparation given each team's familiarity with each other.
"Whenever you're playing repeats, obviously both teams are going to dissect the tape," Cronin said. "Ultimately though, these types of games come down to performance. They're going to be ready to play."
Last season, UCLA both benefited from and overcame the challenges of beating the same team twice in a row in its matchups against USC.
The Bruins opened the 2021-2022 rivalry series with a 67-64 loss at the Galen Center as Trojan guard Drew Peterson scored a career-high 27 points.
Cronin referenced Peterson's breakout game during UCLA's last campaign to further his point about player performance ultimately usurping coaching tactics.
"Drew Peterson – whenever the last time that they beat us last year over there – I mean, he looked like Larry Bird," Cronin said. "I can be frustrated and then you go back and watch the tape. … Coaches, we lament about certain things, and then you have to look at reality."
UCLA followed the loss by winning the next two matchups against USC at Pauley Pavilion and in the Pac-12 tournament. Peterson was held to a combined 24 points across the two contests, while then-junior guard/forward Jaime Jaquez Jr. led the Bruins in scoring in both games with 27 and 19 points, respectively.
This year, UCLA is on the other side of the opening-game dilemma after taking down USC on Jan. 5.
The Bruins cruised to a 44-26 halftime lead before being held to a season-low 16 points in the second half. In the game, UCLA scored its second-lowest point total on its second-worst efficiency of the season, with 60 points on 34.5% shooting.
Now the Bruins will look to earn their first win at the Galen Center since March 3, 2018.
"It would be amazing," said redshirt senior guard Tyger Campbell. "We just want to go over there, play a good game for 40 minutes and hopefully come out with the dub."
Campbell is coming off back-to-back games in which he led UCLA in scoring. The 5-foot-11 floor general scored 22 points on 63.6% shooting in the Bruins' win Thursday against Arizona State. He followed that by attempting 18 shots to lead a struggling UCLA offense with 13 points in the loss to Arizona.
Campbell said he looks to be more aggressive when his team needs a boost offensively.
"When it's a little bit of a struggle for us to score, I, of course, try to go and make a play," Campbell said. "At Arizona State, the first half we had some foul trouble, so I had to take it upon myself to try to score a little more."
Campbell and the rest of the offense could receive a boost if freshman guard Amari Bailey makes his first appearance for UCLA since Dec. 21 after missing the past seven contests with a foot injury.
Bailey – who averaged 9.5 points per game before the injury – practiced Tuesday morning, but his appearance on the court is questionable for Thursday's matchup, according to Cronin.
Regardless of Bailey's status, the second battle between UCLA and USC will feature a new intriguing freshman.
Freshman forward Vincent Iwuchukwu made his delayed debut for the Trojans earlier this month after missing the beginning of the season following a cardiac arrest this summer. The 7-foot-1 five-star recruit scored 12 points in 14 minutes during USC's most recent win against Arizona State.
"I've actually played with him a couple of times, played with him in a couple camps," said freshman forward Adem Bona. "I'm kind of familiar with him. … He can move well for his size – that's one of his biggest abilities."
Three of the last five matchups between the Bruins and Trojans have come down to the final possession. Rather than preparation, player performance will likely dictate the outcome of the Battle for LA once again Thursday.
Carlson is currently a staff writer on the football, men's basketball and women's basketball beats. He was previously a reporter on the softball and men's golf beats.
Carlson is currently a staff writer on the football, men's basketball and women's basketball beats. He was previously a reporter on the softball and men's golf beats.