UCLA gymnastics cultivates connections, resilience ahead of 1st home meet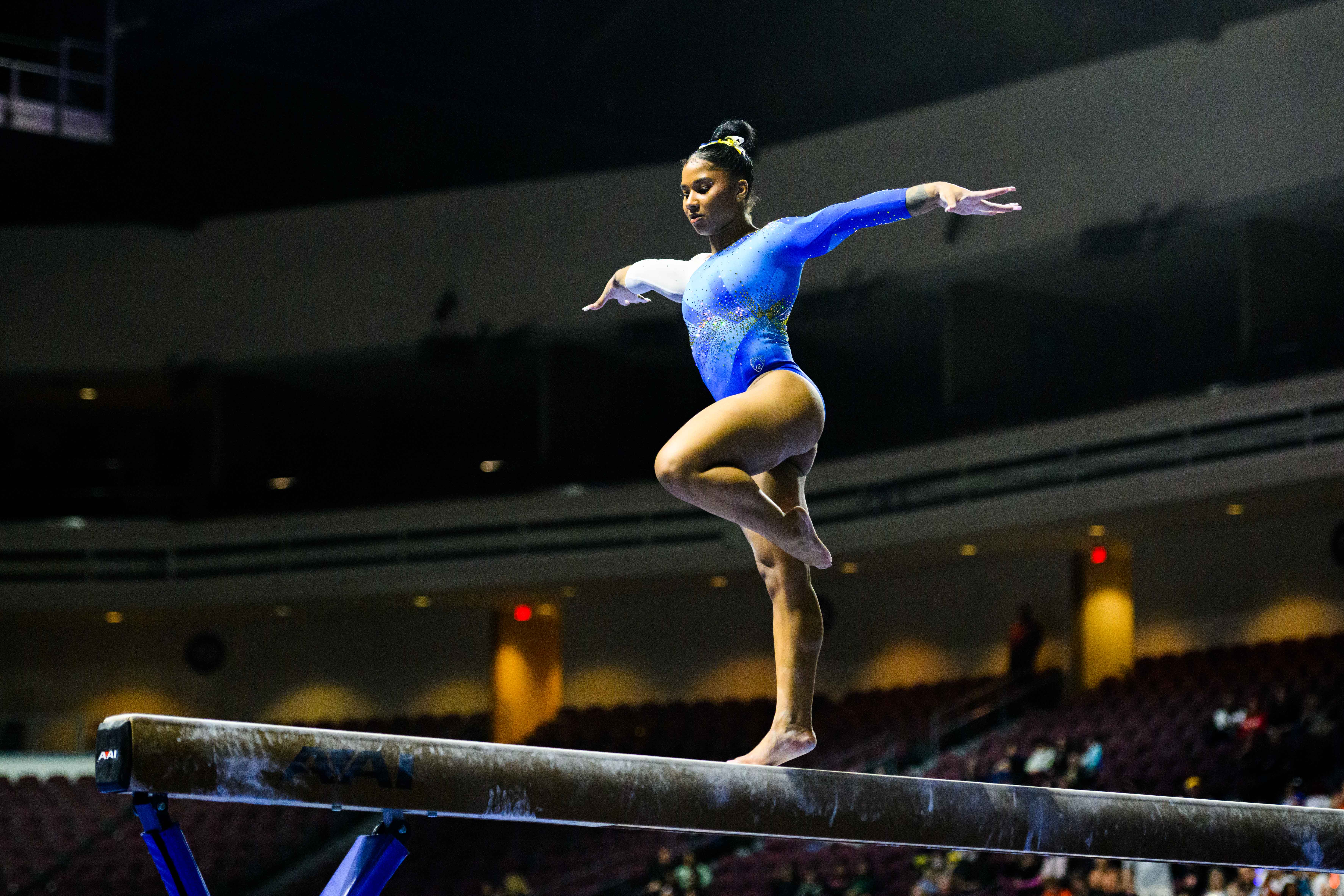 Sophomore Jordan Chiles poses on beam at the Super 16 in Las Vegas. Chiles and UCLA gymnastics have started their 2023 season with three straight meets on the road. (Alex Driscoll/Daily Bruin staff)
This post was updated Jan. 27 at 12:21 a.m.
Three meets into the season, the Bruins have yet to compete on their home floor.
But while they've been deprived of their home fans, they've also had a chance to bond on the road.
After arriving in Seattle, No. 6 UCLA gymnastics made its way over to tourist hotspot Pike Place Market to take part in some team bonding before locking in for its Saturday meet against No. 25 Washington.
The blue and gold has traversed three different states in three weeks to begin its season, an experience sophomore Jordan Chiles said has provided an important balance for the team.
"Being able to go on team outings that are meaningful … is definitely a huge thing because it only makes us stronger when we're inside the gym," Chiles said. "It takes us away from the gym aspect of things, … being able to be normal."
That sense of normalcy has allowed the Bruins to take a step back from gymnastics and really focus on building their personal relationships within the team, Chiles added.
Coach Janelle McDonald similarly emphasized the importance of road trips, noting that quality time outside of the gym will translate come competition time.
"It's really important to make sure we're connecting outside of the gym and having fun together. That's what makes this experience so special," McDonald said.
That mindset has evidently rung true for the Bruins to start the season, as UCLA has averaged above 197 thus far this campaign.
McDonald said a big part of that mindset is dependent on garnering a strong team culture to ensure that even if something in the gym is not working, the team has the ability to maintain its focus and rally around one another.
That was something that UCLA was able to showcase during its meet Saturday, as the team experienced a few more wobbles than it has grown accustomed to this season – particularly on beam.
Despite the mistakes, McDonald said she believes more than anything the meet showed her team's true character and ability to push through adversity.
"I was really proud of them. When things weren't exactly perfect or right on, they showed some grit and focus to stay in routines that weren't perfect," McDonald said. "I think that's something we're going to really learn from and be able to build off of."
Perhaps no one exemplified that philosophy more than Chiles on Saturday, as the sophomore displayed the ability to adjust quickly after she swiftly rebounded from a misstep on her vault and later was able to make a unique save on beam to stay on the apparatus.
"I'm all about trying to save before you fall," Chiles said. "So at that moment, I was like, 'You know what, I'm going to just do a Y-scale here because I'm not falling off this beam.'"
While ultimately a 48.950 on beam left the Bruins with their lowest score of the season, freshman Selena Harris said she was proud of the team's overall performance and ability to push through fatigue.
"I know we're a little tired as a team, but we still pushed through and did pretty well," Harris said.
But with three meets and three road trips in the rearview mirror, UCLA will prepare to compete at Pauley Pavilion for the first time this season Sunday.