UCLA men's volleyball sweeps UC San Diego rematch with new lineup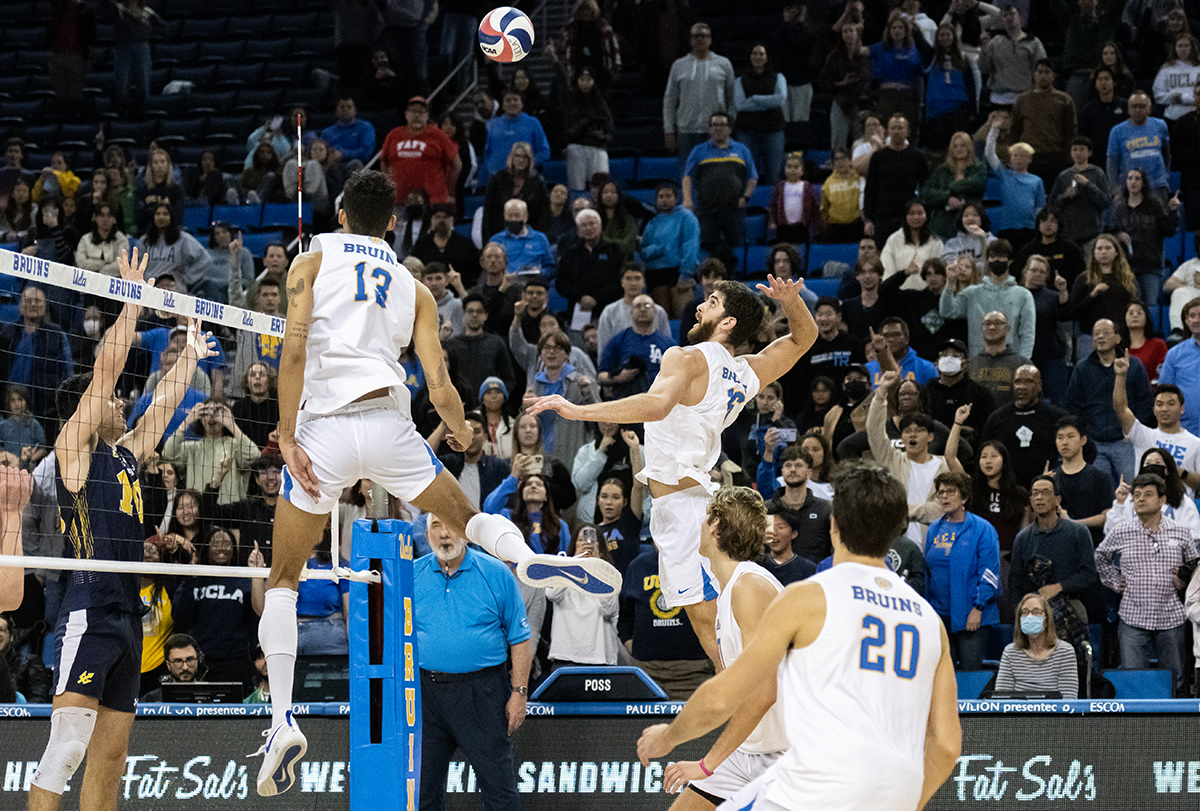 Sophomore outside hitter/opposite Ido David goes up for a kill. David tallied 18 kills at a .607 clip for his first season start Saturday after coming back from an ankle injury on Friday. (Ilan Berdy/Daily Bruin)
Men's Volleyball
---
| | |
| --- | --- |
| UC San Diego | 0 |
| No. 2 UCLA | 3 |
Just two weeks into the season, the Bruins took the court with an unexpected lineup on the floor.
The absence of junior setter/opposite Miles Partain, redshirt sophomore middle blocker Guy Genis and senior outside hitter Alex Knight gave way to an unusual starting lineup for No. 2 UCLA men's volleyball (6-0) in its rematch against UC San Diego (3-5) on Saturday night.
Despite a different lineup than they put out in their win over the Tritons two weeks prior, the Bruins pulled out a sweep in Pauley Pavilion, offering their less-experienced players the minutes needed to get them adjusted to the speed of the game in the process.
[Related: UCLA men's volleyball dominates Asics Invitational, starting season undefeated]
Unveiling a wholly novel starting lineup – one that saw the addition of newer, relatively unseasoned players – wasn't an obstacle in the way of the Bruins and their sixth victory in six games this season.
"With this team, we have so many great players, so we can switch it around, and the talent and level is still there," said freshman setter Andrew Rowan.
Saturday was a milestone for Rowan: his first career start at the renowned Pauley Pavilion.
"Everything feels a little weird at first. You got to get used to it," Rowan said. "But it's great playing at Pauley. I've always dreamed of playing in here, and it's finally here, so it's awesome."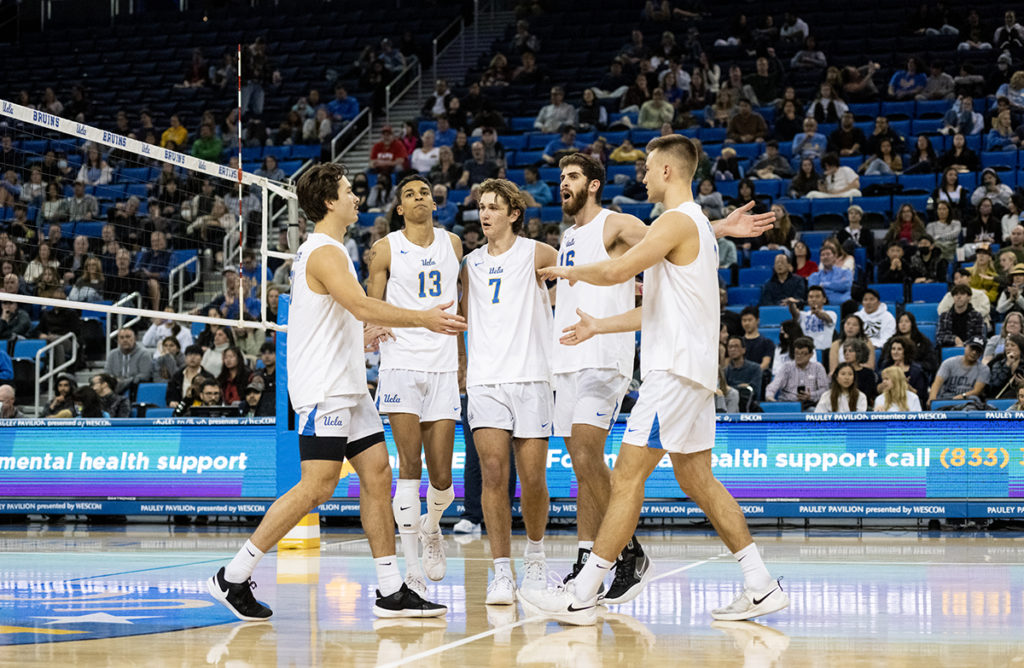 Regardless of the unfamiliar environment, Rowan kept his nerves at bay as he led the team with a season-high 36 assists – more than doubling his production from the rest of the season.
The Bruins recorded 13 assists to close out the first frame, of which Rowan tallied all 13. Three players found themselves the beneficiaries of Rowan's passes, including senior middle blocker J.R. Norris IV, who hit seven kills on seven attempts, notching a 1.000 hitting percentage through the match.
Rowan and sophomore outside hitter/opposite Ido David also developed a connection on the court, according to the latter. A well-timed pass from Rowan to David led the Bruins to come out on top after a back-and-forth second set.
Through two sets, Rowan had doubled his mark with 24 assists, already matching his own season-high set during the Bruins' last matchup against the Tritons. Rowan's passing coupled with David's unyielding attacks led to David tallying 11 kills on just 15 attempts to close out the second set.
[Related: UCLA men's volleyball readies for rematches against UCSB, UCSD]
"From the start, Andrew and I found each other. He found me, I found him," David said. "We talked to each other and explained what I want and what he wants. I love him. He's a great setter, great person and great player."
Saturday night marked David's second game back after a three-week hiatus because of a sprained ankle before the season commenced. Regardless of his missed time on court, David ensured his presence was felt and people knew he had returned.
"My focus was to be back 100% and giving everything I can," David said. "I didn't play, I didn't start the season, so for me it was a big deal to return and show that it's my first game back, that I am here and never left."
Five Rowan assists nearing the end of the third frame led the Bruins to a 9-2 scoring run to sweep the board and mark their sixth consecutive win of the season.
David led all hitters, tallying 18 kills by the end of play. With a hitting percentage of .607, his return could strengthen the production and development of the team's right side, said coach John Speraw.
"It (the right side) was better tonight than we have had all season," Speraw said. "For us to have that type of production on the right really changes things a lot, and that was very nice to see."
Despite the win and the unbeaten weekend, Speraw said his team is prepared to watch film and determine what needs to change before Friday's contest against Cal State Northridge.
"We have a lot to improve on our side of the net," Speraw said.