Q&A: New UCLA women's volleyball coach Alfee Reft promises 'one hell of a ride'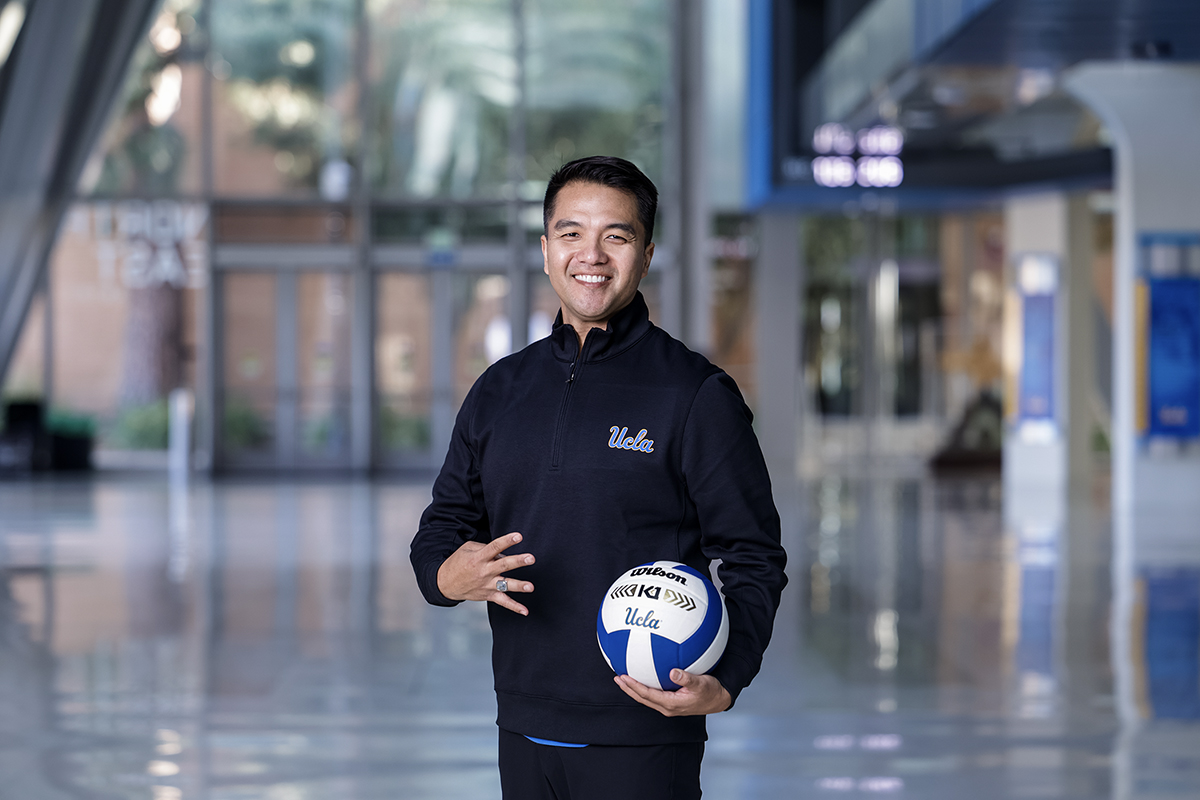 Coach Alfee Reft poses in Pauley Pavilion. Reft became the fourth coach in program history when he took the helm of the UCLA women's volleyball in December. (Courtesy of UCLA athletics)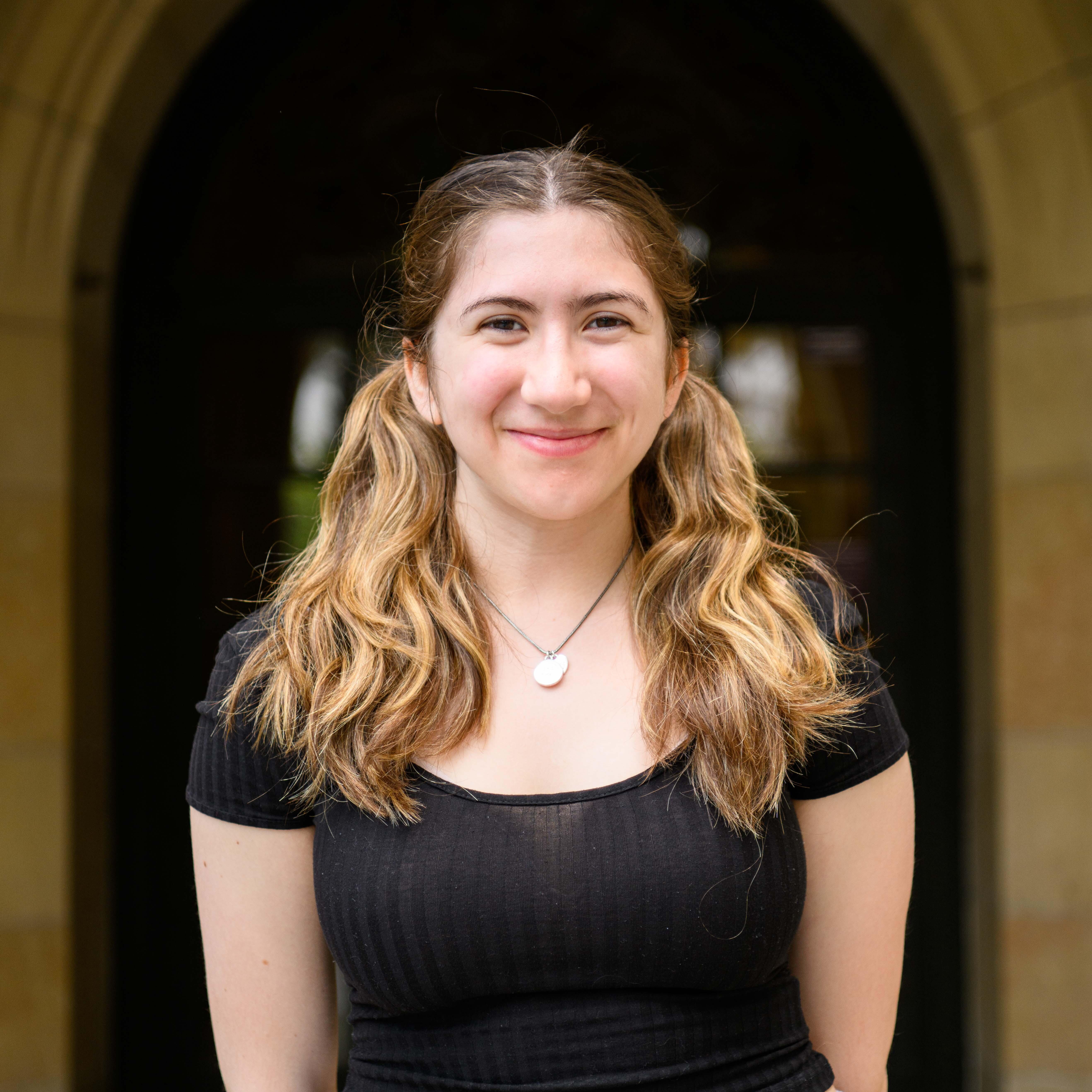 After former coach Michael Sealy resigned following the 2022 season, UCLA women's volleyball hired former San Diego associate head coach Alfee Reft as its new head coach. Assistant Sports Editor Amelie Ionescu sat down with Reft to discuss his first collegiate head coaching gig, his perspective on the team, the program's future and more.
[Related: UCLA women's volleyball hires Alfred Reft as new head coach]
This interview has been edited for length and clarity.
Daily Bruin: Can you just take us through the process of how you got hired and why you chose to come to UCLA?
Alfee Reft: I was still at the University of San Diego. We were finishing our fall season and having a pretty great run into the NCAA tournament. And so we – I think we were going into our Elite Eight weekend playing Stanford up at Stanford, and I had been contacted through our admin Kenny Donaldson, and then later on, our athletic director Martin Jarmond, and they expressed interest in me being an applicant for the job. And so yeah, that was pretty much the initial reach out by them. And it moved pretty fast. So as soon as we won in the Elite Eight to go to the Final Four, they had expressed that they wanted things to move along pretty quickly. So it was a pretty fast process, yeah. Why I chose UCLA? Yeah, I think the program speaks for itself in regards to the history, the lineage of success that this women's program has had for so long. That was a big thing. UCLA as an academic institution is just incredible. LA is a phenomenal city to live in, as you know. And I actually grew up an hour north of here, so not very far from LA, and I used to come to UCLA games when I was a kid. So for me personally, it's very full circle to come back and be here on campus where I watched so many volleyball players and people that inspired me.
DB: What do you think you've taken from your time coaching at San Diego alongside Big Ten schools Illinois and Minnesota?
AR: My first few students at the Big Ten schools in Minnesota and Illinois certainly gave me the experience I think I needed for this position, to move into the Big Ten (and) to know what it is to work and coach some of the best athletes at our respective level in college and just what the landscape looks like to be in a program of this magnitude. Moving to San Diego was unique in its own right because they were very phenomenal, really highly talented and touted program but obviously ran a little differently in regards to being a little more of a mid-major. So I think I've had both sides of the spectrum of what it is to be in a Power Five versus a mid-major and still be a part of two or three very successful programs. So I think all of those experiences gave me a pretty well-rounded approach to how to run a program. And I was very, very lucky that they were all really successful programs when I got there and when I left.
DB: If there was just one thing you had to really home in on and zero in on that you wanted to take from your experiences to implement into the UCLA program, what do you think it might be?
AR: Definitely would be relationships. Interpersonal connectivity with players and relationships and just the culture that we create around our student-athletes and those connections and meaningful and purposeful relationships that we get to build.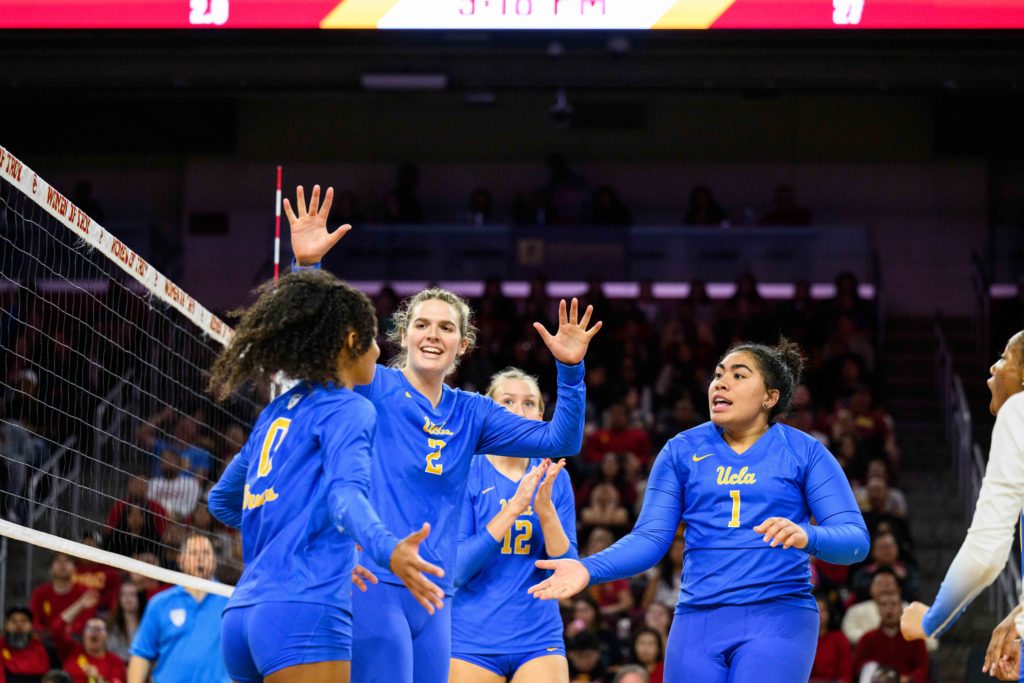 DB: Most of this team is pretty new to you, and you're pretty new to them. Can you tell me about your first impressions of the team?
AR: Yeah, it's been phenomenal. It's been so much fun, honestly. It's a marvelous group of young women that are really fun to interact with. And we're learning from each other. They're learning us as staff, and we're spending a lot of time in meetings and just getting to establish what our new standards are for us as a team and getting to learn them. … The impression is, it's been nothing but great. They're obviously top, top athletes and driven but also just really dynamic and wonderful young women. And so we're really enjoying – we're two-and-a-half weeks in now, and it feels like every day, we're just taking these really big steps.
DB: (Redshirt junior middle blocker) Anna Dodson declared for the transfer portal but chose to stay at UCLA. Can you speak more on her, her impact on the team and your thoughts on her staying?
AR: I didn't know Anna prior to taking the position, but the second I got on the phone with her when she was making her decision to either go or stay, it was very clear to me that she took up lot of space for this team and was a leader – and really, to me, displayed a lot of the heart and soul of what this team is. And so Anna is a leader in every sense of the word and is showing that now in how she leads this team through a transition. I think there would be a very, very big hole left had she not been here, and so we're grateful that she's here.
[Related: Amy's Angle: Women's volleyball seals the deal on a season of struggle]
DB: Speaking of potential, the team recently missed the NCAA tournament for the second time in five years, with several starters, including (sophomore outside hitter/opposite) Charitie Luper and (graduate student outside hitter/opposite) élan McCall leaving. What do you think you're focusing on in terms of getting the Bruins back into that NCAA contention territory?
AR: Right now, it's continuing to develop individual skills so can we maximize what each player can do individually, and then eventually that's going to move into taking those individual skills and really putting those pieces together so that this team moves together. Like I said earlier, I think we're very talented, and we'll be adding a few pieces in the fall. But it's really going to be, "Can this team move as a unit?" The pieces are no question to me. But we'll spend a lot of time in creating systems and understanding with how players move together, and that's where our sport gets really fun. I see good things in regards to us making some ripples in the tournament this next year.
DB: UCLA women's volleyball has been a pretty dominant name in the history of volleyball, and you're an incoming head coach, and you've had experience but not a lot of head coaching experience. Do you feel any pressure taking on this role?
AR: I don't, honestly. I just ideologically don't really pay a lot of attention to what pressures might be out there or anxiousness around it. I've surrounded myself with a phenomenal staff that is very capable, and I see this more as an opportunity. I know the stage is big at UCLA, and you don't take a job like this and not enjoy the challenge of having to lead a program, and so I see it much more as the challenge is exciting.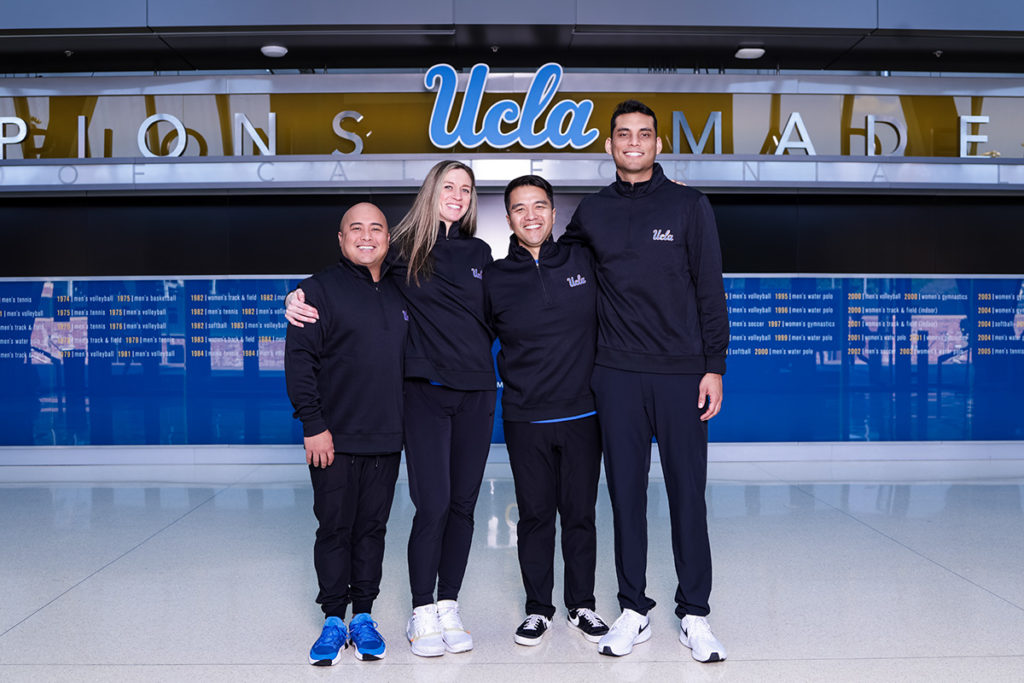 DB: You've mentioned your staff a lot. Your assistant coaches, could you tell me why you picked them and what you think they'll bring to the squad?
AR: All three of our staff members now are really unique and accomplished in their own regards. And, you know, when selecting a staff, I wanted to find people who were multifaceted and really good. And I would say, it's not even good but superb in specific areas of what they do and what I need them to do but also have the capacity to really fill in and be great in lots of areas. You know, so Jen (Malcom), our associate head coach, … she's done this at a high level for Iowa State. She's trained and developed block and defense in her players to be some of the best in the country but has also recruited with the best and has done it for a long time. And so she was a no-brainer to me. (Assistant coach) Amir (Lugo-Rodriguez) is someone I've known as a player but also seen his development as a trainer in the gym and as a mind in the game. … He's proving and has proven that he is one of the up-and-coming … minds and visionaries of our sport, and so I'm excited that he's with us. And then our volunteer (assistant coach) Noah Casaquit has had his hands in volleyball in lots of areas. … He's been around the sport, and he rounds out our staff really nicely. We just have all these different angles and perspectives on our staff that are so valuable to, I think, a winning culture and winning team.
DB: What do you think your biggest challenge will be coming into the 2023 season?
AR: I think it's going to be learning the rhythms of a new staff with a new team. And I don't see that being a huge challenge. … We're going to head into season and preseason, and it's all going to be new for them. And so we're trying to alleviate that by getting ahead of that and discussing those things early on so we can minimize the newness of what it all can be and keep it as familiar for these players as possible.
DB: What are you most excited for in the coming year?
AR: Honestly, I really think this group is going to turn heads. We're already putting in a lot of work in regards to who we are as a team and in the volleyball part. So I'm just excited to see them get out and compete. I think every coach is excited for that, but I really do believe this group is going to do some special things.
DB: Do you have any final message for Bruin fans?
AR: My message to Bruin fans is to hold on tight. It's going to be one hell of a ride.
Ionescu is currently an assistant Sports editor on the men's volleyball, women's volleyball, swim and dive and rowing beats. She was previously a contributor on the women's tennis beat.
Ionescu is currently an assistant Sports editor on the men's volleyball, women's volleyball, swim and dive and rowing beats. She was previously a contributor on the women's tennis beat.