Editorial: UCLA rail station is imperative in design of Sepulveda Transit Corridor Project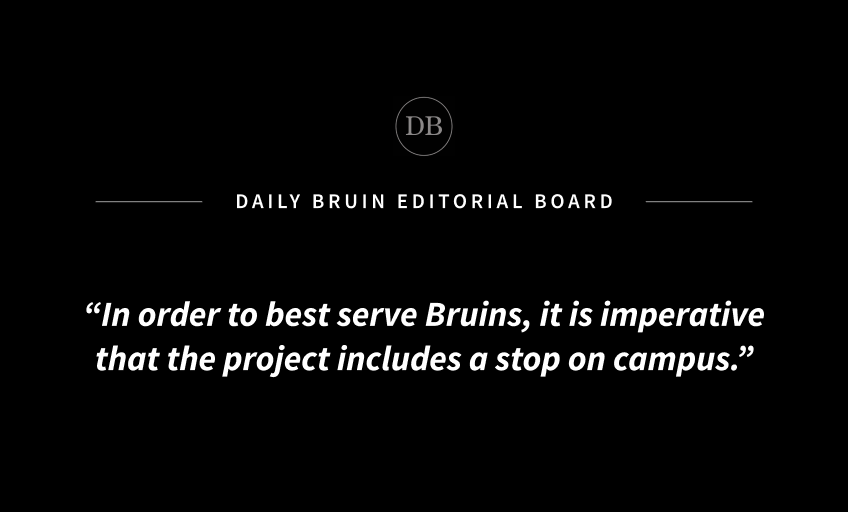 Editor's note: Editorials do not represent the Daily Bruin as a whole. The board encourages readers to respond to our editorials at dailybruin.com/submit.
The scoping deadline is fast approaching for the Los Angeles County Metropolitan Rail Authority's Sepulveda Transit Corridor Project.
LA Metro, which will connect the San Fernando Valley to LA's Westside, is currently considering public input on the project, including input on the possibility of a station at UCLA, before the deadline of Feb. 11. The public transit agency will be hosting virtual and in-person events this week for public commentary and discussion in regard to the design and construction of the Sepulveda Transit Corridor Project.
Currently, the STC Project is evaluating six options – three of which include monorail and three of which include heavy rail. Out of these choices, four would have an underground rail station directly on campus.
In order to best serve Bruins, it is imperative that the project includes a stop on campus.
An effective public transit system in LA County that incorporates UCLA would have major benefits for UCLA students, faculty and staff, along with the city as a whole. Making campus and the rest of the Westside more accessible from the valley, where housing is significantly cheaper than in the rest of LA, will be especially helpful for students who commute.
About 2,000 UCLA students and 7,000 staff members currently live in the Valley, according to a fact sheet published by the Westside Regional Alliance of Councils.
In the long term, a more accessible campus could also allow students to rent in cheaper places that are further from campus, making housing more affordable for all.
A heavy rail line will also decrease traffic congestion and air pollution on the 405 Freeway. Currently, a car is an effective necessity to make the commute to West LA, but greater public transportation options would reduce automobile reliance and help reduce driving-related emissions.
Although benefits to students are clear, the Sherman Oaks Homeowner Association and the Bel-Air Association are among the few groups advocating against heavy rail – with some claiming the tunnels under their hills and homes would decrease property values or cause noise pollution.
However, other groups, including the overwhelming majority of neighborhood councils that make up the WRAC, are resolutely in favor of heavy rail. Thirteen out of a total of 14 neighborhood councils in the WRAC voted to support a heavy rail system with a station on campus, with only the Bel Air-Beverly Crest Neighborhood Council in opposition.
On Jan. 17, UCLA's Undergraduate Students Association Council adopted a resolution in favor of the heavy rail alternatives for the Sepulveda Line in hopes of urging administrators to end their silence on the issue. According to USAC, not only would a monorail system exclude a direct station on UCLA's campus, but it would also limit passenger capacity to only 19,000 passengers per hour as opposed to the 27,000 who could be transported hourly by heavy rail. Furthermore, heavy rail decreases the travel time from Westwood to the San Fernando Valley to 19.4 minutes as opposed to the monorail system's 28-minute travel time.
It's time that Metro invests in long-term solutions to combat traffic congestion and air pollution in Los Angeles for generations to come. Solutions like a monorail are simply temporary fixes that will not result in higher usage of public transportation equivalent to that of other world-class cities.
Meanwhile, an entire heavy rail system will increase the usage of public transportation because of its convenience and efficiency for passengers. Heavy rail will be able to carry more passengers than monorail and at a higher speed.
The monorail alternatives need to be taken out of the equation. It is clear that heavy rail will provide the necessary infrastructure for future students, faculty, workers and visitors to commute to and from campus through other routes throughout the city in a timely manner.
Easy access to public transportation is a necessity for many Bruins.
It's time to connect UCLA to the greater LA metropolitan area.