UCLA women's water polo works to fill Musselman's shoes ahead of home opener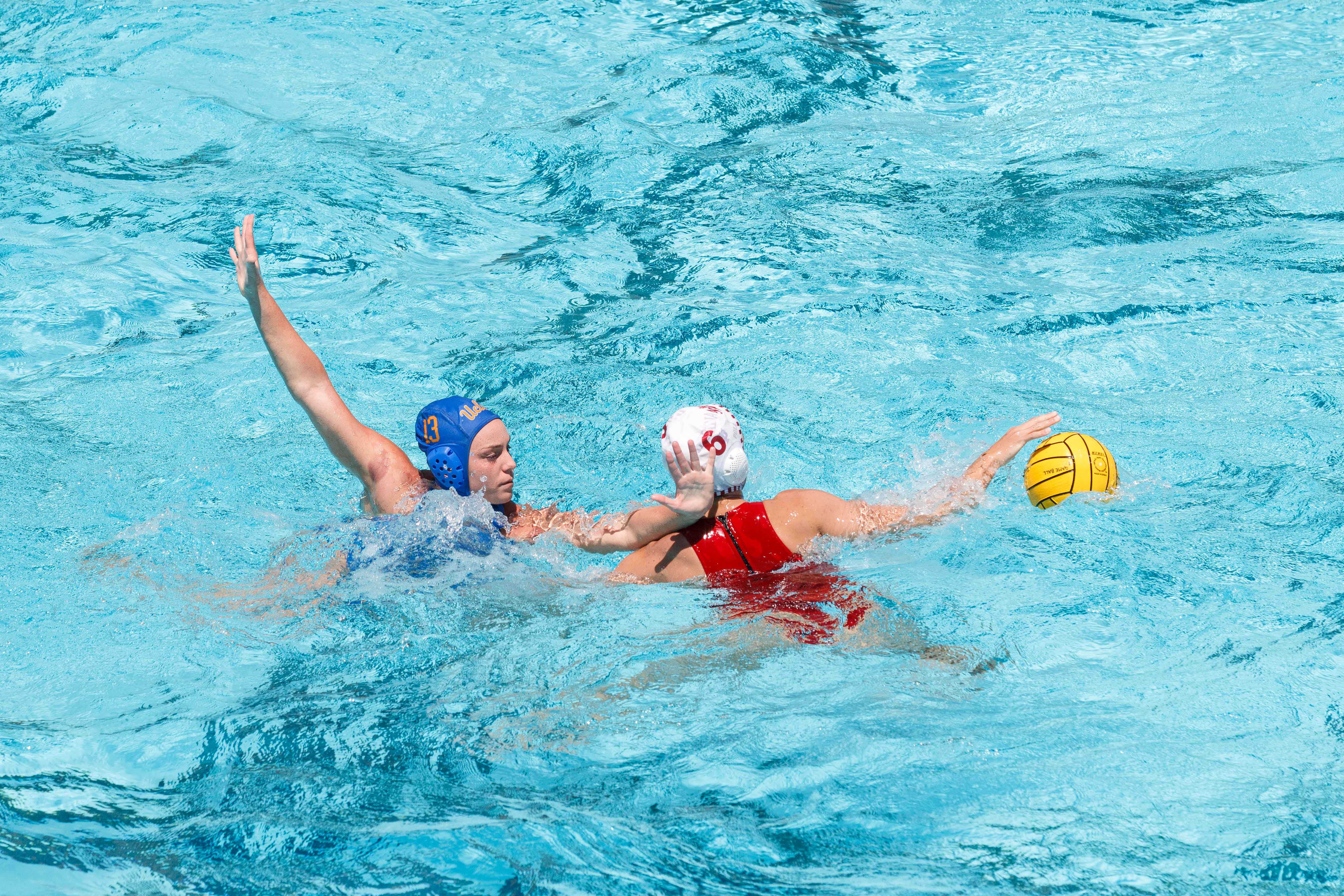 Graduate student center Ava Johnson defends a player. Johnson collected 30 goals last season at a 56.6% clip. (Megan Cai/Assistant Photo editor)
Sport
---
No. 14 Indiana
Friday, noon
Spieker Aquatics Center

---
UCSB Winter Invite Day 1
Saturday
Santa Barbara

---
UCSB Winter Invite Day 2
Sunday
Santa Barbara

College sports teams are, by nature, fleeting. The Bruins are no different.
Despite having around 80% retention from last year's team, the UCLA women's water polo team will likely behave as a uniquely new unit – mainly because of the loss of two-time Olympic gold medalist Maddie Musselman and the addition of seven freshmen.
No. 3 UCLA women's water polo is set to open the season Friday with a conference matchup against No. 14 Indiana at Spieker Aquatics Center before seeing No. 21 San Diego State, No. 15 Wagner, No. 11 UC San Diego and No. 19 UC Santa Barbara at the UCSB Winter Invite this weekend.
Coach Adam Wright said going into the season, he feels good about the group's chemistry and familiarity with collegiate water polo.
"This team has a lot of good experience," Wright said. "We have seniors that have played in the NCAA semifinals and NCAA finals. Our young core group last year also got experience … (because) we played them a lot."
The veterans on the team will be joined by six freshmen hailing from Southern California, all carrying California Interscholastic Federation playoff experience, and one freshman from Australia.
Graduate student center Ava Johnson said the new faces on the team could benefit from taking a step back to appreciate their first experiences in the pool as collegiate athletes.
"Heading into season, the best advice I can give is just enjoy the process," Johnson said. "Season goes by really quickly, and it's easy to get ahead of yourself and look forward to certain games, but really immersing yourself into the process and enjoying … every little thing that it means to be a student-athlete is super unique and special."
The injection of freshmen comes just as the Bruins are losing their all-time leading scorer. Musselman – the 2020 Tokyo Olympics MVP – scored 252 goals during her time with the blue and gold, placing her in the top 15 of the Mountain Pacific Sports Federation's all-time leaderboard.
"When you lose a player like Musselman, obviously it's tough," Wright said. "She's one of the most special players in the world. At the same time, (losing her) immediately puts people in positions where they have to take on larger roles, and that's going to be exciting to see."
Musselman joined the blue and gold in 2017, on the heels of a third-place finish in the NCAA playoffs. During her time in Westwood, the Bruins made the NCAA finals twice but were unable to clinch a championship.
Sophomore attacker Emma Lineback said the team has big shoes to fill with the departure of Musselman.
"Losing Maddie (is tough). She was a big player, and she did a lot for us," Lineback said. "The biggest difference will be seeing who is going to be our constant this year. We could always rely on her, so it will be interesting to see who's going to step up and be that constant for us."
Johnson said this weekend presents a great opportunity for the group to gauge team chemistry and identify areas of weakness.
"I'm excited to see what this group is able to do," Johnson said. "More specifically, I'm excited to see how we are on defense. I think defense shows a lot about teams. If we're able to move in unison and communicate defensively, I think that's going to set us up for a great offense."
UCLA is set for first sprint against Indiana at noon on Friday to kick off the season at home.
Lizar is currently a Sports contributor on the women's water polo beat. He was previously a contributor on the men's water polo beat.
Lizar is currently a Sports contributor on the women's water polo beat. He was previously a contributor on the men's water polo beat.