UCLA gymnastics claims gold at Wasatch Classic; Chiles and Harris win all-around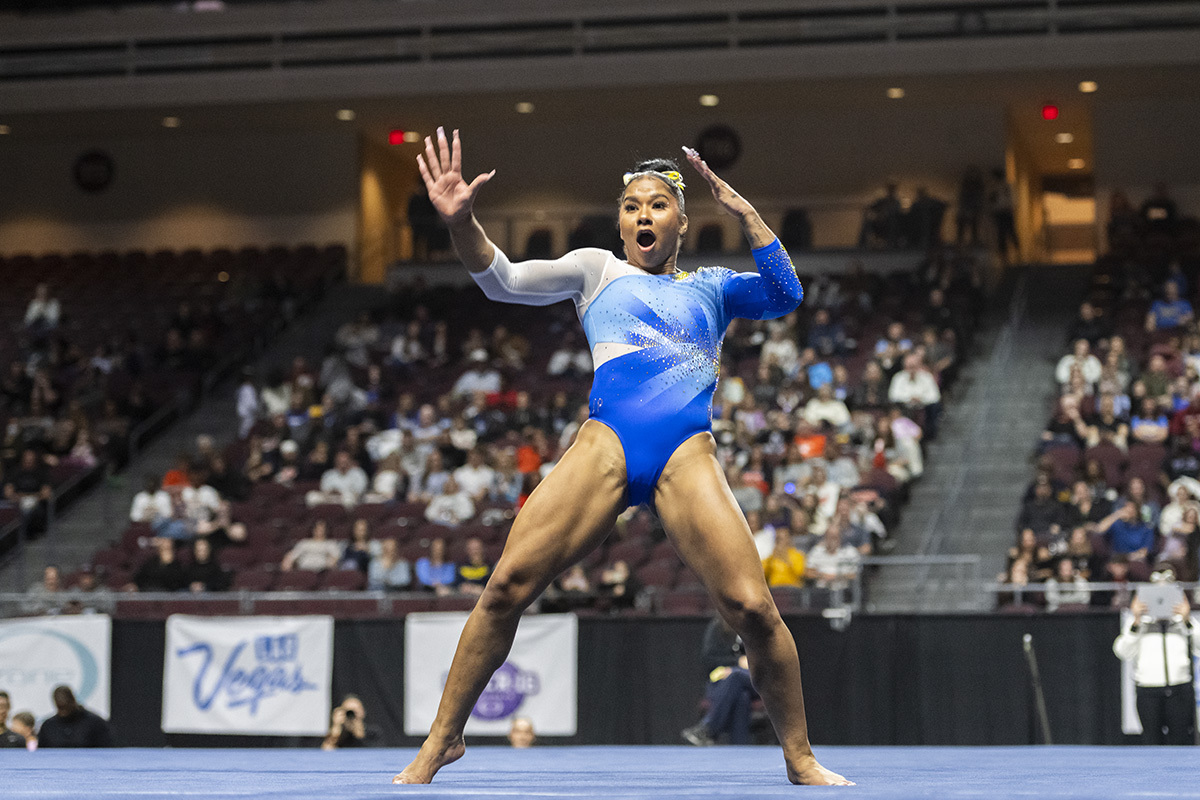 Sophomore Jordan Chiles dances on floor. Chiles notched a 39.725 in the all-around for No. 6 UCLA gymnastics Saturday. (Alex Driscoll/Daily Bruin staff)
This post was updated Jan. 16 at 11:03 p.m.
A week after scoring their highest season-opening score since 2005, the Bruins competed in another quad meet on podium.
This time, the Bruins posted their second-highest score since Mar. 8, 2020.
No. 6 UCLA gymnastics faced off against No. 19 Minnesota, No. 25 Washington and Boise State at the Wasatch Classic in Utah on Saturday. After getting fourth place at the Super 16 with a 197.275 last Saturday, the Bruins improved to a 197.850 en route to first place.
Despite the high numbers, coach Janelle McDonald said scores are not UCLA's area of focus.
"Scores are not something we can control," McDonald said. "We're really trying to focus on keeping the energy within each other and just keeping the entire team focused."
The Bruins began on bars, with junior Chae Campbell posting a 9.825 in the leadoff spot to begin her second all-around performance of the season.
After a 9.600 from sophomore Emily Lee in her second appearance on the event and a 9.850 from sophomore Ana Padurariu, the Bruins posted three straight scores of 9.900 or above to anchor the bars rotation.
Freshman Selena Harris earned the first perfect mark of her career from one judge en route to a career-high 9.975. Sophomore Jordan Chiles followed Harris with a 9.950, and redshirt senior Margzetta Frazier anchored the event with a 9.900.
Harris, Chiles and Frazier capped off UCLA's second 49.500 bars rotation in as many meets, higher than it achieved on the event in any competition in 2022.
"We have a lot of great bar-swingers on our team," McDonald said. "We went back to the basics a little bit to clean up some technical things, and I think that's why you're seeing a little bit more confidence and a little bit stronger competition results on bars."
With a 0.425 lead over the rest of the field, the Bruins moved to beam, the event on which they earned their lowest score last weekend. But this week, all six Bruins posted scores above 9.800.
Lee improved by 0.500 from her score of 9.300 at the Super 16 to post a career-high 9.800 in the leadoff spot. Freshman Ciena Alipio followed with a career-high 9.850 of her own, while the following three Bruins also improved on their scores from the previous week to post season highs.
"I'm very proud of Ciena, who has been fighting back from a previous injury," Campbell said. "Her going up and doing a beautiful beam routine is just the icing on the cake. She deserves that moment a thousand times over."
Sophomore Emma Malabuyo capped off the rotation with a 9.900 as UCLA again scored a 49.500, a mark which it did not reach on beam for nearly two months in the 2022 season. The score also marked a 0.500 improvement over its 49.000 from the previous meet and gave the blue and gold a 0.575 lead over second-place Minnesota at the halfway mark.
Campbell said the team kept two key ideas in mind on beam.
"What inspired our beam lineup is basically just being aggressive and trusting our training," Campbell said. "I'm really glad that we were able to show that off and just have fun in the moment, and not worry about anything else but just doing ourselves."
Once again, the Bruins capped off a rotation with a string of scores higher than 9.900 – this time, four in a row on floor. Harris, Frazier and Chiles posted three consecutive 9.925s. The score was a career high for Harris and a season high for Frazier and Chiles, with a combined improvement of 0.500 for the trio from their previous scores.
Frazier said not being timid on floor was the key to her improvement.
"When you hold back, you will fall short," Frazier said. "I think that's a huge reason why this podium went a lot better than the first one as far as landings, because we weren't afraid to go big."
Campbell anchored the rotation, matching her season high with a 9.950. UCLA's 49.600 on the event was its highest score of the day and brought its lead to 1.325 with one event to go.
The Bruins needed a 49.400 on vault to reach a team score of 198. Frazier and freshman Maddie Anyimi led off the rotation with a pair of Yurchenko fulls with large hops, scoring 9.750 and 9.650, respectively.
Lee and Campbell improved on UCLA's score with two more Yurchenko fulls before Harris competed UCLA's first vault with a 10.0 start value of the night, matching her score of 9.900 from last week with her Yurchenko 1.5. Chiles anchored the rotation with a Yurchenko double full, matching her career high on vault with a 9.925.
UCLA finished the meet with a 197.850, 1.300 points ahead of second-place Washington. Harris and Chiles each posted 39.725s to tie for the all-around win.
Campbell said this is just the beginning for UCLA.
"All of us are very excited and hyped for the rest of the season," Campbell said. "We know that we have something special in this team."
The Bruins will face the Huskies again Saturday at 2 p.m. in Seattle.
Trimbell is currently a contributor on the gymnastics and rowing beats.
Trimbell is currently a contributor on the gymnastics and rowing beats.