UCLA men's volleyball prepares for home opener against Princeton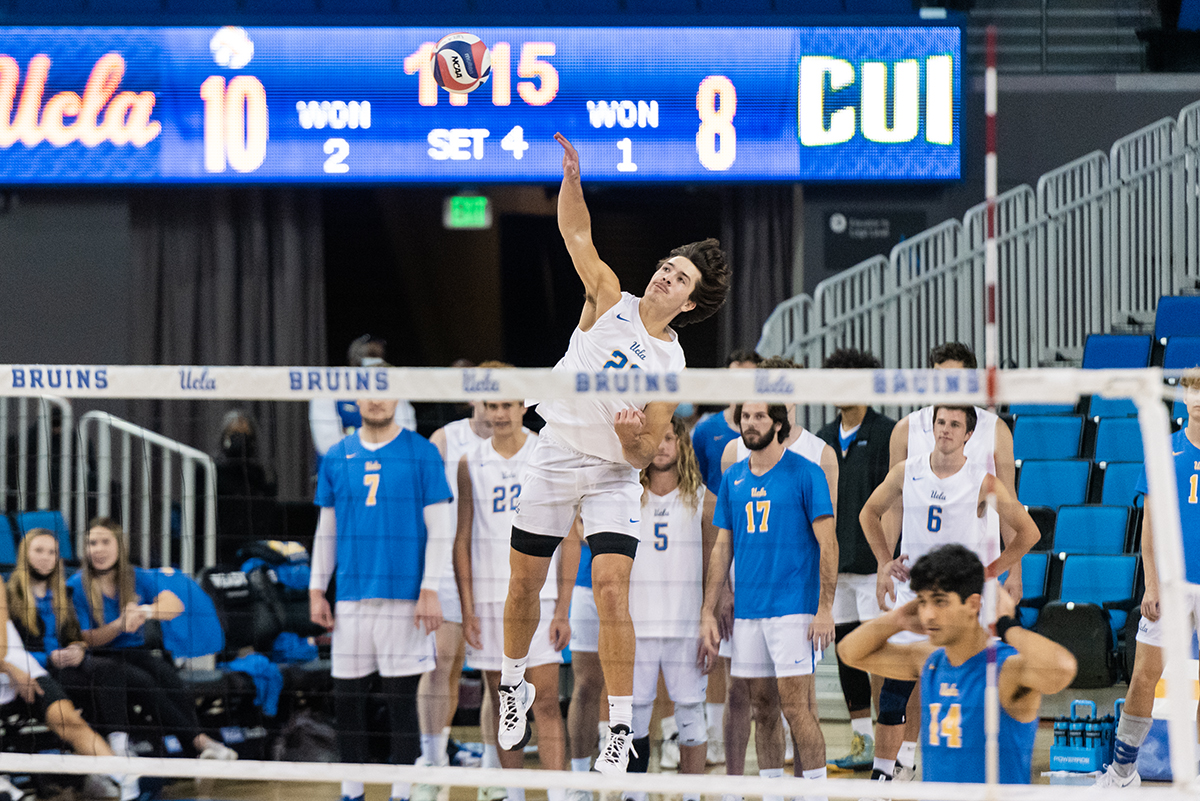 Junior outside hitter Ethan Champlin rises for a hit. Champlin gathered several accolades over the last week – including player of the week awards and Asics Invitational MVP honors – as the Bruins look to continue their early season momentum against the Tigers. (Shane Yu/Daily Bruin)
Men's Volleyball
---
Princeton
Friday, 6 p.m.
John Wooden Center
UCLA Live Stream-2
Last season, the Bruins commenced conference play with a three-set victory over the Tigers.
And after sweeping a trio of matches in its first tournament of the season, No. 2 UCLA men's volleyball (3-0) is set to face Princeton (1-1) again almost exactly a year later on Friday at the John Wooden Center.
The Bruins boast a number of experienced returning players, including Asics Invitational All-Tournament MVP junior outside hitter Ethan Champlin. He enters Friday's matchup against Princeton with some early-season honors already under his belt.
Not only did Champlin secure MVP of the invitational, he was also tabbed as Mountain Pacific Sports Federation/Molten Offensive Player of the Week and Off The Block National Outside Attacker of the Week for his showing in UCLA's first three games of the season.
"He passes the ball for us, and as a left side attacker, shoulders a heavy responsibility in transitioning out-of-system attacking, and he did a great job of it," said coach John Speraw.
In the season-opening win over Cal State Northridge last Thursday, Champlin connected for a match-high 12 kills on top of zero errors on 17 swings for a .706 hitting percentage. Similar statistics accompanied his name during the Bruins' matchup against UC Santa Barbara.
"It's a great start for him. He's a returning All-American with experience, so he is going to have a great season," Speraw said.
Last season, junior setter/opposite Miles Partain was named the Most Valuable Player in the Association of Volleyball Professionals. Partain was ranked among the top five players in the AVP in digs per set for every tournament in the 2022 season, concluding the season with 364 digs and a hitting percentage of .422.
Partain was awarded the 2022 MPSF Player of the Year award by the conference's coaches. Throughout the season, Partain led the team's offense to the nation's highest hitting percentage while reaching seventh in the NCAA for set assist average at 10.21.
As the team continues to leverage those strengths and players such as redshirt junior middle blocker Merrick McHenry, senior outside hitter Alex Knight and redshirt senior libero Troy Gooch contribute their assets, the Bruins are also focusing on areas of improvement before Friday.
"Even though it (the Asics Invitational) was a victory, it demonstrated a lot of areas where we can improve," Speraw said. "We had a number of offensive routes we could have connected better. Our blocking schemes and how they are coordinated with our defense could also improve as well."
The Bruins have honed in on these aspects of the game during practice, Speraw added.
"We know we have a big match on Friday versus Princeton, so the guys are bringing their focus, and we get better in the gym every day," Speraw said.
Following a rescheduling due to rain in the Los Angeles area, the Bruins will match up against the Tigers on Friday at 6 p.m. at John Wooden Center.